Jim O'Sullivan
| | |
| --- | --- |
| Date and Place of Birth: | Date Unknown New York, NY |
| Date and Place of Death: | April 3, 1943 Henderson Field, Guadalcanal |
| Baseball Experience: | College |
| Position: | Catcher |
| Rank: | First Lieutenant |
| Military Unit: | VMSB-233, 1st Marine Air Wing USMC |
| Area Served: | Pacific Theater of Operations |
James A. O'Sullivan was born in New York city and attended Bates College in Lewiston, Washington, where he excelled as a catcher in baseball and football. O'Sullivan was also on the basketball and swimming teams.

Graduating from Bates in 1941, he enlisted in the Navy the following year and trained as a pilot. He transferred to the Marine Corps in February 1943 and served in the Pacific as a Douglas SBD-4 Dauntless pilot at Henderson Field, Guadalcanal. First Lieutenant O'Sullivan was awarded the Distinguished Service Medal for participation in an aerial attack that resulted in the sinking of a Japanese transport ship.

At around 7:20pm on April 3, 1943, Lieutenant O'Sullivan crash landed his SBD-4 at Henderson Field after returning from a task force coverage mission. He was buried at the Army, Navy, Marine Cemetery at Guadalcanal.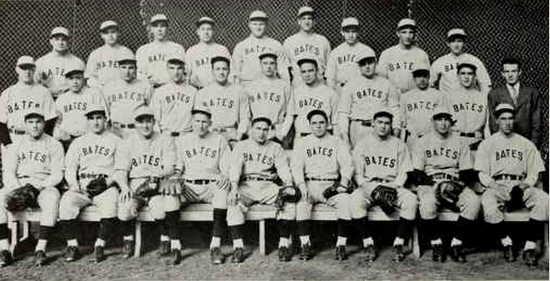 Bates College baseball team 1941 (O'Sullivan is front row, third from left)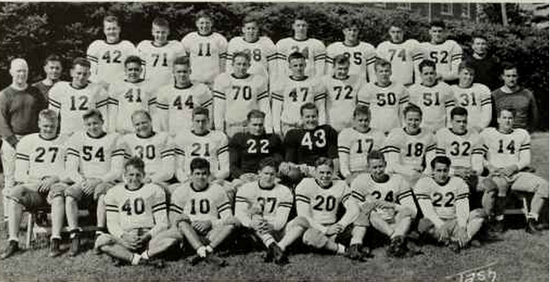 Bates College football team 1941 (O'Sullivan is second row, third from right, #18)
A Douglas SBD-4 Dauntless as Henderson Field, Guadalcanal in 1943. The same type of plane flown by Lt. O'Sullivan
Source
Mirror, Bates College, 1941
Lewiston Evening Journal, April 15, 1943

Thanks to Astrid van Erp for help with this biography.
Date Added June 27, 2014. Updated August 5, 2017
Can you add more information to this biography and help make it the best online resource for this player? Contact us by email
Read Baseball's Greatest Sacrifice Through The Years - an online year-by-year account of military related deaths of ballplayers
Baseball's Greatest Sacrifice is associated with Baseball Almanac
Baseball's Greatest Sacrifice is proud to be sponsored by