Harlan Palmer
| | |
| --- | --- |
| Date and Place of Birth: | March 29, 1917 Reedsburg, WI |
| Date and Place of Death: | November 11, 1943 New Guinea |
| Baseball Experience: | College |
| Position: | Outfield |
| Rank: | First Lieutenant |
| Military Unit: | 321st Bomb Squadron, 90th Bomb Group USAAF |
| Area Served: | Pacific Theater of Operations |
Harland R. "Harlan" Palmer was born in Reedsburg, Wisconsin on March 29, 1917. He attended the University of Wisconsin where he was an outfielder on the varsity baseball team from 1937 to 1939. Used regularly as a pinch-hitter in 1937, Palmer had a string of four successive pinch hits.

Palmer entered military service on December 18, 1941 - eleven days after Pearl Harbor. He trained as a bomber pilot and served with the 321st Bomb Squadron, 90th Bomb Group at New Guinea in the Pacific.

On November 11, 1943, a bombing mission to Rabaul was aborted due to poor weather. As the airplanes prepared to land there was a collision between two of them. The propellers of another B-24 cut off the rudder of the Lieutenant Palmer's B-24 which dove into the ground, detonating the full bomb load, and killing all on board. The other B-24, badly damaged, managed to land.
Palmer is buried at Green Wood Cemetery in Reedsburg, Wisconsin.
Harlan Palmer (back row, fourth from left) with the 1937 University of Wisconsin baseball team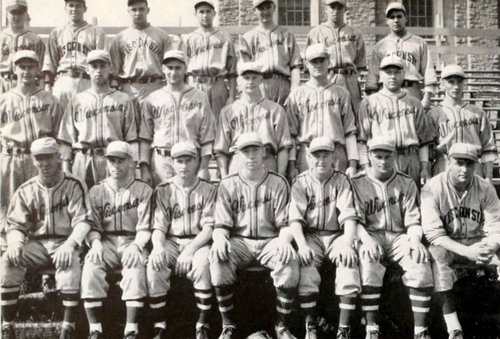 Harlan Palmer (front row, second from right) with the 1939 University of Wisconsin baseball team
Some of this information was obtained from John S. Alcorn's "The Jolly Rogers". Thanks to Astrid van Erp for help with this biography.
Date Added July 29, 2012 Updated August 6, 2017
Baseball's Greatest Sacrifice is associated with Baseball Almanac
Baseball's Greatest Sacrifice is proud to be sponsored by