Joe Pellegrini
| | |
| --- | --- |
| Date and Place of Birth: | Circa 1923 Mediterranean island of Malta |
| Date and Place of Death: | June 29, 1944 |
| Baseball Experience: | Amateur |
| Position: | Unknown |
| Rank: | Private First Class |
| Military Unit: | 116th Infantry Regiment, 29th Infantry Division US Army |
| Area Served: | European Theater of Operations |
Joseph L. Pellegrini, the son of Joseph (a carpenter) and Carmela Pellegrini, was born on the small island country of Malta in the Mediterranean Sea. Aged 3, his family moved to the United States and settled in Manhattan, New York.
Serving with the 116th Infantry Regiment, 29th Infantry Division, Pellegrini was stationed at Tidworth Barracks in England, just ten miles from historic Stonehenge by October 1942.
When the 116th formed a baseball team in the summer of 1943, Pellegrini made the 20-man roster and helped the Yankees compile a 27-game winning streak and entry into the 1943 ETO World Series. Underdogs in this event, the 116th Infantry Regiment Yankees fought of some fierce competition to win the World Series crown.
That was the Yankees last chance to play any form of competitive baseball. For the remainder of 1943 and the first five months of 1944 the order of the day was intensive military training in preparation for the invasion of mainland Europe. On the morning of June 6, 1944, many of the Yankees ball team, including Private First Class Pellegrini, were on landing crafts heading for Omaha Beach at Normandy. The 116th Infantry Regiment was to lead the D-Day assault. As the landing crafts approached the beach, the enemy opened fire with artillery, mortar, machine-gun and small arms fire. Joe Pellegrini, just 19 years old, was seriously wounded on June 6. He was evacuated to a hospital in England where he died on June 29, 1944. Joe Pellegrini is buried at the Cambridge American Cemetery in England.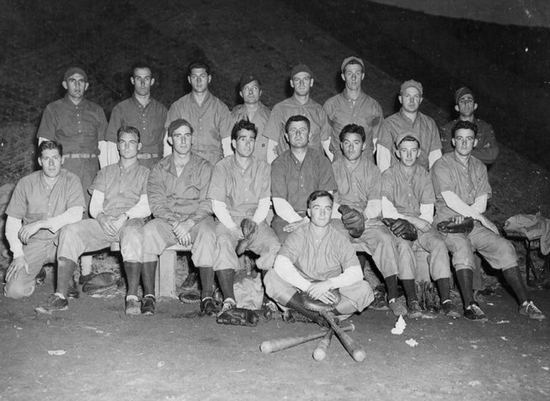 The 116th Infantry Regiment Yankees after winning the 1943 ETO World Series in London, England. Joe Pellegrini is far right, front row.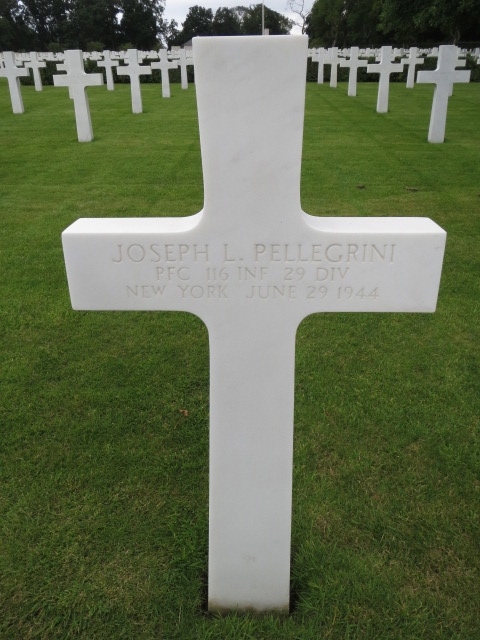 The grave of Joe Pellegrini at the Cambridge American Cemetery in England.
Date added May 10, 2014. Updated May 16, 2017
Can you add more information to this biography and help make it the best online resourse for this player? Contact us by email
Read Baseball's Greatest Sacrifice Through The Years - an online year-by-year account of military related deaths of ballplayers
Baseball's Greatest Sacrifice is associated with Baseball Almanac
Baseball's Greatest Sacrifice is proud to be sponsored by