Jack Pinion
| | |
| --- | --- |
| Date and Place of Birth: | March 17, 1918 Chattanooga, TN |
| Date and Place of Death: | December 7, 1942 Oran, Algeria, North Africa |
| Baseball Experience: | Minor League |
| Position: | Catcher |
| Rank: | Staff Sergeant |
| Military Unit: | 330th Bomb Squadron, 93rd Bomb Group USAAF |
| Area Served: | European and Mediterranean Theaters of Operations |
Jack E. Pinion, the son of Charles and Lillian Pinion, was born on March 17, 1918, in Chattanooga, Tennessee. In 1936, as a catcher straight out of high school, he was signed by the Chattanooga Lookouts of the Class A1 Southern Association. Pinion was released to the Sanford Lookouts of the Class D Florida State League in late April, where he played 25 games and batted .178. In 1937, he split the season between the Goldsboro Goldbugs of the Class D Coastal Plain League (14 games and batted .133) and the Jeanerette Blues of the Class D Evangeline League (11 games and batted .194). In 1938, he was with the Greeneville Burley Cubs of the Class D Appalachian League, where he played 59 games and batted .242. Aged 21, Pinion found his stride with Greeneville in 1939. In 106 games he batted .312 (tied for best on the club) and drove in 55.

In 1940, Pinion found his power. As well as playing 12 games for the Portsmouth Cubs of the Class B Piedmont League and 32 games with Greeneville, the 6-foot-1 204-pound catcher hit a team high 12 home runs in 66 games with the Tarboro Cubs of the Coastal Plain League, batting .307 with 55 RBIs.

The future for Pinion's baseball career looked bright, but military service beckoned in 1941, and he remained in Chattanooga catching for the semi-pro Standard-Thatcher team until called into service.

The 23-year-old served with the Army Air Corps, stationed at MacDill Field in Tampa, Florida. In August 1941, he played for the MacDill Field Fliers baseball team in the NBC Semi-Pro World Series at Wichita, Kansas.

In 1942, following further training training at Barksdale Field, Louisiana, Pinion was on active duty and joined the 330th Bomb Squadron, 93rd Bomb Group as a gunner in England, where they flew combat missions over enemy-occupied Europe. On December 7, 1942, Staff Sergeant Pinion's squadron, along with the 328th and 409th squadrons, left Portreath, Cornwall, on the long flight to Tafarouri Aerodrome, outside Oran in Algeria, North Africa. The 93rd was sent for temporary duty to supplement the newly formed Twelfth Air Force, which had been recently activated in North Africa under the command of General James "Jimmy" Doolittle. Pinion's crew, flying a Consolidated B-24D Liberator bomber named the "Blastin' Bastard", was lost when they crashed into a mountain while attempting to land at Tafarouri Aerodrome. All on board were killed. Personnel at the base had not been alerted that the B-24s were coming in and no plans had been made to light up the runway. Gasoline flares were then lit and the rest of the group landed safely.

Jack's mother, Lillian, was not aware of her son's death, having only been informed that he was missing in action, but a letter from a well-meaning medical corps officer in late January conformed the worst. "Your son lies buried in a beautiful cemetery in North Africa," the officer explained. "The Flanders Field of World War II, an American flag waving over his grave."

In May 1943, Jack's parents received his posthumously awarded Air Medal and Purple Heart. A letter to Mrs. Pinion from General George C. Marshall, chief of staff, stated in part: "I wish to extend heartfelt sympathy on the death of your son, who was killed in action.

"Jack E. Pinion was a gallant soldier of the United States Army whose name is now indelibly recorded on the rolls of our nation's honored dead. As time passes, I hope that you will derive some consolation in the realization that your son gave his life so that others might live as free men. Again my deepest sympathy to you and others memebers of the family."

A third medal, the Gold Star Medal, was awarded by the Brotherhood of Railroad Trainmen, an organization of which Pinion was a member.

Jack Pinion's body was returned to the United States in 1948, and rests at Chattanooga National Cemetery in Chattanooga, Tennessee.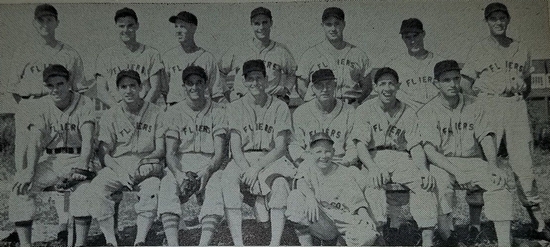 The MacDill Field Fliers team that played in the 1941 NBC Semi-Pro World Series. Jack Pinion is back row, fifth from left.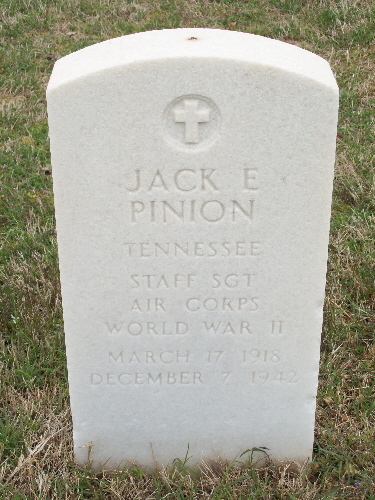 Date Added March 3, 2018. Updated May 30, 2022
Baseball's Greatest Sacrifice is associated with Baseball Almanac
Baseball's Greatest Sacrifice is proud to be sponsored by