Paul Rairick
| | |
| --- | --- |
| Date and Place of Birth: | September 4, 1893 Cumberland, MD |
| Date and Place of Death: | September 27, 1918 Fort Meade, MD |
| Baseball Experience: | Minor League |
| Position: | Catcher |
| Rank: | Private |
| Military Unit: | Company F, 71st Infantry Regiment, 11th Division US Army |
| Area Served: | United States |
Paul J. Rairick (often mis-spelled Rarick or Rarrick), the son of Joseph and Elizabeth Rairick, was born on September 4, 1893, in Cumberland, Maryland, but grew up in nearby Frostburg. His father was a coal miner – as were most men in the area – and Paul's elder brothers followed in the family tradition. By the age of 17, Rairick was also employed in the coal mines, working as a carpenter. But the youngster also had a keen interest in baseball.
In 1914, Rairick, a catcher, joined the Frostburg Athletics, a team in the amateur Cumberland and Georges Creek League, who played their home games at Association Park. "The new man, Paul Rarick [sic], is just getting onto baseball, but he is thought to be a good addition to the team," announced the Frostburg Spirit on February 19, 1914. "He can catch a creditable game behind the bat, is a very creditable first baseman, hits pretty well, has a good throwing arm, is a good base-runner, and is expected to make good from the start."
By 1917, Rairick was working for the West Virginia Coal and Coke Company in Coalton, West Virginia, but was back in Frostburg the following spring, playing for a newly formed local amateur ball team. At this time, minor league baseball in the area was provided by the Blue Ridge League. In 1917, the league had teams in Hagerstown, Martinsburg, Gettysburg, Hanover, Frederick and Cumberland, but with the entry of the United States into World War I, manpower rapidly dwindled. For the 1918 season, the league could only muster four teams – Cumberland, Piedmont-Westernport, Hagerstown and Martinsburg. It was the only Class D league to operate in 1918 and lasted just three weeks, from May 28th to June 18th. Paul Rairick signed with the Piedmont-Westernport Drybugs, who were a late entry into the league and had just two weeks to put a team together. Rairick played at least two games for the Drybugs (the nickname of an insect that was popular in that region of the Potomac River) during their abbreviated season. On June 5, he was 1-for-3 in a 7-3 loss to Hagerstown, and on June 8, he was behind the plate in a 10-inning 6-5 win over Cumberland.
On July 19, 1918, 24-year-old Rairick was among 177 men ordered by District Board No. 2 of Allegany county to entrain at Camp Meade, Maryland. The men left for military service on July 23, and Rairick was a private with Company F, 71st Infantry Regiment of the 11th Division. Two months later, Private Rairick died from Influenza at Camp Meade. He was survived by his father, four brothers and five sisters. His mother, Elizabeth, had died from paralysis in 1916.
Paul Rairick was initially buried in an unmarked grave at St. Michael's Cemetery in Frostburg, but in 1932, an application to the War Department was made for a marker.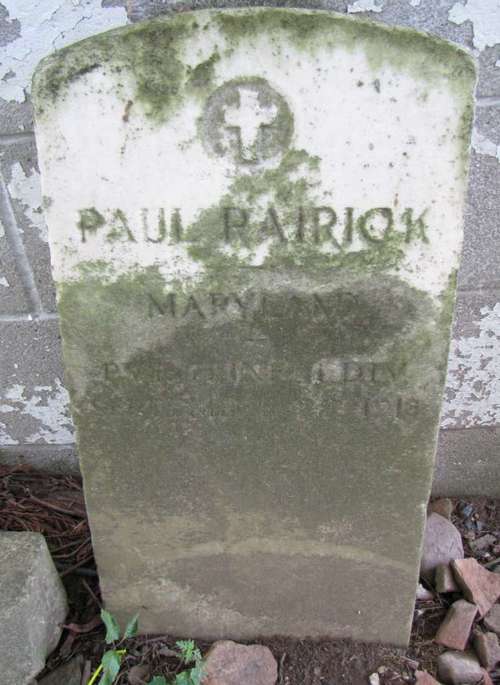 I believe this was the original marker requested from the War Department in 1932.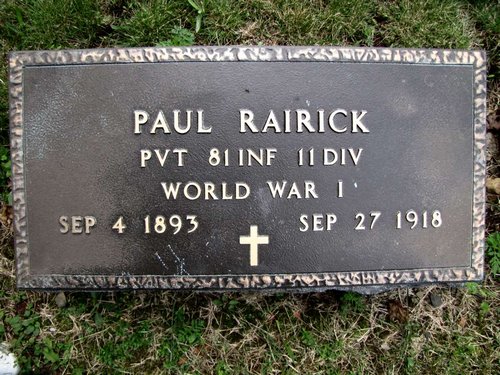 I believe the 81 INF is incorrect as Rairick was with the 71st Infantry Regiment of the 11th Division at the time of his death.
Thanks to Chris Woodman for "discovering" Paul Rairick. Chris operates a site that corrects information on pre-WWII minor league ballplayers http://minorleaguebaseballplayer.blogspot.com/
Date Added: December 12, 2019
Baseball's Greatest Sacrifice is associated with Baseball Almanac
Baseball's Greatest Sacrifice is proud to be sponsored by