Vic Saltzgaver
| | |
| --- | --- |
| Date and Place of Birth: | July 17, 1920 Eldon, IA |
| Date and Place of Death: | July 22, 1943 North Africa |
| Baseball Experience: | Semi-Pro |
| Position: | Second Base |
| Rank: | Staff Sergeant |
| Military Unit: | 135th Infantry Regiment, 34th Infantry Division US Army |
| Area Served: | Mediterranean Theater of Operations |
"The special mission took my sweetheart but not my love for him."
Arlouine Weaver-Trent
Victor C. "Vic" Saltzgaver, nephew of major leaguer Jack Saltzgaver, was born in Eldon, Iowa on July 17, 1920. His father worked on the railroad and Eldon was a busy little town until the railroad pulled out. Vic was the youngest of four children and attended the local high school in Eldon. "We had a great basketball team," recalls Arlouine Weaver-Trent, who was Saltzgaver's sweetheart from childhood, "Vic was one of the star players. After one great game Vic's picture made the headlines of the Ottumwa Courier."

Life was different in those days. "We loved to dance, ride our bikes and roller skate," remembers Arlouine. "We had a theater at that time but none of us had much money to spend so we went with the cheaper fun. We had a great many parties on Saturday nights and the gang would gather at my folks' house. We would dance and play board games. My mother would keep us supplied with refreshments."

Saltzgaver worked as a delivery boy for local grocery stores and enjoyed going to local baseball games with Arlouine. Both their fathers played on the town team and both were outstanding players.

Saltzgaver graduated from Eldon High School in 1937. His uncle Jack arranged a pro tryout with the Lincoln team of the Nebraska State League but when he was not offered a contract he moved on to California to attend school and then worked in an airplane factory. "Vic wanted me to come to California and get married," says Arlouine, "but I had just started working and wanted to be independent for a while."

He returned to Eldon a couple of years later and, like a lot of local boys, joined the Iowa National Guard. On February 10, 1941, his National Guard unit was mobilized into the federal Army. He trained at Camp Claiborne in Louisiana. "His folks took me down to visit him," remembers Arlouine. "That's when I received my diamond. On his last leave we planned to be married but the conditions down in Louisiana were so bad he did not want me living there so we decided to wait until after he got out of the Army. Well, that turned out badly!"

In February 1942, a year after joining the Army, Sergeant Saltzgaver boarded a troop ship at the Brooklyn Navy Yard bound for Northern Ireland. As part of a large convoy that zigzagged across the North Atlantic, Navy destroyers constantly circled the outside of the convoy in an effort to ward off prowling U-boats. He arrived safely in Northern Ireland in March 1942 and was stationed at Castle Rock. Informal baseball games between battalions began the following month, and it was in July – to celebrate Independence Day – that the first officially recognized baseball game since the First World War took place in Northern Ireland. Saltzgaver played second base for the 34th Infantry Division against the 1st Armored Division at Windsor Field, Belfast, in front of an enthusiastic if somewhat bewildered crowd of locals and the Duke of Abercorn. Saltzgaver was 1-for-3 at the plate in the lead off spot and the 34th won the game, 3-2.

"Vic sent me many beautiful things from Ireland," says Arlouine, "including a table cloth and napkins." But in November 1942, the 34th Infantry Division left the safety of Northern Ireland to take part in "Operation Torch," the Allied landings on North Africa. They landed at Oran on January 3, 1943 and Saltzgaver was engaged in police and salvage work - training and building staging areas for the troops bound for Sicily. Major league slugger, Zeke Bonura, was in charge of all the athletic activities in Oran and the 34th Infantry Division played two games against the 95th General Hospital while there, losing the first game, 11-0, and winning the second, 11-0.

Vic and Arlouine continued to communicate throughout this time. "Vic sent me a ring from Tunis dated 1943, with the inscription 'to Arlouine from Vic'."

When a call went out for volunteers for some training maneuvers, Saltzgaver decided to give it a try. "Vic wrote me that he had signed up for a special mission," says Arlouine. "He said it would either make a man of him or kill him."

On July 22, 1943, five days after his 23rd birthday, Staff Sergeant Saltzgaver lost his life in North Africa - a victim of friendly fire. The training maneuver involved live ammunition and when a machine gun malfunctioned, the whole front line, including Saltzgaver, were killed.

"The special mission took my sweetheart but not my love for him," say Arlouine, who still lives in the sleepy town of Eldon where she grew up with Vic Saltzgaver. "I never stopped loving Vic - even though I did eventually marry. Vic and I had so many years and good times together. There has never been a day pass that I don't think of him. Vic had so much respect for me - one just doesn't forget that.

"Vic's captain [Captain Charles Easton of Fairfield, Louisiana] visited me when he returned home after the war. He told me about Vic spending the evening, before Vic was killed, with him in his tent telling him of our plans when Vic got home. He told me Vic was 'true blue' to me. I did so very much appreciate him taking time to come visit me and telling me about Vic."

Vic Saltzgaver was originally buried in Oran, but his body was later moved to the American Military Cemetery in Carthage, Tunisia, where it has remained for more than 60 years. Jack Saltzgaver made the trip to Africa to visit his nephew's grave. "I always wished Vic's folks had requested his body brought back," says Arlouine, "But that was their decision to make. He does have a stone here in our cemetery so I can decorate it."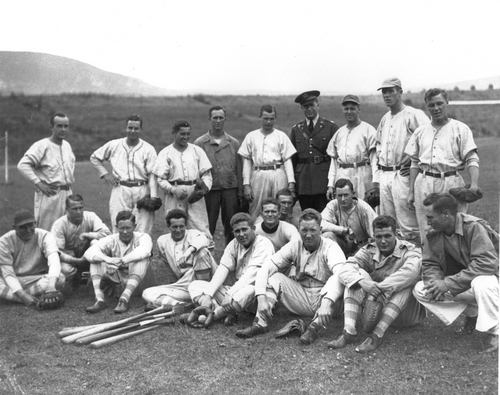 34th Infantry Division "Midwest Giants" in Northern Ireland in 1942
(Vic Saltzgaver is back row, fifth from left)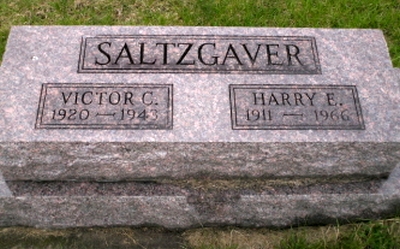 Vic Saltzgaver's marker at Eldon Cemetery in Eldon, Iowa
With special thanks to Arlouine Weaver-Trent for all her help with this biography.
Date Added June 5, 2012 Date updated July 23, 2013
Baseball's Greatest Sacrifice is associated with Baseball Almanac
Baseball's Greatest Sacrifice is proud to be sponsored by