Mike Sambolich
| | |
| --- | --- |
| Date and Place of Birth: | January 8, 1921 Wegley Hill, PA |
| Date and Place of Death: | November 5, 1944 Belgium |
| Baseball Experience: | Minor League |
| Position: | Outfield |
| Rank: | Technician Fourth Grade |
| Military Unit: | 211th Medical Dispensary US Army |
| Area Served: | European Theater of Operations |
Michael L. Sambolich was a sandlot star from Wegley, Pennsylvania. He attended Norwin High School and worked at the Hockensmith Foundry in Penn, Pennsylvania. During 1940 he was a hard-hitting outfielder with the local Wegley Dodgers in the Jeanette (PA) News-Dispatch League and signed with the Pittsburgh Pirates' organization the following year. In April 1941, he joined the Oil City Oilers of the Class D Penn State Association at their spring training camp in Pocomoke City, Maryland. Another Pennsylvania youngster starting his minor league career with the Oilers that year was outfielder Al Gionfriddo, who would make it to the major leagues in 1944. Sambolich was the Oilers' lead-off hitter and center fielder, and batted .312 in the team's 110 games. Gionfriddo batted .334.

In 1942, Sambolich was off to a flying start and by June 12, was batting .342 — fourth best in the league.1 On June 17, with Sambolich's 35 RBIs sitting at the top of the Penn State leaderboard, he dislocated a shoulder sliding back into first base during an aborted double steal against the Johnstown Johnnies. Sidelined for two weeks, the injury hampered his play for the remainder of the season. On August 17, 1942, it was announced that Sambolich had taken his preliminary examination for possible induction in the armed forces. He remained with the Oilers for the rest of the season and batted .302 with 77 RBIs. In his last game, played on August 30 in front of a hometown crowd, Sambolich went 2 for 4 at the plate as the Oilers were eliminated from the Penn State Association playoffs.

On September 25, 1942, Sambolich entered military service with the Army Air Force. In 1943, he was at the medical service school at Warner Robins Army Air Field in Georgia, and played baseball throughout the summer. In July, the Robins Field Robins - undefeated during the regular season - entered the Georgia State semi-pro tournament that featured the mighty Camp Wheeler Spokes, led by Senators shortstop Cecil Travis.

After defeating Atlanta Army Air Base, 4–1, Robins Field faced the Spokes in a July 4 doubleheader at Luther Williams Field in Macon, Georgia, and were easily defeated 13–3 and 10–3. Nevertheless, Sambolich batted .428 over the seven games and was named to the all-tournament team.

In October 1943, Sambolich left his young wife, Valerie, and their three-month-old daughter, Barbara, for overseas duty. He was initially stationed in England before joining the advancing Allied forces in mainland Europe. Serving in Belgium with the 211th Medical Dispensary Detachment - a special unit bringing mobile medical care to air crews—Technician Fourth Grade Sambolich was killed on November 4, 1944, when the jeep he was driving collided with a taxiing airplane. He was buried at Henri-Chapelle American Cemetery in Belgium.

In May 1946, at St. Boniface Cemetery, a monument was dedicated to Sambolich and two other local men who gave their lives during WWII.
| | | | | | | | | | | | | |
| --- | --- | --- | --- | --- | --- | --- | --- | --- | --- | --- | --- | --- |
| | Team | League | Class | G | AB | R | H | 2B | 3B | HR | RBI | AVG |
| 1941 | Oil City | Penn State Assoc | D | 110 | 484 | 109 | 151 | 26 | 6 | 5 | 59 | .312 |
| 1942 | Oil City | Penn State Assoc | D | 96 | 394 | 69 | 119 | 14 | 6 | 5 | 77 | .302 |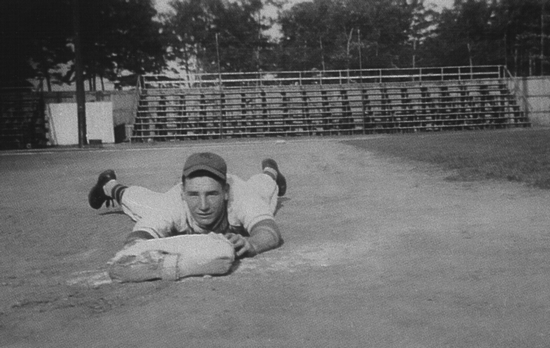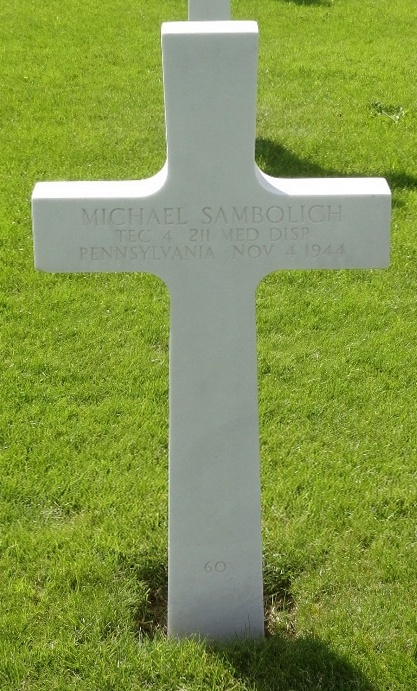 Mike Sambolich's grave at Henri-Chapelle American Cemetery in Belgium
Memorial to Mike Sambolich and two other local men at St. Boniface Cemetery in Penn Township, Pennsylvania
Thanks to the Amateur Athletic Foundation of Los Angeles for help with this biography. Thanks also to Astrid van Erp for photos for this biography
Date Added February 15, 2012 Updated August 3, 2017
Baseball's Greatest Sacrifice is associated with Baseball Almanac
Baseball's Greatest Sacrifice is proud to be sponsored by