Jimmy Scondras
| | |
| --- | --- |
| Date and Place of Birth: | September 8, 1919 Lowell, MA |
| Date and Place of Death: | February 25, 1945 Iwo Jima |
| Baseball Experience: | College |
| Position: | Infield/Outfield |
| Rank: | First Lieutenant |
| Military Unit: | D Battery, 2nd Battalion, 12th Marines, 3rd Marine Division, US Marine Corps |
| Area Served: | Pacific Theater of Operations |
"That boy would have been top major league baseball timber, had he lived."
Walter Foye, Lowell High School baseball coach
James P. "Jimmy" (The Chief) Scondras was born in Lowell, Massachusetts, in 1919. The Scondras family were part of the large Greek community that settled in Middlesex County during the late 19th Century.

Scondras was an excellent athlete during his high school years at Lowell High. As a sophomore he hit .400 and stole eight bases in 20 games. As a junior he sparked Lowell to a state basketball championship. As a senior, he scored eight touchdowns as a starring halfback, and as basketball captain, he led the team in scoring. In baseball, he hit .345 while leading the team in triples, home runs and runs batted in. He could play any position and, as a catcher, he captained the Lowell Post 87 American Legion team that went to the National Championship Tournament in Middletown, Ohio in 1936 and 1937.

In 1938, Scondras was playing in the Greater Lowell Twilight League for Dan O'Dea's, alternating between the outfield and second base.

After graduating from Lowell High, Scondras attended St John's Prep School in Danvers, Massachusetts before moving on to the College of Holy Cross where he was a letter man in baseball, football and track, and had a superb .418 batting average in 1941 under manager and former major leaguer Jack Barry. Scondras remained a mainstay of the Holy Cross team in 1942 and during the summer months he played for the Manchester, New Hampshire team in the New England League.

It was in 1942, while still at Holy Cross, that Scondras entered military service. In March 1942, he was sworn into the US Marine Corps, allowed to complete his college studies, and then sent to Quantico, Virginia for six month's training. Scondras emerged from Quantico a second lieutenant and undertook further training at Parris Island, South Carolina.

By 1944, Scondras was serving in the Pacific Theater and in combat on Guam. "Scondras was pinned down on the beach for almost an hour on Guam by Jap mortar and machine-gun fire," announced the Lowell Sun in August 1944. "Next morning, the Lowell marine officer was leading a group to establish a forward observer's position. He picked the top ridge as a likely spot. When he was in throwing distance of the Jap outpost, he tossed a grenade over the crest of the ridge. After it exploded, the Japs ceased firing."

By February 1945, Scondras was a first lieutenant and on his way to Iwo Jima to help secure the island for use as a base for long-range fighters to escort bombers on their missions to Japan.

Iwo Jima, 750 miles south of Tokyo, is the middle island of the three tiny specks of the Volcano Islands. Five miles long with Mount Suribachi at the southern tip, the island is honeycombed with excoriated volcanic vents. Hundreds of natural caves communicate with deep sulphur-exuding tunnels. Steep and broken gulleys cut across the surface, ragged sea cliffs surround it. Only to the south is there level sand, but it is fine, shifting, black pumice dust making the beaches like quicksand and rendering it impossible to dig a fox-hole when in need of cover.

The island was riddled with pillboxes, gun-pits, trenches and mortar sites and a three-day naval bombardment beginning on February 16 was intended to rid the island of much of its defense. But despite its enormity the bombardment had minimal effect.

First Lieutenant Scondras landed on the beaches of Iwo Jima on February 19 and somehow ended up sheltering from Japanese machine gun on the volcanic ash beach with his hometown friends, Peter Tsapatsaris and Jimmy Tsaffaras. Days later, Scondras volunteered for duty as a forward scout and was killed in action on February 25, 1945. He had no idea that just days earlier his brother, David, had been killed in action on the battlefields of Europe. Jimmy Scondras was posthumously awarded the Silver Star and Purple Heart.

"The Chief was everything a coach sought in a boy-player," Walter Foye, his high school diamond mentor, told the Lowell Sun in March 1945. "That boy would have been top major league baseball timber, had he lived."

"The life of Jimmy Scondras, whom we knew as one of our own, epitomizes the finest grain of American manhood," wrote John F. Kenney in the Lowell Sun on March 19, 1945. "This kid was moulded the hard way, as so many of the best of 'em are. To Jimmy, opportunity was something to be sought, not awaited to lope around a corner and bowl him over."
First Lt. Scondras was initially buried on Iwo Jima, a small simple cross of metal marking his resting place. On March 29, 1949, his body was brought home for interment at Woodland Cemetery in Lowell, along with that of his brother, David.

On February 14, 1965, the Lowell High School gym was renamed the James P. Scondras Memorial gym in his honor. Members of the city council and school committee were in attendance along with members of the Scondras family. In 1990, Scondras was inducted into the Holy Cross Varsity Club Hall of Fame.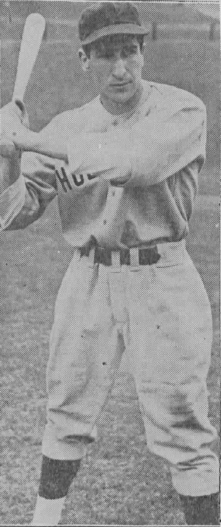 Jimmy Scondras with Holy Cross in 1942
Some of this information was obtained from the Hellenic Voice newspaper. Thanks to Astrid van Erp for help with this biography.
Date Added February 5, 2013. Updated August 5, 2017
Baseball's Greatest Sacrifice is associated with Baseball Almanac
Baseball's Greatest Sacrifice is proud to be sponsored by