Gene Scruggs
| | |
| --- | --- |
| Date and Place of Birth: | October 12, 1925, Abilene, TX |
| Date and Place of Death: | April 1, 1945, Remagen, Germany |
| Baseball Experience: | College |
| Position: | Unknown |
| Rank: | Private |
| Military Unit: | Company B, 47th Infantry Regiment, 9th Infantry Division US Army |
| Area Served: | European Theater of Operations |
Gene A. Scruggs was born October 17, 1925, in Abilene, Texas, to Guy and Bess Scruggs. His father had been a minor league pitcher with Corsicana and Sherman in the Class D Texas Association in the 1920s, and became a physical education instructor at Abilene Christian College (ACC) when Gene was young.

Gene never attended school anywhere but on the ACC campus. He entered Abilene Christian Training School in the first grade, and remained through high school and college. Coached by his father, Gene lettered in football, baseball and basketball in high school, and baseball in college. He was a state junior badminton champion and shared the state junior doubles title one year. In September 1944, he played for the ACC softball team that was formed to play against military teams from the nearby army air field and the 11th armored division.

A math and science major, Scruggs was just one semester away from graduation when he entered military service with the army. He was initially stationed at Fort Leonard Wood, Missouri, with the corps of engineers service unit, but with the drive into Germany by Allied forces, every able bodied man was needed on the battlefront, and Scruggs was transferred to infantry training before being hurriedly shipped overseas.

On March 18, 1945, Private Scruggs joined Company B of the 47th Infantry Regiment, 9th Infantry Division as it became the first U.S. regiment to cross the Rhine River via the Ludendorff Bridge at Remagen, Germany. On April 1, 1945, after just 13 days in combat, Gene Scruggs was killed in action. He was just 19 years old and had been in the army just seven and a half months.

In May 1945, his parents received a letter from Richard W. Day, protestant chaplain of the 47th Infantry Regiment, stating that, "[Gene] was killed while courageously performing his duties with his company against the enemy. He died instantly and suffered no pain...although he was with us only a short while, he fought most gallantly as a member of a rifle platoon in our drive into central Germany. He was a brace soldier and served his country in the highest traditions of the United States Army."

Gene Scruggs was initially buried with his comrades in Europe, but after the war's end, relatives had the opportunity to have their loved ones returned home for burial. Gene Scruggs returned to Abilene in February 1949, with a memorial service at ACC for burial at the Abilene Municipal Cemetery.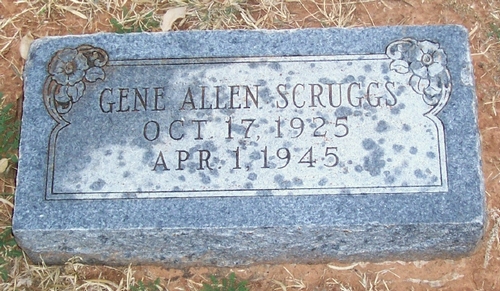 Sources:
The Optimist, April 21, 1944
Abilene Reporter News, May 28, 1945
The Optimist, February 2, 1949
Prickly Pear, ACC Yearbook 1943 and 1944
Date Added: May 21, 2017
Can you add more information to this biography and help make it the best online resourse for this player? Contact us by email
Read Baseball's Greatest Sacrifice Through The Years - an online year-by-year account of military related deaths of ballplayers
Baseball's Greatest Sacrifice is associated with Baseball Almanac
Baseball's Greatest Sacrifice is proud to be sponsored by