Harold Sherman
| | |
| --- | --- |
| Date and Place of Birth: | November 12, 1921 Bonne Terre, MO |
| Date and Place of Death: | July 7, 1945 near Mowkung, China |
| Baseball Experience: | Minor League |
| Position: | Pitcher |
| Rank: | Flight Officer |
| Military Unit: | 492nd Bomb Squadron, 7th Bomb Group, 10th Air Force USAAF |
| Area Served: | China-Burma-India Theater of Operations |
Harold H. Sherman, the son of Oliver and Rebecca Sherman, was born in Bonne Terre, a lead-mining community in southeast Missouri. In September 1939, the 18-year-old right-hander attended an open tryout with the St. Louis Cardinals and was signed to a minor league contract. He was expected to join the Union City Greyhounds of the Class D Kitty League the following year, but found himself with the Fayetteville Angels of the Class D Arkansas-Missouri League before moving to the Beaver Falls Browns of the Class D Penn State Association, seeing little action with either team.

In 1941, Sherman pitched for two last-place teams. He began the season with the Paragould Browns of the Class D Northeast Arkansas League, where he had a 2-11 wonloss record and 5.93 ERA over 19 games, and he finished the year with the Huntington Aces of the Class D Mountain State League, where he was 1-6 with a 4.87 ERA in eight appearances.

Sherman entered military service at Jefferson Barracks, Missouri, in September 1943. He trained as a pilot with the Army Air Force, and was commissioned a flight officer. He served overseas with the 492nd Bomb Squadron of the 7th Bomb Group, Tenth Air Force in India, where he ferried fuel and supplies over "the Hump" into China. On July 7, 1945, Sherman piloted a Consolidated B-24L Liberator that left Tezpur, India, bound for Chengtu in China. The plane and its crew of five never reached their destination, crashing about 30 miles south of Mowkung, China, with the loss of all lives.

Sherman was originally buried at the Mopanshan Military Cemetery at Fungwan-shon in China. His body was later moved to the National Memorial Cemetery of the Pacific in Honolulu, Hawaii.
| | | | | | | | | | | | |
| --- | --- | --- | --- | --- | --- | --- | --- | --- | --- | --- | --- |
| Year | Team | League | Class | G | IP | ER | BB | SO | W | L | ERA |
| 1940 | Fayetteville | Arkansas-Missouri | D | - | - | - | - | - | 0 | 1 | - |
| 1940 | Beaver Falls | Penn State Assoc | D | - | - | - | - | - | - | - | - |
| 1941 | Paragould | N.E. Arkansas | D | 19 | 91 | 60 | 59 | 69 | 2 | 11 | 5.93 |
| 1941 | Huntington | Mountain State | D | 8 | 48 | 26 | 40 | 26 | 1 | 6 | 4.87 |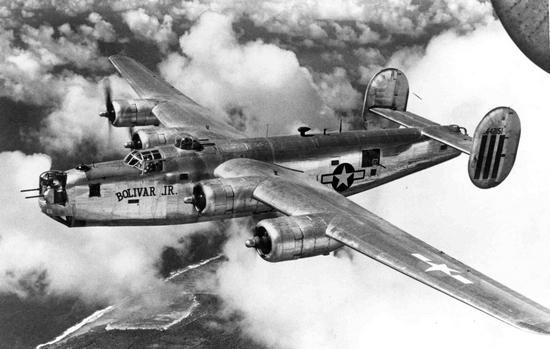 A Consolidated B-24L Liberator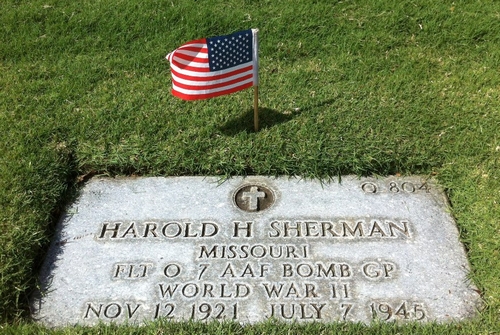 Flight Officer Harold Sherman's grave at the National Memorial Cemetery of the Pacific in Honolulu, Hawaii
Date Added March 4, 2012 Updated June 17, 2014
Baseball's Greatest Sacrifice is associated with Baseball Almanac
Baseball's Greatest Sacrifice is proud to be sponsored by