George Sinks
| | |
| --- | --- |
| Date and Place of Birth: | 1898 Dayton, OH |
| Date and Place of Death: | March 10, 1918 Recreation Park Base 2, Naval Station Norfolk, VA |
| Baseball Experience: | Amateur |
| Position: | Unknown |
| Rank: | Musician, Second Class |
| Military Unit: | US Navy |
| Area Served: | United States |
19-year-old George Sinks is possibly the only serviceman to lose his life while playing baseball.
George D. Sinks, the son of Korah and Mantie Sinks, was born in Dayton, Ohio in 1898. His father was postmaster of East Dayton branch office and the family home was at 22 Pioneer Street in Dayton.

Still a teenager, he served with the United States Navy during World War One as a musician, second class, aboard the dreadnought USS Nevada (BB-36).

The Nevada was based at Naval Station Norfolk in Virginia. On March 10, 1918, Sinks was playing baseball at Recreation Park Base 2 at Norfolk, when he was struck in the chest by the ball. The 19-year-old musician died without regaining consciousness.

George Sinks received at military burial at Shiloh Park Cemetery in Ohio. A monument donated by his shipmates, marks his grave.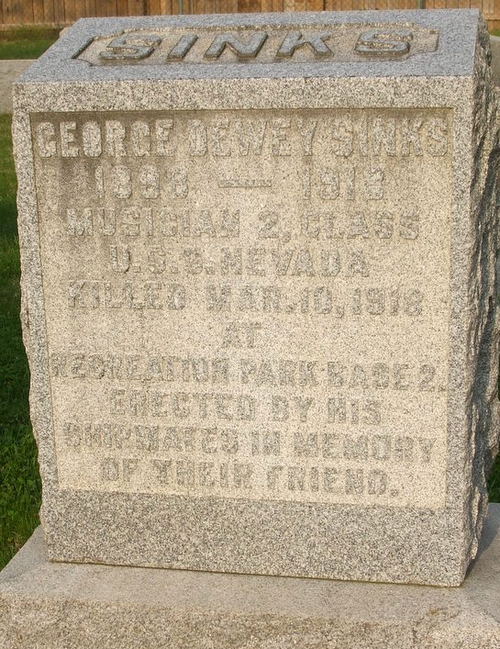 George Sinks' grave at Shiloh Park Cemetery in Ohio
Sources:
Newark Advocate, March 16, 1918
New York Evening Telegram, March 18, 1918
www.naval-history.net
Date Added: November 22, 2013
Can you add more information to this biography and help make it the best online resourse for this player? Contact us by email
Read Baseball's Greatest Sacrifice Through The Years - an online year-by-year account of military related deaths of ballplayers
Baseball's Greatest Sacrifice is associated with Baseball Almanac
Baseball's Greatest Sacrifice is proud to be sponsored by