Doc Smith
| | |
| --- | --- |
| Date and Place of Birth: | 1918 Thrall, TX |
| Date and Place of Death: | January 3, 1943 off coast of St. Nazaire, France |
| Baseball Experience: | College |
| Position: | Third Base |
| Rank: | Second Lieutenant |
| Military Unit: | 427th Bomb Squadron, 303rd Bomb Group, Eighth Air Force USAAF |
| Area Served: | European Theater of Operations |
Robert Wilson "Doc" Smith, son of Mr. and Mrs. Jesse Smith, was born in Thrall, Texas in 1918.
A sport standout at Thrall High School, Smith was an all-district selection in basketball and entered the University of Texas in 1937. Playing third base and leading-off for the Longhorns, Smith was an offensive and defensive threat. "Doc Smith turned in two great plays at third base for the Longhorns to take defensive laurels in an otherwise loosely played game," reported the Galveston Daily News following a game against Rice in 1939. "He robbed Hiegel of an extra base wallop with a leaping catch of the little Rice pitcher's line drive in the fifth, and made a diving stop of Carswell's hot grounder in the seventh to throw out Arthur at second while laying on the ground."
His Longhorn teammates included Mel Deutsch, who played for the Red Sox in 1946, and infielder Grady Hatton, who spent 12 years in the majors.
During the summers of 1938 to 1940, Smith also played with the Seven-Up Bottlers of Austin, one of Texas' strongest semi-pro clubs. They faced the best teams in the southwest and even played against the St. Louis Browns.
Smith graduated from Texas in 1941 and entered military service with the Army Air Force in November 1941. He trained as a bombardier and was commissioned a second lieutenant before being assigned to the 427th Bomb Squadron of the 303rd Bomb Group at Molesworth airfield in Cambridgeshire, England.
On January 3, 1943, 2/Lt. Smith was the bombardier aboard a Boeing B-17F Flying Fortress that was part of a mission to attack torpedo storage areas at St. Nazaire, France. Piloted by 1/Lt. William H. Goetz, the bomber was attacked by a German fighter plane as it approached the French coastline, causing it to explode in flight and crash into the Atlantic Ocean off the coast of St. Nazaire.
Smith, Goetz and the eight other crew members were all reported missing in action at the time. One year later their bodies had still not been recovered and all the crew were listed as killed in action.
A recipient of the Air Medal and Purple Heart, Doc Wilson is memorialized at the Brittany American Cemetery in St. James, France.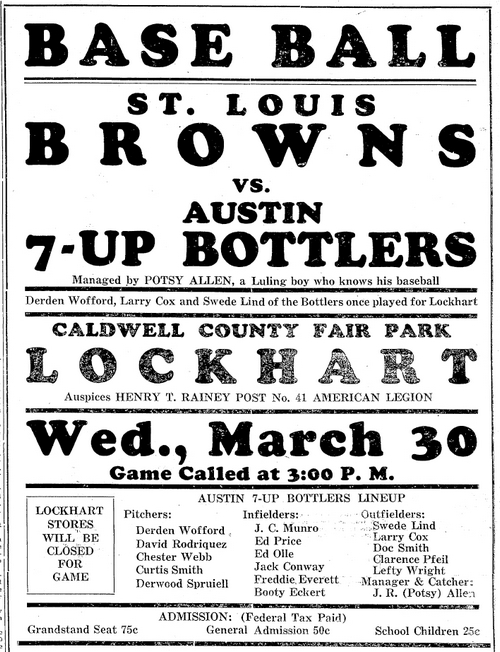 In 1938, Doc Smith played for the 7-Up Bottlers against the St. Louis Browns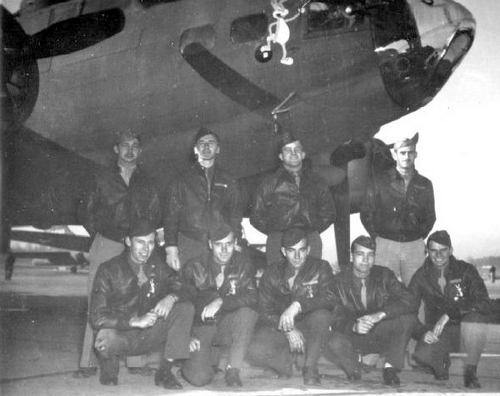 The ill-fated crew of 1/Lt. William H. Goetz. 2/Lt. R. Wilson "Doc" Smith is back row, far right.
Sources
San Antonio Light, March 1, 1936
Lockhart Post-Register, March 24, 1938
Galveston Daily News, March 21, 1939
San Antonio Express, November 4, 1939
San Antonio Express, March 19, 1940
San Antonio Light, June 4, 1940
San Antonio Light, May 8, 1941
http://francecrashes39-45.net/
http://www.303rdbg.com
Date Added August 22, 2013
Can you add more information to this biography and help make it the best online resourse for this player? Contact us by email
Read Baseball's Greatest Sacrifice Through The Years - an online year-by-year account of military related deaths of ballplayers
Baseball's Greatest Sacrifice is associated with Baseball Almanac
Baseball's Greatest Sacrifice is proud to be sponsored by