Marshall Sneed
| | |
| --- | --- |
| Date and Place of Birth: | July 22, 1915 Piggott, AR |
| Date and Place of Death: | February 22, 1943 Bay of Gabes, Tunisia |
| Baseball Experience: | Minor League |
| Position: | Outfield |
| Rank: | Captain |
| Military Unit: | 65th Fighter Squadron, 57th Fighter Group, Ninth Air Force USAAF |
| Area Served: | Mediterranean Theater of Operations |
"It is said that the 57th Fighter Group was full of 'unforgettable characters' and he [Marshall Sneed] was one of them."
Major General Arthur G Salisbury, commanding officer 57th Fighter Group
Marshall M. Sneed was the son of an attorney, and grew up in Piggott, Arkansas. He attended Piggott High School where he captained the baseball, track, football and basketball teams. After graduating from high school in 1936, Sneed attended the University of Missouri, where he was an outfielder on the baseball team and a halfback in football. Sneed dropped football in his junior year but lettered in baseball, and captained the Tigers his senior year. Carl Miles, who briefly pitched for the Philadelphia Athletics in 1940, was Sneed's teammate on the Missouri team that won Big-Six championship in 1937 and 1938.

Sneed received a Bachelor of Science degree in agriculture in 1939, and signed a pro fessional baseball contract with the St. Louis Browns in July. He was assigned to the Topeka Owls of the Class C Western Association but was batting just .131 after 20 games when he was sent to the Paragould Browns of the Class D Northeast Arkansas League, where he batted a much better .283 in 52 games. In 1940, Sneed was back with Paragould and batted .239 in 63 games.[1]

Sneed entered military service on February 8, 1941, and trained as a fighter pilot with the Army Air Corps. He received primary and advanced fight training, and graduated as part of Class 41-G at Goodfellow Army Air Field in Texas. He was awarded pilot's wings and commissioned a 2nd Lieutenant.
Following the attack on Pearl Harbor, Sneed was assigned to the 65th Fighter Squadron at Trumbull Airport in Groton, Connecticut, flying a Curtis P-40 Warhawk as part of the Boston Air Defense Region. The squadron had something of a reputation largely thanks to its commanding officer, Captain Philip G. "Flip" Cochran. Not only had Cochran been immortalized in Milton Caniff's Terry and the Pirates comic strip as the daredevil pilot Flip Corkin, he had instilled an aggressive gung-ho attitude among his men. Caniff also designed the squadron's "Fighting Cock" emblem based on their feisty rooster mascot, "Uncle Bud."

In June 1942, as part of the 57th Fighter Group, the squadron received orders to prepare for overseas duty. The destination was unknown, but a clue lay in the 72 brand new P-40Fs that arrived at the airfield, painted in camouflage desert pink. Unusually, the pilots were instructed to practice short take-offs for a couple of days before flying the planes to the Naval Air Station at Quonset Point, Rhode Island, where they were hoisted onto the aircraft carrier USS Ranger (CV-4) on July 1. Two weeks later the Ranger arrived at the Gold Coast (now Ghana) in West Africa. From 100 miles offshore, the pilots revved to full throttle, released their brakes and hurtled down the deck, briefly dropping out of sight off the end of the carrier before emerging safely. All 72 pilots safely reached land at Accra on the Gold Coast and then began the 3,000-mile cross-country journey to Muqeibila in Palestine (now in Israel). There the group was split up and Sneed's 65th Fighter Squadron was posted to Cyprus for acclimatization and training.

Three weeks later, on September 16, 1942, the three squadrons of the 57th Fighter Group were reunited and posted to their first combat base in Egypt, known simply as LG 174. For the next couple of weeks, the 65th Fighter Squadron was attached to a combat-hardened South African fighter squadron which taught the Americans the basics of desert combat flying. The squadron became operational in October 1942, and supported the British Eighth Army's drive across Egypt and Libya, escorting bombers and flying strafing and dive-bombing missions against enemy airfields, communications and troop concentrations.

Sneed was not the only former professional ballplayer with the 57th Fighter Group in North Africa. Bobby Byrne, Jr., who had played second base with the Ashland Colonels of the Mountain State League in 1941, was a pilot with the 64th Fighter Squadron and became an ace with six kills to his name. [2] During a lull in air operations in late 1942, the 57th Fighter Group staged a ball game against the 112 Squadron of the Royal Air Force. Surprisingly, reports claim the British won the game against the American flyers, and while detailed accounts of the game have been lost over time, it is fascinating to picture the two teams in the dust-blown wasteland of North Africa with Marshall Sneed in the outfield and Bobby Byrne at second base. For Sneed, it was the last time he would be on a ball field.

On January 20, 1943, Sneed - recently promoted to captain - shot down an enemy plane over the North African desert. "[Sneed] was a fine flight commander," wrote Major General Arthur G. Salisbury, "a daring leader, and one who did as much as anyone else in the organization to keep the morale at a very high level." [3] Sneed was also responsible for the naming of the squadron mascot, a rooster known as "Uncle Bud." Marshall Sneed, or Mortimer Snerd as he was affectionately known by his fellow pilots, could often be found at the bar of the officer's mess singing a traditional folk song entitled "Uncle Bud." Gradually the words were altered to fit the part and it became the unofficial fighting song of the squadron. The following verse was written by Sneed about his P-40 fighter plane:

She was a honey, one of the best The night I put her to the test. She looked so sweet, so pretty and slim, The night was dark, the moon was dim. I was excited, my heart missed a beat, For I knew I was in for a hell of a treat. I saw her stripped, I saw her bare, I felt her over everywhere. I got inside her, she screamed with joy. That was her first night, Boy! Oh Boy! I got up as quickly as I could, I handled her gently, for I knew she was good. I rolled her over and then on her side, And on her back I also tried. She was one high thrill, the best in the land, The P-40 of Fighter Command.[4]

On February 22, 1943, after seven months of overseas duty, Sneed was shot down in the Bay of Gabes, Tunisia, while attacking German forces in their flight to escape from Africa. His body was never recovered and he is memorialized at the North African American Cemetery in Carthage, Tunisia. News of his death came as a terrible blow to the squadron. Five days later, his crew chief John Seeman, wrote the following epitaph:

Captain, you did not return today From your flight, hell bent into the blue. We missed your buzz of the accustomed way I can but think how we will miss you. We remember the day you joined us at Groton on the Thames. We'll never forget your racing cars, or your baseball games And always, we'll remember the stories that you could tell. A thousand other things of you, that we knew and loved so well. You named our squadron mascot, that name shall live for aye, "Uncle Bud" shall be our song, you'll hear it sung we pray. Captain, you did not return today From your flight, hell bent into the blue. And though you hear not, this we say ... Captain Sneed ... God's grace to you [5]

Sneed was awarded the Distinguished Flying Cross, Air Medal, Silver Star and Purple Heart. He has a head stone in the Piggott Cemetery in Arkansas, next to his mother and father. "I can only remember seeing Marshall one time," recalled his nephew, Thomas Sneed. "It was in April 1942, when he was home on leave just prior to going overseas. I was six years old at the time. I am proud of his service and regret that I really never knew him." [6]
| | | | | | | | | | | | | |
| --- | --- | --- | --- | --- | --- | --- | --- | --- | --- | --- | --- | --- |
| | Team | League | Class | G | AB | R | H | 2B | 3B | HR | RBI | AVG |
| 1939 | Topeka | Western Assoc | C | 20 | 61 | 7 | 8 | 0 | 0 | 0 | 6 | .131 |
| 1939 | Paragould | N.E. Arkansas | D | 52 | 191 | 29 | 54 | 14 | 0 | 0 | 25 | .283 |
| 1940 | Paragould | N.E. Arkansas | D | 63 | 218 | 51 | 52 | 8 | 3 | 1 | 20 | .239 |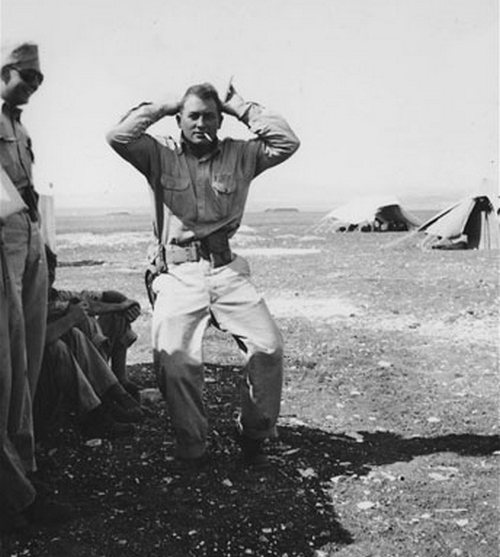 Marshall Sneed in North Africa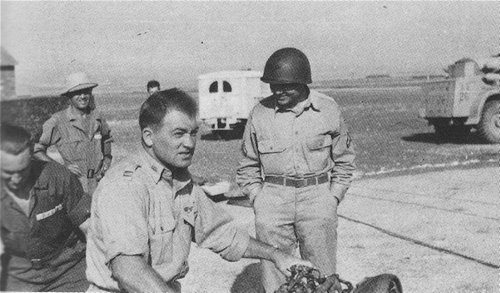 Marshall Sneed in North Africa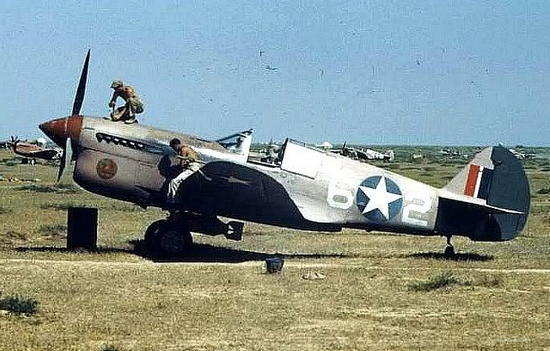 A Curtis P-40F of the 65th Fighter Squadron
Notes
1. Third baseman Lou Miller was a teammate of Sneed's at Paragould in 1939 and 1940. He was a bomber pilot with the 43rd Bomb Group and was killed when his B-17 was shot down during the Battle of the Bismarck Sea in the Pacific.
2. Byrne returned home to the United States during the summer of 1943, and later worked as a test pilot rising to the rank of major. He passed away in Philadelphia, Pennsylvania, on April 10, 1993.
3. Uncle Bud: Official Newsletter of the 65th Fighter Squadron, Vol. 8 Issue 1, March 2005
4. Ibid
5. Ibid
6. Correspondence with Thomas Sneed, June 2006
Thanks to Thomas Sneed, and Gary Cox at the University Archives, University of Missouri-Columbia
Date Added March 7, 2012 Updated June 10, 2014
Baseball's Greatest Sacrifice is associated with Baseball Almanac
Baseball's Greatest Sacrifice is proud to be sponsored by