Billy Southworth, Jr.
| | |
| --- | --- |
| Date and Place of Birth: | June 20, 1917 Portland, OR |
| Date and Place of Death: | February 15, 1945 Flushing Bay, NY |
| Baseball Experience: | Minor League |
| Position: | Outfield |
| Rank: | Major |
| Military Unit: | Second Air Force USAAF |
| Area Served: | European Theater of Operations and United States |
As a youngster, Billy Southworth Jr had two loves in his life - baseball and airplanes. He would grow up to be an outstanding ballplayer and an exceptional pilot, but with tragic consequences.
William H. Southworth, who guided the St. Louis Cardinals to two World Series titles during the 1940s, was an outfielder with the Portland Beavers of the Pacific Coast League when his son Billy, Jr., was born on June 20, 1917. The senior Southworth went on to enjoy a 13-season playing career in the major leagues before turning his hand to managing and earning posthumous selection to the Baseball Hall of Fame in 2008.

Billy, Jr., a standout athlete at East High School, in Columbus, Ohio, who spent the summers with his dad on the minor league circuit, signed in 1936 with the Asheville Tourists of the Class B Piedmont League, where his father was in his second season as manager. Billy, Jr., who looked more like a Hollywood movie star than a ballplayer, played 29 games and was batting .253, before joining the Martinsville Manufacturers of the Class D Bi-State League, where he hit an impressive .340 in 65 games. In 1937, Southworth was back with Asheville but after a poor start he was again optioned to Class D ball, playing with the Daytona Beach Islanders of the Florida State League and then back with Martinsville for the end of the season.

In 1938, the 20-year-old outfielder joined the Kinston Eagles of the Class D Coastal Plain League and had an opportunity to show what he could do. In 103 games, he batted.283 with 78 RBIs, and led the team with 14 home runs and 22 stolen bases. His performance was good enough to advance to Class B baseball for 1939, joining the Columbus Red Birds of the South Atlantic League. A slow start saw a move to the Springfield Indians of the Class C Middle Atlantic League, and then on to the Rome Colonels of the Class C Canadian-American League where he enjoyed a career-year. Southworth batted .342 with 15 home runs, 85 RBIs and 20 stolen bases in 102 games for the Colonels to earn league MVP honors.

Southworth was a rising star and sold to the Toronto Maple Leafs of the Class AA International League - one level below the majors - at the end of 1939. He began the following season in Toronto and despite getting five hits in his first 11 at-bats he soon cooled down. At about the same time his father took over from Ray Blades as manager of the St. Louis Cardinals, Billy, Jr., was on a southbound train for Wilmington, Delaware, where he spent the remainder of the season with the Blue Rocks of the Class B InterState League. Southworth batted .291 in 62 games and returned to Toronto for the last few weeks of the season.

Meanwhile, war was raging across Europe and Southworth had been paying particularly close attention. "I think it's my duty to enlist, because they're going to need us," he told his father.[1] The senior Southworth persuaded his son to wait until after the baseball season to think it over, and Billy, Jr., took his father's advice, enlisting with the Army Air Corps on December 12, 1940, in the hope of training to be a pilot.

Joining the Air Corps was an easy choice for Southworth. He had always had a fascination with aviation - building model airplanes and reading books given to him by Warren Giles, business manager of the Rochester Red Wings where Billy's father played between 1928 and 1932. Southworth began his training at Parks Air College in East St. Louis, Illinois, and then Randolph Field, Texas. He was transferred to Brooks Field, Texas, on August 29, 1941, where he received his bomber pilot's wings and commission as a second lieutenant. He continued his training, transferring to Orlando Army Air Base, Florida, on February 2, 1942, then to Pendleton Field, Oregon, where he joined the newly activated 303rd Bomb Group.

In March 1942, the 303rd moved to Gowen Field in Boise, Idaho, and Southworth took command of his first Boeing B-17 Flying Fortress - the four-engine heavy bomber that would prove so effective in the daylight precision strategic bombing campaign against German industrial, civilian and military targets. Southworth was promoted to first lieutenant at this time and the bomb group continued training in California, New Mexico and Texas.

Towards the close of the 1942 baseball season, Billy, Jr., visited his father in Chicago where the Cardinals were playing the Cubs. It was their last time together before he left for combat duty in Europe in October 1942. The 303rd Bomb Group was part of the Eighth Air Force and based at Molesworth in England. They flew their first mission on November 17, 1942, against U-boat submarine pens at St. Nazaire, France. Newly promoted Captain Southworth did not fly on that mission but received his baptism of fire the following day when he piloted his B-17F - nicknamed Bad Check- against the same target amid intense anti-aircraft fire. During December and January Southworth continued to fly missions against targets in France, and Bad Check lived up to its name because it kept coming back.

On a mission to St. Nazaire on January 3, 1943, Southworth flew as co-pilot to the group commanding officer Colonel James Wallace, with an Army Air Force Brigadier General riding along as an observer. In a detailed report by Cy Peterman of the Philadelphia Inquirer, it was revealed how seriously Southworth took his role, and how good at it he was. "He's all seriousness, no hijinks with Southworth," explained Peterman. "There is a definite rule against chatter in his plane. No wisecracking, no intercom monkey business." Peterman went on to explain how Southworth was "one of the finest formation flyers." [2] Later on, Southworth's bomber was attacked by German fighters and Peterman described how "cannon shells clipped a hunk from one wing," and the "rat-a-tat-tat blew off the upper windshield, the rush of air increasing the din of the Fort's counter-fire." [3]

Southworth's seventh mission, on January 23, 1943, was against U-boat pens at Brest, France, and Bad Check was hit by flak, causing the starboard engine to fail. The plane was also hit by cannon fire from German fighters and limped home, making a safe landing at Exeter, the first available landing field in England, after returning across the English Channel. On January 27, 1943, the target was Wilhelmshaven Naval Base. It was the first time American bombs, from American planes with American crews, ventured into Germany. Southworth flew a different B-17 that day because Bad Check was still being repaired.

Southworth was reunited with Bad Check a week later as the 303rd continued its relentless onslaught against Germany. On March 22, 1943, the bomber's good fortune finally ran out when the cylinder head cracked on the No. 3 engine and Southworth had to abort and return to base.[4] It was not until April 17, 1943, that he flew again. It was his twelfth mission and his new B-17F was nicknamed Son. He would fly this airplane on six missions until taking charge of Winning Run on June 13, 1943. Winning Run clearly referred to his baseball background, as did his habit of wearing a Cardinals baseball cap that had been given to him by his father. The baseball cap rather than regulation headwear provided better shade from the sun and allowed for the tight fitting of radio ear- phones.[5] Southworth completed his tour of duty- 25 missions - on July 17, 1943, without a single injury to any member of his crew, and was awarded the Distinguished Flying Cross and Air Medal. "I was just another Joe, occupying a lucky seat with a fine crew," he later said. "I tried to manage 'em like Dad manages his Cardinals." [6]

Southworth returned to the United States on January 28, 1944, and was stationed at the Santa Monica Air Force Distribution Center in California, awaiting assignment. He had missed three seasons of baseball and reflected on what might have been. "I suppose if there had been no war I might have made the major leagues," he said, "but since grabbing an airplane stick instead of a bat, I want to stick to aviation and be just another baseball fan." [7]

Not long after arriving in Santa Monica, Southworth attended a boxing match at the Hollywood Legion stadium, where he was recognized as the returning war hero and called into the ring for an introduction. As he graciously smiled through the applause, Hunt Stromberg, a movie producer, took an immediate interest in the suave-looking pilot. Stromberg talked with Southworth and they agreed on a Hollywood movie deal that would begin after the war.

Meanwhile, Southworth would put his combat experience to good use. He was promoted to the rank of major and served as a bomber crew instructor, before becoming deputy commanding officer of a newly organized task force of the Second Air Force. Nevertheless, Southworth had not forgotten his baseball roots. While stationed at Salt Lake City, Utah, he was interviewed by Private First Class Howard Green, former Abilene Reporter-News sports writer, who was also stationed at the base and asked about possible animosity of soldiers toward civilian sports. "Baseball is the universal language of our troops overseas and should be continued in the face of all obstacles," Southworth answered. "Our fighting men are not concerned with the player personnel but still follow their favorite team as fervently as ever. Baseball is something they have in common and the national pastime is doing a tremendous job as a morale factor in deviating their minds from the problems of warfare." [8]

In October 1944, Southworth was a guest of his father's at the World Series, where he watched the Cardinals defeat the Browns in six games. On November 28, 1944, he visited his father at home in Sunbury, Ohio, before leaving for duty at Grand Island Army Air Field in Nebraska, an operational training base for heavy bomber crews. It was their last time together.

Major Southworth was training pilots to fly the Boeing B-29 Superfortress, the same airplane that would drop atomic bombs on Hiroshima and Nagasaki. On February 15, 1945, he was piloting a B-29 that left Mitchel Field in New York, bound for Florida. Major W. L. Anken, an observer aboard the B-29 noticed that one of the engines was throwing a heavy stream of smoke. He reported this to Southworth over the intercom. "Keep an eye on it," Southworth replied. [9] At 3:50 P.M., the four-engine bomber appeared over LaGuardia Field with the left outboard engine stopped. Southworth radioed the control tower to prepare for an emergency landing. Struggling at the controls of the crippled plane, he overshot the runway, and attempted to climb above Flushing Bay, but a wing clipped the water and the 37-ton bomber somersaulted and burst into flames.

Heavy acrid smoke quickly blanketed the whole area, as police launches rushed to the scene and battled to rescue five crew members. But another five, including Major Billy Southworth, Jr., were missing in the front section of the plane which sank in 30 feet of water. Every effort was made to recover the bodies of the missing airmen but strong currents and a high tide hindered the work of grapplers and divers. The following day, Southworth's grief-stricken father-who was said to be prouder of his son's military achievements than of the pennants he had won with the Cardinals -flew to New York. Comforted by his wife, Mabel - Billy, Jr.'s stepmother - he looked out at Flushing Bay and asked reporters to point out the spot where the crash had happened.

Rescue efforts continued for weeks and Billy Jr.'s father remained in New York during that time. "It has been my privilege to go aboard the ship from which the search is being made for the missing crew members of the plane," he said. "The close personal contacts that I have had with the officers and men of the various units, conducting the search was most gratifying. The divers are hampered by strong currents and freezing air lines, but every officer and man is doing a heroic job and their loyalty to lost comrades is present in their every act." [10]

On August 4, 1945, 24 weeks after the crash, an unrecognizable body washed ashore at the confluence of the East River and Long Island Sound in New York. Dental records identified the body as that of Southworth. He was buried on August 7, 1945, at Green Lawn Cemetery in Columbus, Ohio. The following year the Rome Colonels erected a plaque at Colonels Field in memory of their 1939 Most Valuable Player. His father managed the Cardinals in 1945, then the skippered the Boston Braves for six years, guiding them to the National League pennant in 1948. He died of emphysema in 1969, at the age of 76.
| | | | | | | | | | | | | |
| --- | --- | --- | --- | --- | --- | --- | --- | --- | --- | --- | --- | --- |
| | Team | League | Class | G | AB | R | H | 2B | 3B | HR | RBI | AVG |
| 1936 | Asheville | Piedmont | B | 29 | 95 | 7 | 24 | 4 | 2 | 0 | 7 | .253 |
| 1936 | Martinsville | Bi-State | D | 65 | 244 | 46 | 83 | 11 | 3 | 2 | 24 | .340 |
| 1937 | Asheville | Piedmont | B | 29 | 85 | 8 | 16 | 2 | 1 | 0 | 8 | .188 |
| 1937 | Daytona Beach | Florida State | D | 30 | 113 | 13 | 30 | 3 | 0 | 1 | 15 | .265 |
| 1937 | Martinsville | Bi-State | D | 13 | 39 | 4 | 11 | 1 | 2 | 0 | - | .282 |
| 1938 | Kinston | Coastal Plain | D | 103 | 389 | 70 | 110 | 15 | 6 | 14 | 78 | .283 |
| 1939 | Columbus | South Atlantic | B | - | - | - | - | - | - | - | - | - |
| 1939 | Springfield | Mid-Atlantic | C | 19 | 71 | 10 | 14 | 6 | 0 | 0 | 5 | .197 |
| 1939 | Rome | Canadian-American | C | 102 | 383 | 69 | 131 | 25 | 8 | 15 | 85 | .342 |
| 1940 | Toronto | International | AA | 15 | 25 | 1 | 7 | 1 | 1 | 0 | 4 | .280 |
| 1940 | Wilmington | Interstate | B | 62 | 203 | 35 | 59 | 10 | 3 | 3 | 24 | .291 |
Notes
1. St. Louis Globe-Democrat, February 17, 1945
2. Philadelphia Inquirer, January 10, 1943
3. Ibid
4. Bad Check was repaired and later returned to service but was not reunited with Southworth.
5. Toronto Star, February 17, 1945. War correspondent Cy Peterman described the cap in the January 10, 1943, edition of the Philadelphia Inquirer as "a snug, gray flannel cap with bright red bird-on-bat emblem, rakish insignia of his dad's world's champion St. Louis Cards."
6. The Sporting News, February 22, 1945
7. Billings Gazette, February 17, 1945
8. Abilene Reporter-News, March 6, 1944
9. The Sporting News, February 22, 1945
10. Dunkirk Evening Observer, February 23,1945. Former Tigers great Mickey Cochrane lost his son, Private First Class Gordon Cochrane, in Europe in 1945, and Cincinnati coach Jimmie Wilson also lost a son, Lieutenant Robert Wilson, an Army Air Force bombardier, who was killed when his B-29 Superfortress exploded in mid-air over India in 1944.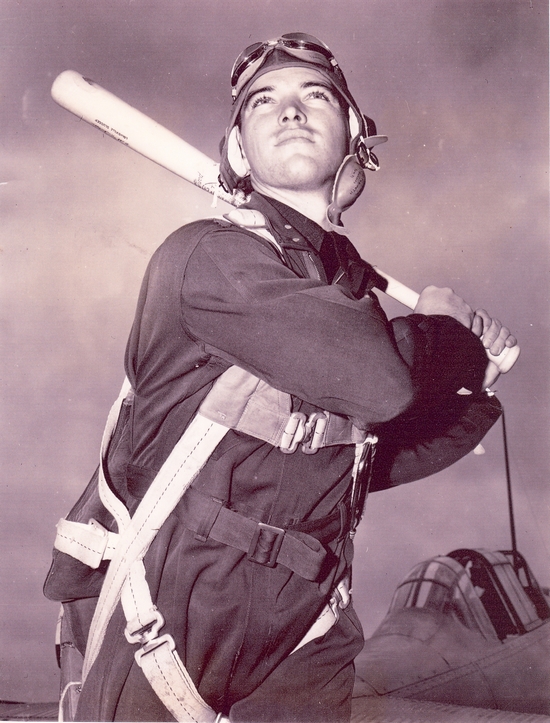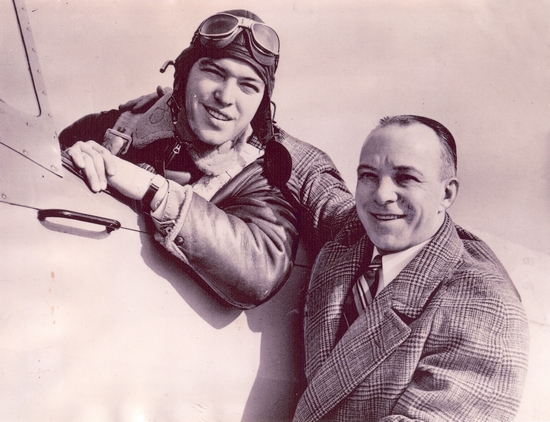 Billy, Jr., and his father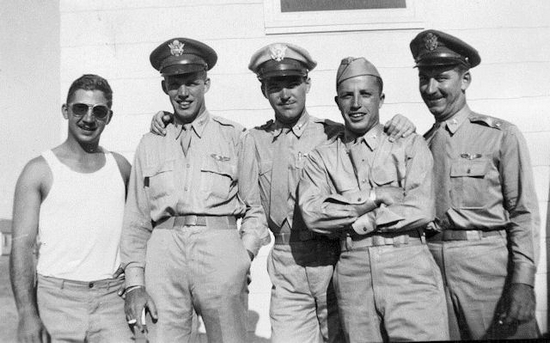 Billy Southworth, Jr., at Biggs Field, Texas in August 1942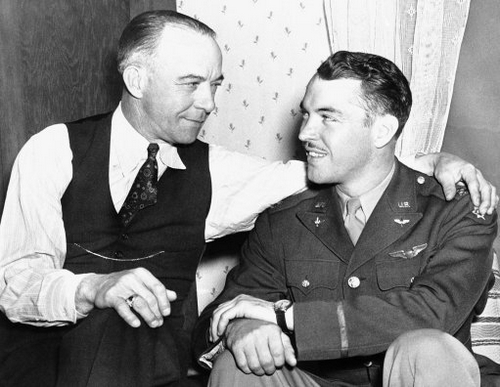 Billy, Jr., and his father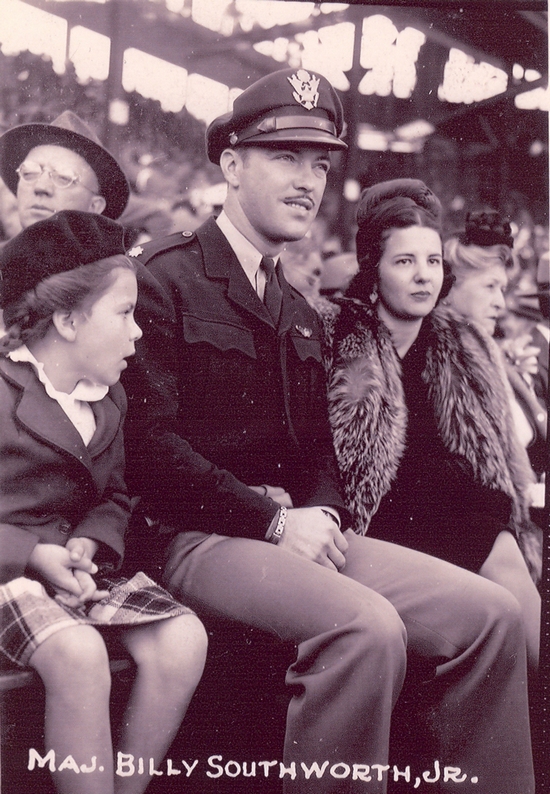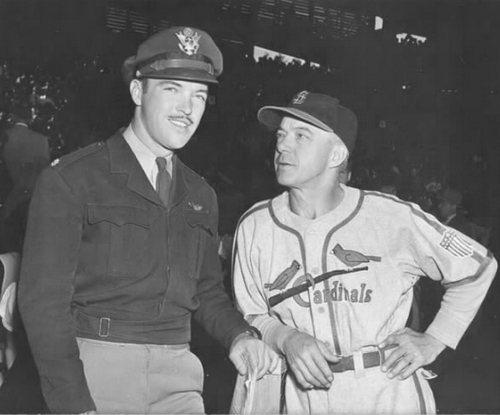 Billy, Jr., and his father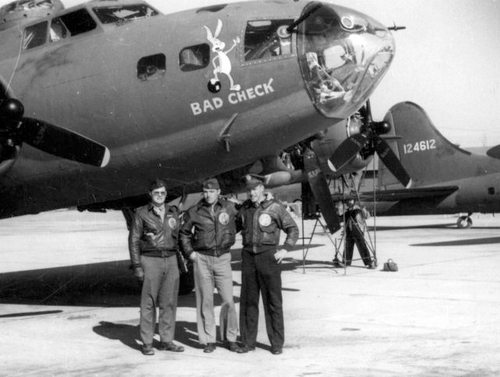 Billy Southworth, Jr., (middle) beneath his B-17F "Bad Check"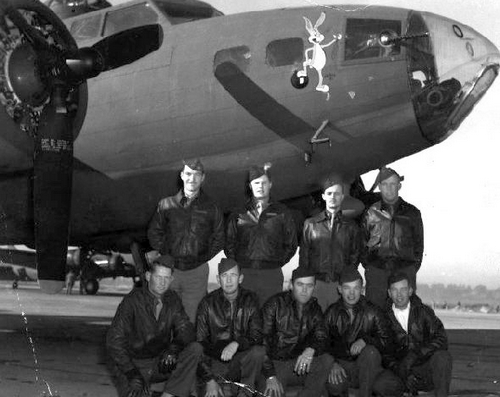 Billy Southworth, Jr., (back row, far left) with his crew from B-17F "Bad Check"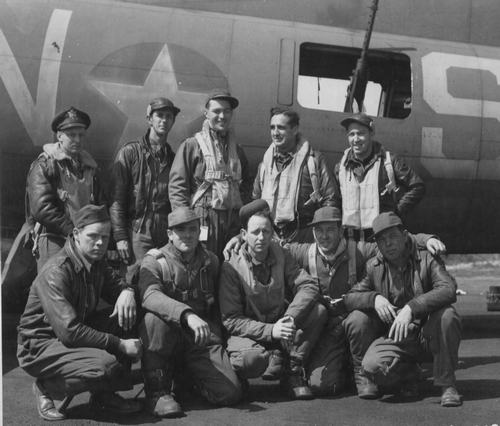 Billy Southworth, Jr., with his B-17 crew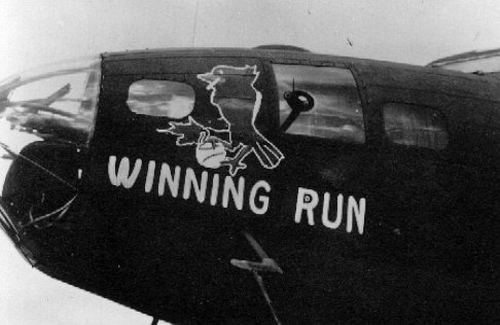 Billy Southworth, Jr., also flew this B-17F "Winning Run"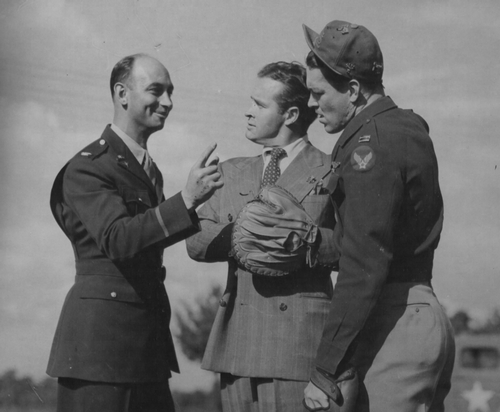 Billy Southworth, Jr., (far right) with Colonel C. A. Marion and Bob Hope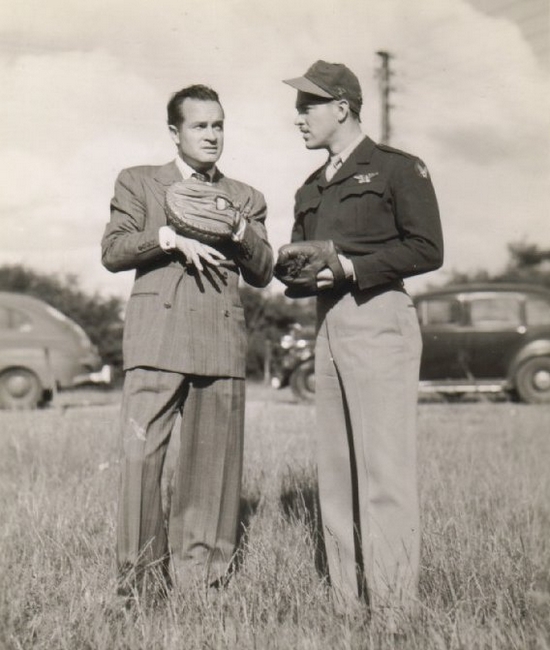 Bob Hope with Billy Southworth, Jr.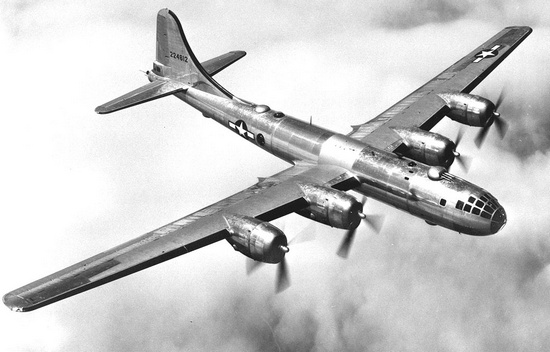 A Boeing B-29 Superfortress. The type Major Billy Southworth, Jr.
was piloting on February 15, 1945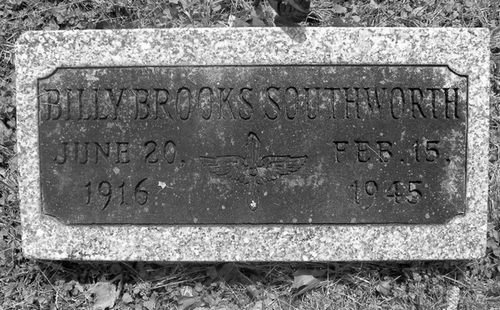 The grave of Billy Southworth, Jr., at Green Lawn Cemetery in Columbus, Ohio
Thanks to Astrid van Erp for help with this biography
Date Added March 15, 2012 Updated September 10, 2017
Baseball's Greatest Sacrifice is associated with Baseball Almanac
Baseball's Greatest Sacrifice is proud to be sponsored by