Aubrey Stewart
| | |
| --- | --- |
| Date and Place of Birth: | 1906 Piedmont, WV |
| Date and Place of Death: | December 17, 1944 Wereth, Belgium |
| Baseball Experience: | Negro Semi-Pro |
| Position: | Pitcher |
| Rank: | Technician Fourth Class |
| Military Unit: | 333rd Field Artillery Battalion US Army |
| Area Served: | European Theater of Operations |
Aubrey Stewart was a semi-pro pitcher with the Piedmont Colored Giants who volunteered for military service in 1942 and became a victim of a WWII atrocity.
James A. "Aubrey" Stewart was born in Piedmont, West Virginia in 1906, the son of James and Emma Stewart. His father was the first black employee at the local Westvaco Paper Mill and following high school Aubrey also went to work at the mill. For more than two decades he also pitched semi-pro baseball with the Piedmont Colored Giants, an all-black team that played against other local sides including the Moorefield Black Sox, Frostburg Colored Federals and Cumberland Hurricanes.

In 1942, despite being 36 years old, Stewart volunteered for military service. He was inducted by the U.S. Army in December and trained with the 333rd Field Artillery Battalion - an all-black outfit - at Camp Gruber, Oklahoma. In January 1944, the Battalion left for Europe and landed at Utah Beach, Normandy on June 29.

By December, the Battalion was in the Ardennes area of Belgium and faced the full brunt of the German offensive that was launched on December 16 and was soon to be labelled the Battle of the Bulge.

Cut off from Allied forces on the second day of the battle, Stewart and ten other men from the Battalion walked 10 miles in deep snow and freezing conditions before reaching the apparent safety of a farmhouse in the tiny hamlet of Wereth. The farmhouse was owned by the mayor of Wereth, Mathias Langer, who gladly took them in and fed them. But someone in town - a Nazi sympathizer - tipped off the nearby German forces. An hour later a four-man SS patrol pulled up and the 11 black Americans were marched into a cow pasture where they were executed. For two months, the body of 37-year-old Aubrey Stewart and his comrades lay in the snow until villagers directed a unit of the U.S. 99th Infantry Division to the site. Army autopsies later showed signs of torture with broken bones and bayonet wounds inflicted upon the American soldiers. Years later, they became known as the Wereth 11.

In May 2004, a memorial was dedicated to the Wereth 11 on the site where the massacre took place and a sign now stands in Piedmont, West Virginia, honoring Aubrey Stewart.

James Aubrey Stewart is buried at the Henri-Chapelle American Cemetery in Belgium.
In 2011, the story of the Wereth 11 was made into a documdrama, directed by Robert Child and starring Ken Arnold.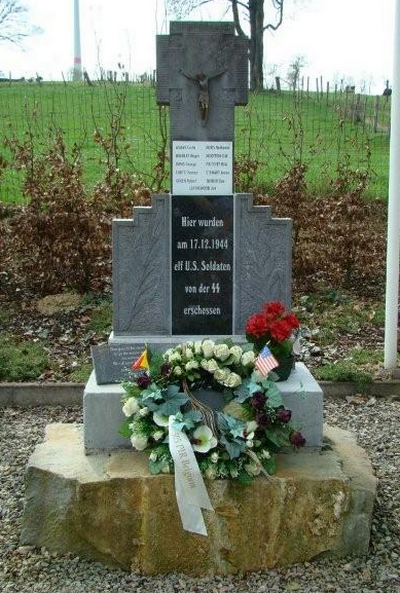 A memorial to the Wereth 11 in Belgium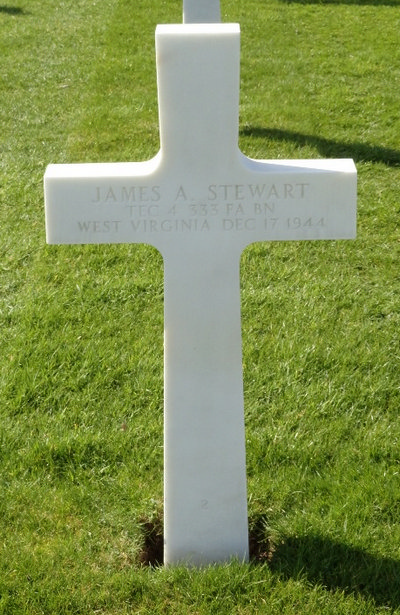 Aubrey Stewart's grave the Henri-Chapelle American Cemetery in Belgium
Thanks to Jeremy Collins at the National World War II Museum for bringing this story to my attention.
Date Added January 29, 2012 Updated August 7, 2013
Baseball's Greatest Sacrifice is associated with Baseball Almanac
Baseball's Greatest Sacrifice is proud to be sponsored by