Fred Swift
| | |
| --- | --- |
| Date and Place of Birth: | March 18, 1917 Philadelphia, PA |
| Date and Place of Death: | April 23, 1944 near Blanco, TX |
| Baseball Experience: | Minor League |
| Position: | Pitcher |
| Rank: | Aviation Cadet |
| Military Unit: | USAAF |
| Area Served: | United States |
Fredric W. Swift, one of nine children, was an excellent pitcher at Norristown High School in Pennsylvania, and was ready to sign with the Philadelphia Athletics before being enticed by baseball coach Jing Johnson to attend Ursinus College at Collegeville, Pennsylvania. Swift proved to be one of the best pitchers Ursinus College had seen in a long time and he led the varsity hurling staff for three years.

During the summer months he pitched for the semi-pro Springfield Greys, and signed with the Philadelphia Phillies after graduating in 1940. Swift was assigned to the Moultrie Packers of the Class D Georgia-Florida League, where he made eight appearances for an 0-1 record and 4.50 ERA, and finished the season with the Martinsville Manufacturers of the Class D Bi-State League. In 1941, he had a 3-2 record in nine appearances for the Manufacturers and ended the year with the Allentown Wings of the Class B Interstate League.

Swift's baseball career was put on hold on March 31, 1942, when he entered military service with the Army Air Force, and became an aviation cadet at the San Marcos Army Navigation School in Texas. He was due to receive his commission on May 15, 1944, and had planned to marry his fiancee Marjorie Mortimer the same day, but three weeks earlier, on April 23, 1944, Swift and two other navigation cadets were on a routine flight in a Beechcraft AT-7 Navigator. The twin-engine airplane failed to return to San Marcos Field and an intensive search was made through the surrounding wild brush country. Nothing was found. Then, on April 29, the pilot, 19-year-old Second Lieutenant Robert A. Gibson, suffering a broken leg and head wound, stumbled into a ranch house near Blanco, Texas. Gibson had wandered around looking for help for six days. It took another three days to locate the wreckage of the plane, 25 miles west of Blanco. The dead bodies of Swift and the other two navigation cadets were found on board.
| | | | | | | | | | | | |
| --- | --- | --- | --- | --- | --- | --- | --- | --- | --- | --- | --- |
| Year | Team | League | Class | G | IP | ER | BB | SO | W | L | ERA |
| 1940 | Moultrie | Georgia-Florida | D | 8 | 34 | 17 | 15 | 19 | 0 | 1 | 4.50 |
| 1940 | Martinsville | Bi-State | D | - | - | - | - | - | - | - | - |
| 1941 | Martinsville | Bi-State | D | 9 | 56 | - | 27 | 35 | 3 | 2 | - |
| 1941 | Allentown | Interstate | B | 2 | 7 | - | - | - | 0 | 0 | - |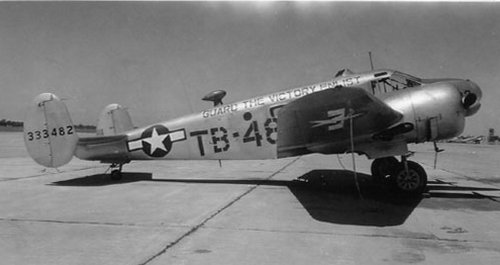 A Beechcraft AT-7. Fred Swift took his last flight in this type on April 23, 1944
Thanks to Davis O. Barker, Carolyn Weigel at Myrin Library, Ursinus College and Loretta Righter at Montgomery County-Norristown Public Library for help with this biography. Thanks also to Astrid van Erp for help with information for this biography
Date Added April 13, 2012 Updated August 3, 2017
Baseball's Greatest Sacrifice is associated with Baseball Almanac
Baseball's Greatest Sacrifice is proud to be sponsored by