Stephen Toner
| | |
| --- | --- |
| Date and Place of Birth: | January 22, 1908 Philadelphia, PA |
| Date and Place of Death: | December 16, 1944 Schonberg, Belgium |
| Baseball Experience: | Minor League |
| Position: | Pitcher |
| Rank: | Private First Class |
| Military Unit: | 423rd Infantry Regiment, 106th Infantry Division US Army |
| Area Served: | European Theater of Operations |
Stephen J. Toner, the son of Stephen and Mary Toner, was born in Philadelphia, Pennsylvania on January 22, 1908. In 1926, aged 18, the left-handed pitcher was signed by the Salisbury Indians of the Class D Eastern Shore League, appearing in six games and posting a 1-1 record before being released in June. Toner returned to Pennsylvania and played semi-pro baseball with Nanticoke for the rest of the summer.

Toner celebrates sale to Cardinals
Hanover Evening Sun August 28, 1928

Salisbury gave the 19-year-old another look in 1927 and this time he stuck, recording a 15-6 record in 30 outings and leading the league with 132 strike outs. He was sold to the St. Louis Cardinals in August and loaned to the Parksley Spuds of the Eastern Shore League in September to compete in the Five State series against Chambersburg, the Blue Ridge League champions. Toner hurled a 7-0 five-hitter on September 19 to clinch the series for Parksley.

Toner's career takes a bit of an unclear twist in 1928. He was sold to the Beaumont Exporters of the Class A Texas League but doesn't appear to have played a game with them. He was then the property of various teams before joining the Hagerstown Hubs of the Class D Blue Ridge League in August. He recorded his first win on August 17 and was 3-2 in six games, good enough to finish the season with the Rochester Red Wings of the Class AA International League, where he made four appearances.

It is suspected that Toner was injured for much of 1928 and this seems to be the reason behind his release by Rochester in April 1929. In the 1930 census, Toner is listed as a ballplayer, disabled, so we can assume he still hoped to return to the game although it was not to be.

Toner worked for the Lehigh Textile Company in Philadelphia and entered military service in January 1941.

Private First Class Stephen J. Toner served with the 423rd Infantry Regiment, 106th Infantry Division in Europe. On December 16, 1944, in the vicinity of Schonberg, Belgium, German forces attacked the 423rd, along with the 422nd, the start of the Battle of the Bulge. The two regiments were encircled and cut off. Toner was killed in action in the initial attack. The two Regiments (6,000 troops) surrendered to the Germans on December 19, 1944, in one of the largest mass surrenders in American military history.

Stephen Toner was originally buried in an unmarked mass grave at a civilian cemetery in Bleialf, Germany, before being moved to the Marine Corps Cemetery at Neuville-en-Condroz in Belgium following identification of his remains. Toner now rests at the Holy Sepulchre Cemetery in Cheltenham Township, Pennsylvania.

Year

Team

League

Class

G

IP

ER

BB

SO

W

L

ERA

1926

Salisbury




Eastern Shore

D

6

30

-

15

-

1

1

-

1927

Salisbury

Eastern Shore

D

30

184

-

80

132

15

6

-

1928

Hagerstown

Blue Ridge

D

6

40

-

21

37

3

2

-

1928

Rochester

International

A

A

4

-

-

-

-

0

0

-

1929

Rochester

International
AA

Released during spring training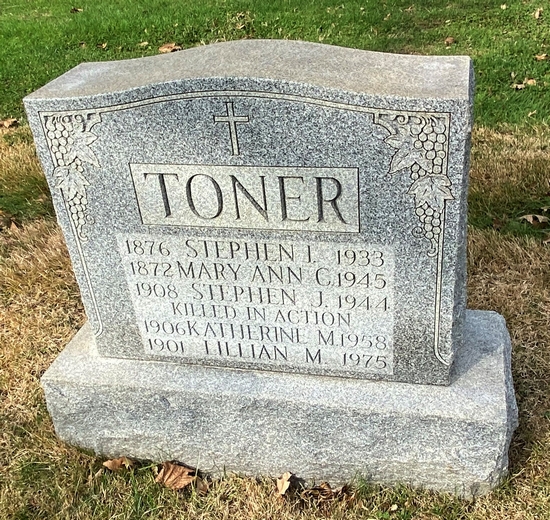 Stephen Toner's grave at the Holy Sepulchre Cemetery in Cheltenham Township, Pennsylvania
Thanks to Jack Morris for "discovering" Stephen Toner.
Date Added August 17, 2023
Baseball's Greatest Sacrifice is associated with Baseball Almanac
Baseball's Greatest Sacrifice is proud to be sponsored by