Jimmy Trimble
| | |
| --- | --- |
| Date and Place of Birth: | October 10, 1925 Washington, DC |
| Date and Place of Death: | March 1, 1945 Iwo Jima |
| Baseball Experience: | Minor League |
| Position: | Pitcher |
| Rank: | Private |
| Military Unit: | 4th Platoon, 3rd Reconnaissance Company, 3rd Marine Division, USMC |
| Area Served: | Pacific Theater of Operations |
James Trimble III grew up in Chevy Chase, Maryland, where he filled his time playing baseball and watching the Senators at nearby Griffith Stadium. He attended St. Albans, a prep school located in the shadow of the National Cathedral in Washington, D.C., and was a star athlete for four years. [1] Trimble was all-district end in football, captained the basketball team and stunned baseball onlookers with his blistering fastball and hard breaking curve. In his time at St. Albans, Trimble hurled three no-hitters and was rarely defeated. His coach Bill Shaw, who was a member of the 1932 U.S. Olympic baseball team, considered Trimble one of the finest prospects he had ever seen, but Trimble was not prepared to take all the glory for his success. "Buddy's the best catcher in the District," he said of batterymate Paul "Buddy" Cromelin. "Cromelin's been handling my pitches for five years now, and has made very few mistakes." [2] Trimble was exceptionally popular during his years at St. Albans. His good nature was infectious and his colorful play on the athletic field endeared him to everyone. "The curly-haired Casanova spends many torrid weekends giving the local girls lessons in rug-cutting," declared the school yearbook in 1943. [3]

During his senior year, Trimble's mound heroics caught the attention of Senators owner Clark Griffith, who invited him to a tryout on May 29, 1943. Manager Ossie Bluege was impressed with the youngster, and on June 4 Griffith gave him a $5,000 signing bonus and agreed to pay for a four-year scholarship to Duke University, where he would be under the direction of Jack Coombs, baseball coach and former major league pitcher who won 31 games for the Athletics in 1910. "Conservatively speaking," wrote Joe Holman in the Washington Times-Herald, "the happiest boy in Washington, D.C., today is Jimmy Trimble ... who yesterday signed a contract with the Washington Club and its president, Clark Griffith."[4] Two days later, by way of celebration, Trimble pitched a 4-0 one-hitter for Chevy Chase A.C. against Mount Pleasant A.C. in the City League, striking out 16.

Trimble enrolled at Duke in September 1943, and played fall baseball for Coombs. With World War II in full stride, he hoped to enter officer training at the university but was rejected due to defective sight in one eye. Instead, he enlisted with the Marines on January 13,1944, and took basic training at Parris Island, South Carolina, where he pitched for the base team. He later graduated from Combat Intelligence School at Camp Lejeune, North Carolina, where he was taught a little of the Japanese language, rubber boat reconnaissance, map reading, demolition, and radio operation.

In June 1944, Private Trimble headed to the Pacific Theater as a scout and observer with the 4th Platoon of the 3rd Reconnaissance Company, 3rd Marine Division. His first taste of combat was on Guam where he was involved in mopping up the remaining Japanese resistance during July. But once hostilities ceased on the island, he had the opportunity to return to the pitcher's mound. "Baseball," declared Trimble at the time, "is as important to the tired fighter as it is to the tired executive or worker, if not more so." [5]

Pitching for the Headquarters Battalion team during the winter of 1944-1945, Trimble's teammates included tobacco-chewing catcher Bob Schang (a minor leaguer in the White Sox organization and nephew of former major league catcher Wally Schang), minor league third baseman Ray Champagne, left fielder Arthur Manush (nephew of Hall of Famer Heinle Manush), and minor league pitcher Jim Hedgecock. Headquarters Battalion clinched the 3rd Marine Division championship in a three-game series against the 12th Marines. Hedgecock won the first game, 6-2. Trimble, who gave up five untimely hits over six innings in the second game, was charged with the loss as the 12th Marines won, 6-2. Hedgecock then came back in the third game to shut out his opponents, 6-0.

Trimble was one of seven Headquarters Battalion players selected for the 3rd Marine Division All-Stars team that played the 2nd Marine Division in the Pacific Little World Series early in 1945. In a scheduled four-game series, Trimble won the opening game with an 8-6 victory - his sixth-inning sacrifice scoring a crucial run. The 2nd Division won the next two games, then Hedgecock combined with Bill Connelly -who had hurled for the Philadelphia Athletics in 1945 - to end the series at two games a piece.

"Jimmy was a celebrity in camp," recalled Private Don Mates, who had been Trimble's tent-mate back on Guam. "He carried himself like a movie star, but he was liked by everybody, officers and enlisted men alike." [6]

In February 1945, the 3rd Marine Division left Guam bound for Iwo Jima. "Yes, Mom, I am going into combat, but don't let that worry you," he told his mother in a letter dated February 18, 1945. "I know everything is going to be all right, so promise not to worry-just pray as I know you have been doing." [7] At 8:59 A.M. on February 19, the first wave of Marines went ashore at Iwo Jima against little opposition, but as they moved inland in the deathly silence, the Japanese opened fire from cleverly concealed bunkers and killed row upon row of Marines with machine gun and heavy artillery.

Trimble's platoon had been told that they probably would not go ashore as the battle would be over in 72 hours. However, it was soon realized that every man was needed and he was soon aboard a Higgins Boat heading for the beaches. "I was in for the shock of my life," recalled Mates. "I had never seen anything like it, and never expect to see anything like it again. There were bodies all over. There were pieces of bodies. There were bodies without heads, without arms. There were bodies that were completely eviscerated. They hadn't started to bury the dead, and it was just one holy mess." [8]

Trimble was part of an eight-man squad that set up a command post area for General Erskine, commanding general of the 3rd Marine Division. For the next three days Trimble was assigned to guard duty at the command post. Meanwhile, the division was suffering heavy casualties from concealed Japanese spigot mortars and on February 27, the platoon commander, Lieutenant John Staak, asked for eight volunteers to go out on patrol and find out where the mortars were located. Private Trimble was among the first to volunteer.

The following day, Trimble was part of the eight-man reconnaissance team that set out towards the front line, passing weary-eyed, battle-fatigued Marines returning to the rear for a brief respite. As darkness began to fall the team dug in for the night. There was an eerie quietness to the place. Craters sporadically released foul-smelling wisps of sulfur and everywhere was covered with volcanic ash. The whole place resembled the surface of the moon.

Trimble and Private Don Mates were in the third foxhole from the top of a ridge and Mates slept while Trimble took the first four-hour watch. Just after midnight on March 1, a flare unexpectedly lit up the area. They had been overrun by the Japanese and Mates awoke to see Trimble take a bayonet in the right shoulder. Amid the yelling, screaming and chaos, Mates hurled grenades while the wounded Trimble fired his rifle in the direction of any movement. Seconds later, two grenades dropped into the foxhole. One exploded between Mates' legs, the other exploded alongside Trimble. The young pitcher caught the full blast of both grenades. His back, upper arms and the back of his head were a mass of wounds. Mates pulled himself out of the hole, and as he turned to Trimble to help him out, a Japanese soldier, with a mine strapped to his body, jumped in the hole, wrapped his arms around the severely wounded Marine and detonated the mine, killing them both.

Mates, with both his legs broken and bleeding profusely, escaped by rolling himself down the hill. He had lost 20 percent of his left thigh and five percent of his right thigh, and would undergo repeated operations for shrapnel removal for over 30 years. Of the eight-man patrol, two others were dead and Private First Class Joseph McCloskey was missing. McCloskey was found a week later in a cave, where he had been brutally tortured and killed by the Japanese.

Two months after Trimble's death, Baza Garden Baseball Field, the 3rd Marine Division's home ground on Guam, was renamed Trimble Field. "Private Trimble was an outstanding member of the 3rd Marine Division All-Star baseball team," announced Major General Graves Erskine, Division commander. "His name will not be forgotten and his brave spirit will continue to inspire us in the tough battles that lie ahead." [9] Among the many Marines at the opening of Trimble Field was the pitcher's batterymate at St. Albans, Buddy Cromelin. Trimble's body was returned to the United States after the war and rests at Rockcreek Cemetery in Washington, D.C.

Trimble Field was abandoned in the 1960s when the 3rd Marine Division left Guam, but about a mile away another ball field saw regular use by the locals until severely damaged by a typhoon. In March 2005, 60 years after Trimble's death, this field was renamed Trimble Field and the American Veterans Center set about raising $70,000 to pay for reconstruction work and a memorial to Trimble and the 3rd Marine Division All-Stars. On March 9, 2008, the long-time dream of the American Veterans Center was realized when Trimble Field was dedicated before a crowd of 1,000 people. The new Trimble Field includes fences, bleachers and a scoreboard as well as a life-size bust of Trimble fashioned by sculptor Terry Karselis. During the ceremony a letter was read out from President George W. Bush. "As part of the Yona, Guam, community," wrote President Bush, "this baseball field will serve as a lasting tribute to Private Trimble, a talented baseball player and outstanding Marine whose exemplary service in combat reflected how he lived his life with character and courage." [10]
Year

Team

League

Class

G

IP

ER

BB

SO

W

L

ERA

1943
Washington Senators
American
MLB
Signed but did not play

Notes
1. American novelist, Gore Vidal, was a student at St. Albans the same time as Trimble. In fact, he was just seven days older than Trimble, and his 1948 novel The City and the Pillar, which sparked a public scandal for portraying overt homosexuality as a natural behavior, was dedicated to "the memory of J.T." After a magazine published rumors about J.T.'s identity, Vidal claimed he had a sexual relationship with Trimble and that the athlete was the only person he had ever loved. "I would never have written about it if a clever journalist at Vanity Fair hadn't done some sleuthing," he told Britain's Independent newspaper on October 8, 2000. "They started to ask around St. Albans and found out who it was. I would never have let anybody know." Trimble is mentioned throughout Palimpsest: A Memoir, written by Vidal in 1995; the protagonist in his 1995 novel The Smithsonian Institute bears a striking resemblance to the pitcher.

2. Washington Times-Herald, April 18, 1943
3. The Albanian, St. Albans School, 1943
4. Washington Times-Herald, April 18, 1943
5. USMC press release, dated February 9, 1945
6. James C. Roberts, Hardball on the Hill (Chicago: Triumph, 2001)
7. Ibid
8. American Valor Quarterly. American Veterans Center, Spring 2008
9. Washington Post, June 14, 1945
10. American Valor Quarterly. American Veterans Center, Spring 2008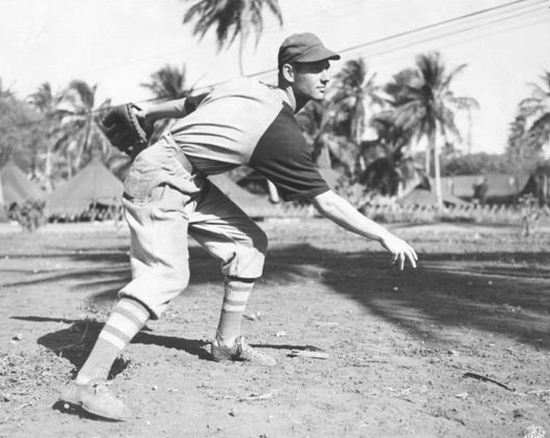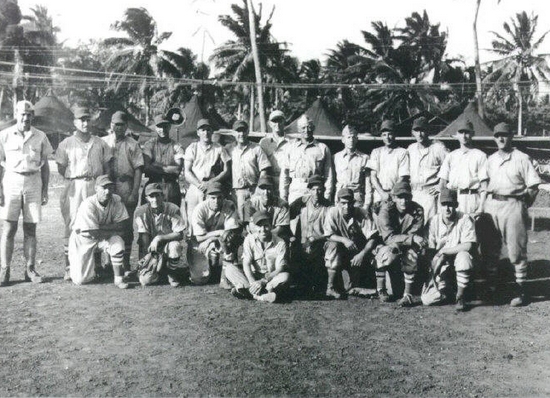 Third Marine Division baseball team (Trimble is front row, second right)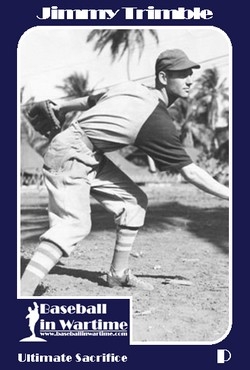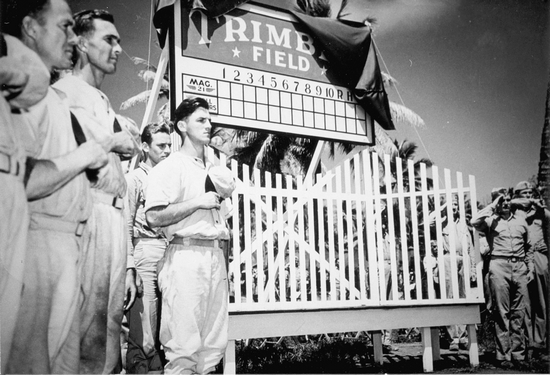 Thanks to James C. Roberts for help with this biography.
Date Added May 6, 2012 Updated June 10, 2014
Baseball's Greatest Sacrifice is associated with Baseball Almanac
Baseball's Greatest Sacrifice is proud to be sponsored by