Norman Triplett
| | |
| --- | --- |
| Date and Place of Birth: | October 18, 1892 La Mott, PA |
| Date and Place of Death: | October 20, 1918 France |
| Baseball Experience: | Negro League |
| Position: | Outfield |
| Rank: | Private |
| Military Unit: | 803rd Pioneer Infantry US Army |
| Area Served: | France |
Norman Triplett was born on October 18, 1892 in La Mott, Pennsylvania, just north of Philadelphia. The Triplett family was one of the earliest families to settle in the district in the nineteenth century. La Mott was home to Camp William Penn, a Union Army training camp from 1863 to 1865, notable for being the first training ground dedicated to African American troops who enlisted in the United States Army during the American Civil War. The son of Wallace and Martha Triplett, Norman and his two brothers played amateur and semi-pro baseball for the La Mott Stars during the early 20th century.

Norman Triplett was primarily a pitcher but when he joined the professional Negro Hilldale Athletic Club in 1917, he played centerfield. Triplett made two appearances for Hilldale, once against the Cuban Stars and once against the Pennsylvania Red Caps, batting 2 for 7 (.286). By the end of July he was back with the La Mott team.

Triplett entered military service with the army on August 4, 1918. After training he was sent overseas as a private with the 803rd Pioneer Infantry to Liverpool, England then to Brest, France. Whilst in France, the 25-year-old died of pneumonia on October 20, 1918. He was originally buried in France, but his body was returned to the United States in 1921 and now rests at Fairview Cemetery, near Willow Grove, Pennsylvania.

In December 1919, the first meeting was held of the Norman Triplett Post, No.451, of the American Legion in La Mott.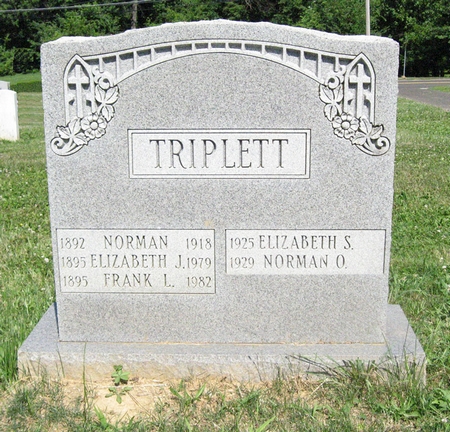 The grave of Norman Triplett at Fairview Cemetery, near Willow Grove, Pennsylvania
Date Added July 18, 2012 Updated August 8, 2013
Baseball's Greatest Sacrifice is associated with Baseball Almanac
Baseball's Greatest Sacrifice is proud to be sponsored by