Ed Tuttle
| | |
| --- | --- |
| Date and Place of Birth: | September 3 1916 Maiden, NC |
| Date and Place of Death: | June 11, 1942 Jacksonville, FL |
| Baseball Experience: | Minor League |
| Position: | Pitcher/Outfield |
| Rank: | Aviation Cadet |
| Military Unit: | US Navy |
| Area Served: | United States |
Edgar W. Tuttle was from Maiden, North Carolina, and attended Balls Creek High School in Newton, where he achieved a magnificent athletic record. He played four years of high school basketball and baseball, and during his senior year was a member of the county baseball championship team. Tuttle graduated from high school in 1934 and entered Lenoir-Rhyne College in Hickory, North Carolina, as a candidate for a degree with a mathematics major and a history minor.

He was an excellent forward in basketball and an outstanding pitcher/outfielder for the Mountain Bears. In 1935, his freshman year, Tuttle made just four pinch-hit appearances for the varsity team, and his teammates that year included his brother Charlie, a pitcher, and team captain Lindsay Deal, who would play a handful of games for the Brooklyn Dodgers in 1939. The 1936 season witnessed Tuttle place his stamp on local college baseball. With his brother as the Mountain Bears' alternate captain, Ed Tuttle batted .419 and was 2–1 in five mound appearances, as Lenoir Rhyne enjoyed one of its best seasons in a long time with a 9–6 won-loss record in the North State Conference. [1]

The Mountain Bears of 1937 put on a disappointing performance although Tuttle had a 5–2 record and 3.26 ERA. He also batted .284 with three home runs and a teamleading 19 RBIs, earning him All-Conference honors. His best outing was against Guilford College on May 4, holding the Quakers to four hits in the 14–2 victory. A highlight for Lenoir-Rhyne was a 5–4 win against the Hickory Rebels of the professional independent Carolina League. In his senior year, 1938, Tuttle served as co-captain with batterymate Clyde McSwain, and led the pitching staff along with right-hander Felix Little. [2]

"During his four years as a baseball player," declared the college newspaper, "Tuttle has been a joy to the coach as he hurled those spherical forms over the plate to strike out so many of those enemies' batters." [3]

In April 1939, the Hickory Rebels were looking for players. Having been part of the outlawed Carolina League for the past three years, the Rebels joined the newly formed Class D Tar Heel League, and signed Tuttle, McSwain and Little from Lenoir-Rhyne.

Charlie Tuttle, who had played with the Newton-Conover Twins of the North Carolina State League in 1938, also signed with the Rebels in 1939. McSwain played 67 games for the Rebels and batted .274, while Little and the Tuttle brothers saw limited service on the mound.

Ed Tuttle later accepted a position as a math teacher and athletic coach at Oxford High School in Claremont, North Carolina, but gave baseball another chance in 1940, and signed with the Newton-Conover Twins of the Tar Heel League. The Twins were an independent team who played at Legion Field in Newton, just seven miles from Claremont. Tuttle had played 13 games and was batting .241, when the Twins disbanded on July 19. He did not return to baseball and continued to work as a teacher. His brother Charlie, who had long ago abandoned his baseball career, was also a teacher at Mountain View High School near Hickory, North Carolina.

On January 15, 1942, Tuttle entered military service with the Navy. He completed basic training as an aviation cadet in Georgia, in April 1942, then reported to Naval Air Station Lee Field in Green Cove Springs, Florida, for the next stage of training towards earning his wings and a commission. On the morning of June 11, 1942, Air Cadet Tuttle took off from Lee Field with his flight instructor Ensign John C. Newman. At 12:28pm, ten miles from the airfield while executing training maneuvers, Tuttle's plane collided head-on with another. Both planes fell from the sky and crashed in flames. Tuttle and Newman were killed, as was the instructor of the other plane, Ensign John C. Alloway, a former star football half back at Wittenberg College (now Wittenberg University) in Springfield, Ohio. Aviation Cadet William O. Rowland, the passenger in Alloway's plane, was the only survivor, somehow managing to parachute to safety. [4]

"During the time that your son was on duty here," wrote Captain J. D. Price, the commandant at Jacksonville Naval Air Station, in a letter to Tuttle's parents, "he established himself as an outstanding young man. Edgar had a most promising future." [5]

A further letter was received, this time from Lieutenant Commander R. W. Cutler: "The regiment was very proud of him and I hope this letter will give you and your husband something to hold on to during your hours of grief. He met his death in the line of duty and this gives you every right in the world to be very proud of his record in the United States Navy." [6]

Tuttle was buried at the Friendship United Methodist Church Cemetery in Newton, North Carolina.
| | | | | | | | | | | | | |
| --- | --- | --- | --- | --- | --- | --- | --- | --- | --- | --- | --- | --- |
| | Team | League | Class | G | AB | R | H | 2B | 3B | HR | RBI | AVG |
| 1939 | Hickory | Tar Heel | D | - | - | - | - | - | - | - | - | - |
| 1940 | Newton-Conover | Tar Heel | D | 13 | 29 | 4 | 7 | 0 | 1 | 1 | 4 | .241 |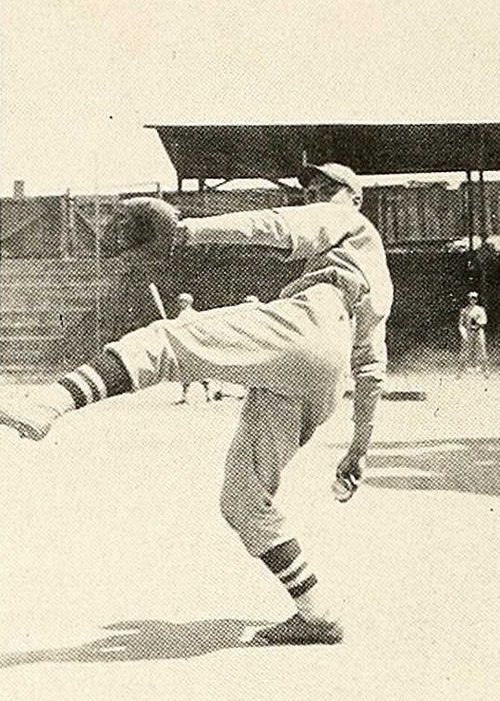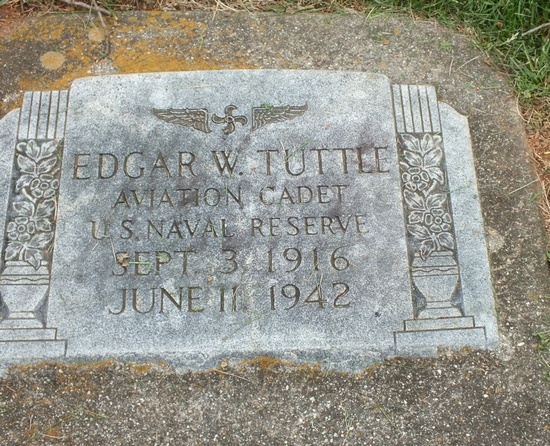 Notes
1. Another 1936 teammate, center fielder Jess Bumgarner, played in the minors with the Mooresville Moors of the North Carolina State League in 1937.
2. Felix Little served with the Navy and died in a plane crash in Brazil in December 1944.
3. The Lenoir Rhynean, May 5, 1939
4. William O. Rowland went on to serve in the Pacific as a Navy pilot. He later became a distinguished attorney and judge in Athens, OH. Mr. Rowland passed away on November 18, 2011, aged 89.
5. Catawba News-Enterprise, June 30, 1942
6. Ibid
Thanks to Astrid van Erp for help with photos for this biography
Date Added May 14, 2012 Updated August 3, 2017
Baseball's Greatest Sacrifice is associated with Baseball Almanac
Baseball's Greatest Sacrifice is proud to be sponsored by