Art Vivian
| | |
| --- | --- |
| Date and Place of Birth: | April 21, 1920 Plainfield, NJ |
| Date and Place of Death: | August 1, 1944 Guam, Mariana Islands |
| Baseball Experience: | Minor League |
| Position: | Pitcher |
| Rank: | First Lieutenant |
| Military Unit: | 3rd Marine Division USMC |
| Area Served: | Pacific Theater of Operations |
Vivian was an exceptional baseball player at Wake Forest College and had just embarked on a professional career. But military service beckoned before his first paid season was completed.
Arthur C. Vivian, Jr., attended Summit High School in Summit, New Jersey, where his pitching and hitting led the Hilltoppers to three consecutive Little Five Conference titles (1936,1937 and 1938) and earned him all-state selection by the Newark Sunday Call. Vivian and teammate Robert "Bull" Brydon both had tryouts with the New York Giants at the Polo Grounds in 1938, but chose instead to attend college. [1]

Vivian enrolled at Wake Forest College, North Carolina, in the fall of 1938, and became a star pitcher, playing in the outfield when not pitching to take advantage of his potent bat. One of his teammates at the time was future Yankees all-star Tommy Byrne. In his senior year, Vivian defeated Duke University in the final game of the season to clinch the Big Five conference championship for the Deacons. [2]

Shortly before graduation, Vivian enlisted with the Marine Corps and, while waiting to be called for service, he signed with the New York Yankees. The Yankees optioned the 22-year-old to the Amsterdam Rugmakers of the Class C Canadian-American League, joining the team on June 17, 1942.
He made a brief but effective start to his career. On June 21, as the only lefty on the Rugmakers' pitching staff, he beat Quebec in a Sunday afternoon game, shutting them out, 2-0, on just five hits. He shutout Pittsfield on July 2, allowing just four hits in the 2-0 win, striking out five, and beat Oneonta, 13-4, in his last appearance on July 7, striking out eight and allowing six hits. In four appearances he struck out 21 over 35 innings and had an ERA of 2.31.
The call from the Marines came in July 1942, and put an end to his baseball career. "Vivian was given a big hand by the fans as this is the last game he will pitch for the Rugmakers," reported the Gloversville and Johnstown Leader-Republican. "He will be hurling for Uncle Sam's Leathernecks next week. He has been ordered to report to the Marine Corps Base at Quantico, Va., before next Sunday." The team threw him a farewell party at the Mllner Hotel in Amsterdam, then Vivian headed home to Summit, New Jersey, before leaving for Quantico.

Serving with the 3rd Marine Division, he was commissioned a second lieutenant in October 1942, while at Camp Elliott in San Diego, California, and headed for the Pacific in December. The division arrived in New Zealand in January 1943, and in June of that year they moved to Guadalcanal for additional training. In September 1943, the division landed at Bougainville, where they remained in action until returning to Guadalcanal in January 1944. Following further training the division took part in the Battle of Guam. [3]

First Lieutenant Vivian was with the division when they landed on the western beaches on July 21, 1944. On the morning of August 1, just nine days before Guam was made secure, Vivian was killed by a Japanese mine while traveling by jeep on the main coast road. His name is inscribed on the Asan War Memorial on Guam.
| | | | | | | | | | | | |
| --- | --- | --- | --- | --- | --- | --- | --- | --- | --- | --- | --- |
| Year | Team | League | Class | G | IP | ER | BB | SO | W | L | ERA |
| 1942 | Amsterdam | Canadian-American | C | 4 | 35 | 9 | 15 | 21 | 3 | 1 | 2.31 |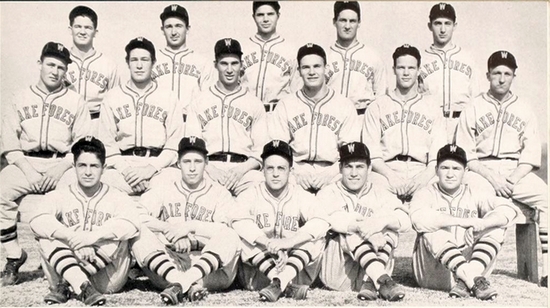 1940 Wake Forest baseball team. Art Vivian is back row, third left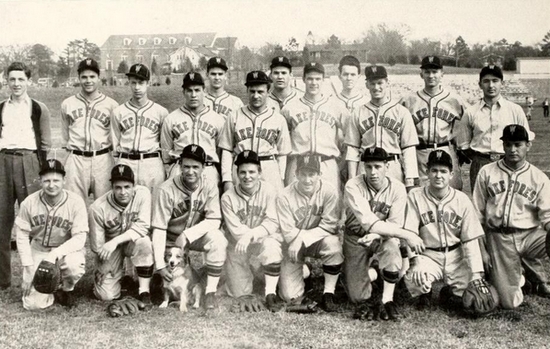 1941 Wake Forest baseball team. Art Vivian is back row, third left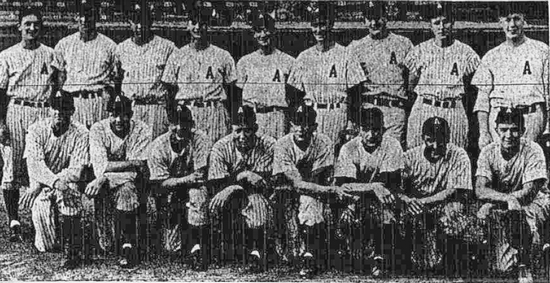 1942 Amsterdam Rugmakers. Art Vivian is front row, second left
Notes
1. Brydon attended Seton Hall College and signed with the Brooklyn Dodgers in 1941. He batted .330 in 75 games for the Valdosta Trojans of the Class D Georgia-Florida League before entering military service and, like Vivian, he served in the Pacific with the Marines. Brydon was seriously wounded in combat and unable to pursue his baseball career after the war.

2. Arthur Cotterell, "Dreams of the Major Leagues End with World War II," Summit Historical Society, website www.summitnjhistory.org/His- torian vivian.php. Retrieved January 13, 2008.

3. Guam was the largest of the Mariana Islands and a possession of the United States until captured by the Japanese on December 11, 1941.
Source
Amsterdam Evening Recorder, June 17, 1942
Amsterdam Evening Recorder, June 22, 1942
Gloversville and Johnstown Leader-Republican, July 3, 1942
Amsterdam Evening Recorder, July 8, 1942
Amsterdam Evening Recorder, July 2, 1942
Thanks to Astrid van Erp for help with a photo for this biography
Date Added May 15, 2012 Updated August 3, 2017
Baseball's Greatest Sacrifice is associated with Baseball Almanac
Baseball's Greatest Sacrifice is proud to be sponsored by