Carson Walsky
| | |
| --- | --- |
| Date and Place of Birth: | November 14, 1910 Czechoslovakia |
| Date and Place of Death: | February 26, 1945 near Ferschweiler, Germany |
| Baseball Experience: | Minor League |
| Position: | Pitcher |
| Rank: | Staff Sergeant |
| Military Unit: | 76th Cavalry Reconnaissance Troop (Mechanized), 76th Infantry Division, US Army |
| Area Served: | European Theater of Operations |
Carson "Kit Carson" Walsky, son of John and Anna Walsky, was born in Czechoslovakia on November 14, 1910. His family moved to the United States shortly afterwards, and settled in the coal mining town of Hazleton, Pennsylvania, where he graduated from Hazleton High School in 1930, following outstanding athletic performances in football, basketball and as a left-handed pitcher.

In the early 1930s, he followed his father's footsteps as a miner but played professional football for Cranberry in the Twin-County Football League. From 1935 to 1937, Walsky escaped the mines and attended Mount St. Mary's College (now University) at Emmitsburg, Maryland, where he played end on the football team and pitched for the baseball nine.

In 1939, despite being 28 years old, Walsky signed with his hometown Hazleton Mountaineers, an independent entry in the newly-formed Class C Interstate League. The Mountaineers, who played at Cranberry Ballpark, were managed by former big league infielder Harvey "Hob" Hiller (he was replaced by the team's first baseman, Frank DeManicor in June) and included former Red Sox pitcher George Hockette, and future Athletics pitcher/outfielder Woody Wheaton (who would lead the Interstate League with a .428 batting average in 1939).

On June 14, 1939, Walsky was honored by the 14th Ward Intelligence Club and Hazelton High School students in a "Carson Walsky Day." The school band took part in the ceremonies and Walsky was presented with a gift before the game against Allentown.

Walsky played 14 games over the 102-game season between May 11 and June 28 - 12 of those as a pitcher (and two in the outfield) - hurling 74 innings (including five complete games) for a 4-6 won-loss record and a 7.54 ERA. He hit a respectable .297 with 11 hits in 37 at-bats and two homeruns, but was released in April 1940, by newly appointed manager Cy Perkins. He spent 1940 playing shortstop for the Fegley team in the City Softball League

On May 28, 1942, Walsky entered military service with the Army at the age of 31. From early 1943, he was stationed at Fort Meade, Maryland, with the 76th Cavalry Reconnaissance Troop (Mechanized) of the 76th Infantry Division. On January 24, 1943, Walsky married Cecelia (nee Guzock) at St. John's Church in Newark, New Jersey. Following a week's honeymoon, Sergeant Walsky returned to Fort Meade, while Cecelia returned to her job as a drafter in Newark.

Walsky later attained the rank of staff sergeant and was stationed at Camp McCoy, Wisconsin, where he was joined by Cecelia. In December 1944, the 76th Cavalry Reconnaissance Troop sailed for England. In January 1945, they crossed the English Channel to France and were soon in the heat of combat.
On February 24, 1945, attached to the 304th Infantry Regiment, the troop crossed the Sauer River at Echternach, Luxembourg, and moved towards Ferschweiler, Germany. Staff Sergeant Carson Walsky, taking part in his first battle, was killed in action on February 26, 1945. He was 34 years old.

Following his death, Cecelia received a letter from Army Chaplain (Captain) Abraham Zemach:

Dear Mrs Walsky
I wish to convey to you my deepest sympathy upon the death of your husband...who was killed in action...against the enemy in Germany.
Carson was laid to rest with his fellow American heroes in the U.S.Military Cemetery in the Duchy of Luxembourg. Appropriate funeral services were conducted.
Carson was a pride and credit to his organization as a soldier and as a man. He was conscientious, dependable and devoted to his duties. He was very well like by the officers and fellow soldiers in his organization. His loss will be keenly felt by all of us.
May the Lord give you strength to bear your grief with courage and resignation to the Divine Will.
With deepect sympathy,
ABRAHAM ZEMACH
Chaplain (Capt.) U.S. Army

In November 1950, Walsky and another former Hazelton High athlete killed in WWII, Anthony "Hunky" Moran, were honored through a memorial plaque presented after the Hazelton High-West Hazelton High Thanksgiving Day football game. Presented by the Pollock and Mann Sporting Goods Company, the annual award went to the player most typifying the courage, spirit and competitive brilliance of Walsky and Moran. The first award went to Hazelton High's Eddie Boran.

In 1979, at the 16th annual Hazelton YMCA Sports Hall of Fame banquet, Carson Walsky was inducted into the hall of fame. The award was accepted by Cecelia. Cecelia Walsky passed away in September 2005.


Walsky with the 1936 Mount St. Mary's football team
(Walsky is front row, fourth from left wearing 23)

Carson Walsky with the Hazelton Mountaineers pitching staff during the spring of 1940 before his release. (Walsky is sixth from left)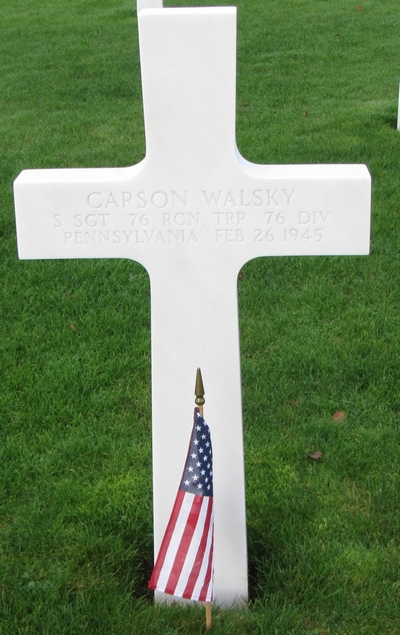 Carson Walsky's grave marker at the Luxembourg American Cemetery and Memorial in Hamm, Luxembourg.
Thanks to Gary Fink for "discovering" Carson Walsky so he could be added to the Baseball's Greatest Sacrifice site. Thanks also to Astrid van Erp for providing a photo for this biography
Date Added January 24, 2016. Updated December 15, 2019
Baseball's Greatest Sacrifice is associated with Baseball Almanac
Baseball's Greatest Sacrifice is proud to be sponsored by