Chipper Wantuck
| | |
| --- | --- |
| Date and Place of Birth: | February 15, 1922 Chicago, IL |
| Date and Place of Death: | June 16, 1944 Biak Island, New Guinea |
| Baseball Experience: | Minor League |
| Position: | Pitcher/Outfield |
| Rank: | Private First Class |
| Military Unit: | C Company, 116th Medical Battalion Clearing Company, 41st Infantry Division US Army |
| Area Served: | Pacific Theater of Operations |
Wantuck will no doubt be ready for return to organized ball when the big battle is won and we Texas City fans will follow his record.
Galveston Daily News July 25, 1943
Roman E. "Chipper" Wantuck grew up on the South Side of Chicago, where he lived with his mother, Mrs. Antoinette Wantuck, five sisters and four brothers. He attended Bowen High School in South Chicago, and he excelled in baseball for the Boilermakers.

Following graduation, Wantuck attended spring training with the Sheboygan Indians of the Class D Wisconsin State League in 1941, in the hope of earning a place on the team. With the young hopefuls playing daily inter-squad games throughout May, Wantuck demonstrated his abilities on the mound, allowing just three hits over five innings on May 7, and three hits over six innings with eight strikeouts on May 11. When the squad was cut to the required 15 players in mid-May, Wantuck had earned a spot.

On May 18, 1941, Wantuck beat the Fond du Lac Panthers, 6-0, on three hits to begin a memorable rookie season. By July 4, his wins and losses were even at five and five but he won 10 of his next 12 decisions to finish with a 15-7 record in 31 appearances and a 3.31 ERA. He struck out 174 batters over 201 innings, and played nine games in right field (he batted .232 for the year, 33 for 142). On July 21, he beat Oshkosh, 5-0, on a two-hitter, and on August 28, he destroyed Green Bay, 22-2, allowing just four hits while driving in six runs with a double and a grand slam. [1] The Indians finished fourth in the league to earn a place in the playoffs, and after beating the LaCrosse Blackhawks in four games, they were awarded the championship following Green Bay's forfeit.

Wantuck, a fan favorite in Sheboygan, was back with the team for the 1942 season and rang up a string of 10 wins without defeat. On May 27, he beat Oshkosh, 7-1, allowing just one hit in the second inning. On June 22, he again beat Oshkosh for his ninth straight win with a 7-0 three-hitter. "His fast-ball's a stinger," declared the Sheboygan Press. "It has just the right amount of hop to give the boys in the batter's box something to think about - and the only reason it doesn't smoke is because the air doesn't give it enough friction. But it blazes over the plate. Just as a mixer, Wantuck can toss a curve to keep the batters wary. His knuckler gives him enough of a change of pace that you can't get set for the fast one all the time - and that's all Chipper needs, for when he has to pour his clutch pitch down the line, he pours it."
It was in the July 13 Wisconsin State League all-star game at Joannes Park, Green Bay, that Wantuck truly demonstrated his all-around ability. In a one-man show, he hurled five innings of shutout ball against league-leading Green Bay, and hit two home runs over the center field fence that stood 10-feet high and 381 feet from home plate. "Chipper truly was the greatest of the great," declared the local press. [2]
For the rest of the season, Wantuck continued to win games and hit home runs, resulting in a deluge of praise from the local press. "Not only is he a pretty fair pitcher," announced the Sheboygan Journal in September, "but in slugging the ball for distance there isn't anyone to match him on the squad. Or in the league, for that matter." [3]

Wantuck finished the regular season with 19 wins (second best in the league, and his 13 consecutive wins set a league record) and a 2.70 ERA, but his biggest crowd-pleasing feats were his home runs. On four occasions during the regular season he hit two home runs in a game and even hit two in one inning against the Wisconsin Rapids White Sox. He finished the season with 16 home runs, which led Sheboygan hitters and was third best in the league - pretty good for a pitcher - and he achieved that mark in only 62 games and 203 at-bats, while Cliff Aberson - who led the league with 22 home runs - took 391 at-bats to achieve his tally.

In November 1942, it was announced that Wantuck had been drafted by the Macon Peaches of the Class B South Atlantic League. "So it's goodbye to the Chipper and good luck," declared the local press. "We certainly enjoyed his play ... and we'll miss that easy swing ... and those majestic drives sailing over the fences." [4]

But his advancement in professional baseball was put on hold when military service called in December 1942. Wantuck served with the Army Medical Corps and was based at Texas City, on the southwest shoreline of Galveston Bay, Texas, where he became a star pitcher for the Texas City Army Camp Buckeyes in the Texas City Oil League. The Buckeyes finished second in the first half of the season, but the team folded when Wantuck and many of the players were transferred. "Fans will be ready to argue with any newcomer or old-timer," wrote Shorty Yarbrough in the Galveston Daily News in July 1943, "that Roman Wantuck was as much pitcher as any man who ever set foot on the high school athletic field [where the Buckeyes played their home games]. Wantuck will no doubt be ready for return to organized ball when the big battle is won and we Texas City fans will follow his record." [5]

Private First Class Wantuck served in the Pacific with C Company, 116th Medical Battalion Clearing Company, 41st Infantry Division. They landed near Bosnek Village on Biak - a small island on the western end of New Guinea that was held by 11,000 Japanese troops - on May 27, 1944, and supported the 2nd Battalion of the 186th Infantry Regiment.
On 16 June, 1944, during action on the low Mokmer Ridge just south of West Caves, Roman Wantuck and Anthony Dombrowski were killed while on a litter evacuation of a seriously wounded 186th Infantry Regiment man who also died. They were the only medical company casualties during the Biak campaign.
News of his death came as a terrible shock to the baseball community. The Chicago Cubs (who added Wantuck to their defense list after he was drafted by Macon) announced he was the first Cub to lose his life in action in the war. Jack Sheehan, director of the Cubs' minor league clubs, rated Wantuck as "one of the most promising players in the Cubs' system." [6]
In April 1948, sports writers of the Wisconsin State League named Wantuck among 17 players/managers selected for the league hall of fame. [7]
In February 1949, Wantuck's body was returned to Chicago where he was finally laid to rest at Holy Cross Cemetery in Calumet City, Illinois.
Pitching
| | | | | | | | | | | | |
| --- | --- | --- | --- | --- | --- | --- | --- | --- | --- | --- | --- |
| Year | Team | League | Class | G | IP | ER | BB | SO | W | L | ERA |
| 1941 | Sheboygan | Wisconsin State | D | 31 | 201 | 74 | 83 | 174 | 15 | 7 | 3.31 |
| 1942 | Sheboygan | Wisconsin State | D | 26 | 203 | 61 | 54 | 174 | 19 | 6 | 2.70 |
Batting
| | | | | | | | | | | | | |
| --- | --- | --- | --- | --- | --- | --- | --- | --- | --- | --- | --- | --- |
| Year | Team | League | Class | G | AB | R | H | 2B | 3B | HR | RBI | AVG |
| 1941 | Sheboygan | Wisconsin State | D | 51 | 142 | 24 | 33 | 9 | 1 | 5 | 36 | .232 |
| 1942 | Sheboygan | Wisconsin State | D | 62 | 203 | 36 | 59 | 9 | 0 | 16 | 43 | .291 |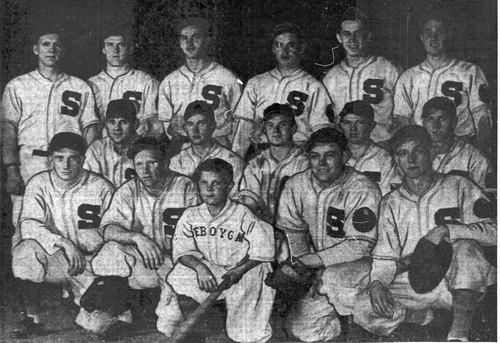 Chipper Wantuck (back row, third from left) with the 1941 Sheboygan Indians. Dick Williams who also died in service is middle row, first left.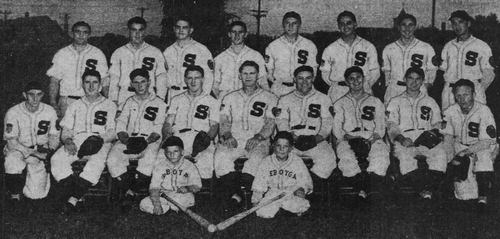 Roman Wantuck (back row, third from right) with the 1942 Sheboygan Indians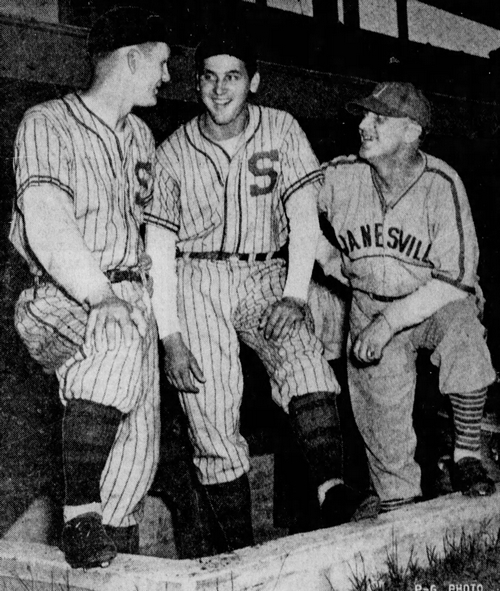 Chipper Wantuck (center) after his outstanding performance in the 1942 Wisconsin State League all-star game. Wantuck is pictured with Joe Hauser and Eddie Stumpf.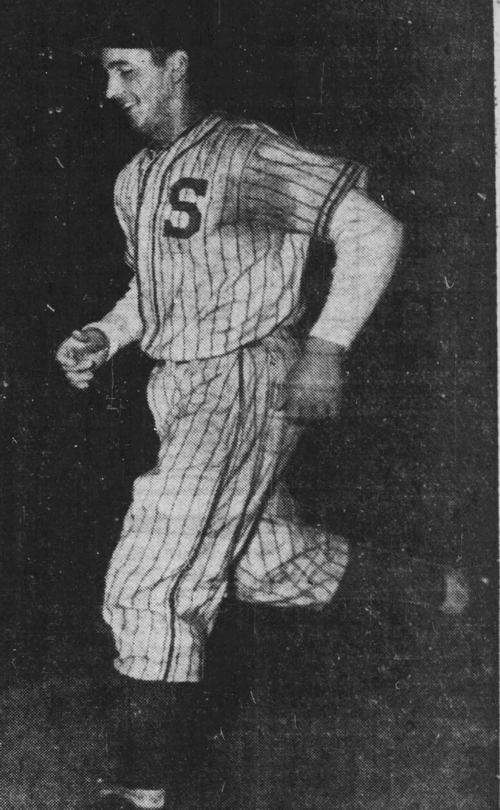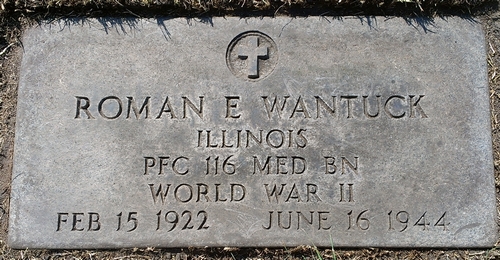 Pfc Roman Wantuck's grave at Holy Cross Cemetery in Calumet City, Illinois
Notes
1. Sharing pitching duties with Wantuck on the 1941 Sheboygan team was left-hander Dick Williams. Canadian-born Williams was 14-11 for the year. He was killed in action in the Philippines in February 1945.
2. Wisconsin Rapids Daily journal, July 14, 1942
3. Sheboygan Journal, September 1, 1942
4. Wisconsin Rapids Daily Journal, December 7, 1942
5. Galveston Daily News, July 25, 1943
6. Sheboygan Journal, January 25, 1945
7. Milwaukee Journal, April 16, 1948
www.findagrave.com
Thanks to the Chicago Historical Society for help with this biography. Thanks also to Allan Kavalich for help with information on Chipper's death. Thanks also to Astrid van Erp for help with a photo for this biography
Date Added May 22, 2012 Updated May 29, 2018
Baseball's Greatest Sacrifice is associated with Baseball Almanac
Baseball's Greatest Sacrifice is proud to be sponsored by