Tom Woodruff
| | |
| --- | --- |
| Date and Place of Birth: | November 30, 1917 St. Louis, MO |
| Date and Place of Death: | November 14, 1944 nr. The Philippines, Pacific Ocean |
| Baseball Experience: | Minor League |
| Position: | Shortstop |
| Rank: | Lieutenant Junior Grade |
| Military Unit: | VF-20 US Navy |
| Area Served: | Pacific Theater of Operations |
Tom Woodruff was a league-leading base stealer his first two years in the minors. Five years later he was inflicting heavy damage on Japanese shipping as a US Navy fighter pilot roaming the Pacific from the deck of the USS Enterprise. After earning a string of awards for extraordinary heroism against the enemy, Tom's luck ran out in November 1944.
Thomas J. Woodruff was an outstanding young shortstop with the Aubuchon-Dennison American Legion team in St. Louis, Missouri, and attended St. Louis University High School, where he was a three-sport athlete and an honors student. He was a varsity baseball teammate of Joe Schultz, who enjoyed a nine-year career as a major league catcher with the Pirates and Browns, and went on to manage the Seattle Pilots and Detroit Tigers. Another teammate, William Quinn, became the first governor of the state of Hawaii and president of Dole Pineapple. Yet another, Bob Hyland, became a pioneer in the radio business, becoming the vice-president of CBS radio and creating the talk-radio call-in format. [1]

Following graduation in 1936, Woodruff enrolled at St. Louis University, and was on the track team and freshmen basketball squad before signing with the St. Louis Browns in 1938. The Browns sent the young shortstop to the Corpus Christi Spudders of the Class D Texas Valley League, and he batted .271 with 6 home runs, 20 triples, 71 RBIs and a league-leading 44 stolen bases. He also led the team with 84 base on balls and 13 sacrifice hits. In 1939, he joined the Paragould Browns of the Class D Northeast Arkansas League and batted .279 in 120 games with 10 home runs, 56 RBIs, a team-leading 115 runs scored and a league-leading 62 stolen bases. [2]
The 22-year-old began the 1940 season with the Springfield Browns of the Class B Three-I League, playing alongside future major leaguers Ray Coleman, Earl Jones, Ed Busch and Len Schulte. But after batting only .248 in 55 games he joined the St. Joseph Autos of the Class C Michigan State League on July 9. Bringing outstanding speed on the basepaths and combining with manager Elmer Kirchoff to make a neat double play combination, Woodruff helped put the Autos on a winning streak. In 27 games, he was batting .404 and had stolen 17 bases when he broke his leg in a game against Grand Rapids in August. But despite his limited playing time he was voted to the Michigan State League All-Star team picked by the loop's sports editors and team managers.

Woodruff's option was taken up by Springfield at the start of 1941. The team he had played for before joining St. Joseph, and the young infielder was torn between the desire of stepping up into Class B competition and returning to the Autos. "If you consider the calibre of play, the playing conditions, teammates, and the two cities of St. Joseph and Springfield, I'd probably rather come back to the Autos," he told the Benton Harbor News Palladium. "But I've got to also look at it from the baseball angle that the Three-Eye circuit naturally carries more prestige than the Class C Michigan League and baseball men give more recognition to you if you're from a class B loop," he added. [3]
Nevertheless, and with his military draft call looming, he was back with St. Joseph by mid-April. He was batting .278 with 18 RBIs, 4 home runs and 12 stolen bases in 19 games when military service requested his presence June 6. May 28 was the date of the popular shortstop's last game and the event was dubbed "Tommy Woodruff Night" as the Autos faced Grand Rapids before a crowd of 850 at Edgewater Park. Batting in his usual number two spot Woodruff was hitless at the plate but safely handled five chances in the field. As the Autos headed to Lansing to play the cellar-dwelling Senators, Woodruff headed home to St. Louis and reported for induction. [4]
Woodruff began his military life at the Army Replacement Center at Jefferson Barracks, Missouri, where he was attached to the public relations staff, having studied journalismn at St. Louis University. He later transferred to the Navy and as an aviation cadet, trained at Pensacola Naval Air Station, earning his wings as a fighter pilot in June 1942. Lieutenant Junior Grade Woodruff flew the Grumman F6F Hellcat, and saw action in the Pacific from August 1944, as part of Fighter Squadron VF-20 aboard the USS Enterprise. He made fighter sweeps over the Bonin Islands, Yap Island and in support of the landings at Peleliu in September. In October, strikes were made against Okinawa, Luzon and in support of the Second Battle of the Philippine Sea. Woodruff was awarded the Distinguished Flying Cross, Air Medal and Navy Cross for his aerial combat achievements.

During November, he made attacks against land targets in the Philippines and enemy convoys including the November 11 attack on an enemy convoy at Ormoc Bay. On that day, the Navy pilots encountered stiff opposition from ant-aircraft fire but sank two destroyers.

On November 14, 1944, he flew a mission against Clark Field in the Philippines that was the most trying for the pilots of VF-20. Anti-aircraft batteries of all sizes had been greatly strengthened since previous strikes and were finding their targets with alarming accuracy. Six fighters were shot down that day, including Woodruff. His body was never recovered and a year later he was officially declared dead.

Woodruff was posthumously awarded a gold star in lieu of a second Distinguished Flying Cross for his part in the attack against the Japanese convoy on November 11, 1944. He is memorialized at the Manila American Cemetery at Fort Bonifacio in the Philippines.
Lt (jg) Woodruff's Navy Cross citation:
The President of the United States of America takes pleasure in presenting the Navy Cross to Lieutenant, Junior Grade Thomas Joseph Woodruff (NSN: 0-145682), United States Naval Reserve, for extraordinary heroism in operations against the enemy while serving as Pilot of a carrier-based Navy Fighter Plane in Fighting Squadron TWENTY (VF-20), attached to the U.S.S. ENTERPRISE (CV-6), in strikes against the Japanese Fleet on 24 - 25 October 1944, east of the Philippines. On 25 October Lieutenant, Junior Grade, Woodruff participated in a coordinated attack on a large formation of enemy warships and in spite of intense anti-aircraft fire scored rocket hits on a destroyer. On 20 October with complete disregard for his own personal safety and in the face of intense anti-aircraft fire he attacked and obtained a direct bomb hit on a light cruiser inflicting severe damage. His courage and skill were at all times in keeping with the highest traditions of the United States Naval Service.

General Orders: Commander 1st Carrier Task Force Pacific: Serial 046 (January 31, 1945)
Action Date: October 24 - 25, 1944
Service: Naval Reserve
Rank: Lieutenant Junior Grade
Company: Fighting Squadron 20 (VF-20)
Division: U.S.S. Enterprise (CV-6) [5]
| | | | | | | | | | | | | |
| --- | --- | --- | --- | --- | --- | --- | --- | --- | --- | --- | --- | --- |
| Year | Team | League | Class | G | AB | R | H | 2B | 3B | HR | RBI | AVG |
| 1938 | Corpus Christi | Texas Valley | D | - | 579 | 130 | 157 | 28 | 20 | 6 | 71 | .271 |
| 1939 | Paragould | N.E. Arkansas | D | 120 | 459 | 115 | 128 | 26 | 5 | 10 | 56 | .279 |
| 1940 | Springfield | Three-I | B | 55 | 222 | 47 | 55 | 6 | 8 | 2 | 19 | .248 |
| 1940 | St. Joseph | Michigan State | C | 27 | 109 | 29 | 44 | 9 | 0 | 5 | 17 | .404 |
| 1941 | St. Joseph | Michigan State | C | 19 | 79 | 20 | 22 | 6 | 0 | 4 | 18 | .278 |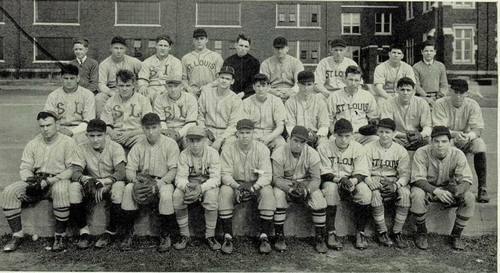 Tom Woodruff (front row, fifth from left) with the 1936 St. Louis University High School baseball team. Future major league, Joe Schultz, is back row, second from left.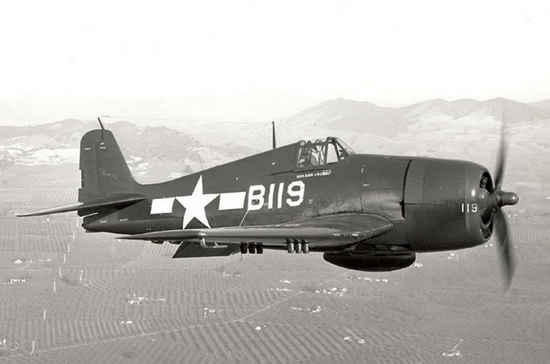 A Grumman F6F Hellcat of VF-20. The type Lt. (jg) Woodruff was flying on November 14, 1944
Notes
1. Communication with Joe Patke, University High School, St. Louis, MO (Dec 2008)
2. One of Woodruff's 1939 Paragould teammates was Marshall Sneed, who went on to fly fighter planes with the USAAF in North Africa. Sneed was killed in action in February 1943.
3. Benton Harbor News Palladium, March 29, 1941
4. Benton Harbor News Palladium, May 28 and 29, 1941
5. militarytimes.com/citations-medals-awards/recipient.php?recipientid=27387. Retrieved May 30, 2012.
Photo Source: SLU Archives
Thanks to Gary Fink and Joe Patke for help with this biography. Thanks also to Astrid van Erp for help with photos and information.
Date Added May 29, 2012 Updated August 3, 2017
This baseball card of Tom Woodruff was created by Gary Cieradkowski as part of the Infinite Baseball Card Set. It is available for purchase at a cost of $5.00.
Baseball's Greatest Sacrifice is associated with Baseball Almanac
Baseball's Greatest Sacrifice is proud to be sponsored by