Alan Wray (Alan Lightner)
| | |
| --- | --- |
| Date and Place of Birth: | June 24, 1919 Stockton, CA |
| Date and Place of Death: | January 12, 1945 nr. Saarbrucken, Germany |
| Baseball Experience: | Minor League |
| Position: | Outfield |
| Rank: | Corporal |
| Military Unit: | Company A, 276th Infantry Regiment, 70th Infantry Division US Army |
| Area Served: | European Theater of Operations |
Alan Wray (born Alan Wray Lightner, the son of Alfred and Francis Lightner) was born on June 24, 1919, in Stockton, California, and played semi-pro ball alongside his older brother Orland "Al" Lightner in California during the late 1930s. In 1938, they were both playing for the Modesto Hawks of the semi-pro California Valley League, when Orland was signed by the Bellingham Chinooks of the Class B Western International League. The Chinooks finished second to the Yakima Pippins in the league standings that year and clinched the championship in the playoffs.

In 1939, however, the Chinooks, with a depleted pitching staff, were a different team. Due to financial difficulties, the league had taken over the team in mid-season and Orland "Al" Lightner, who in addition to playing first base was also the team's traveling secretary, was appointed manager on August 17. The roster limit restrictions were lifted a week later, and Orland signed his younger brother Alan, who was still playing with the Modesto Hawks and attending Modesto Junior College. Alan Wray Lightner used his middle name as his last name, and as Alan Wray he made 14 appearances as an outfielder for the Chinooks and batted .273.

The Bellingham franchise was purchased by a private entity for 1940, and moved to Salem, Oregon. While Orland Lightner remained with the club and had a career-year, batting .291 with 94 RBIs in 143 games, Alan Wray Lightner was released and joined the Medford Craters of the Oregon State League.
"Why Al Wray was released by Salem appears to be somewhat of a minor mystery," wrote Billy Hulen in the Medford Mail Tribune on May 7, 1940. "The southpaw centerfielder...hits like mad, runs like a deer and throws with the precision of a machine-gun. In two games he swatted two triples, a double and single, held one enemy runner on third with a great peg to the plate, and stole second base with ease."
In 1942, the Medford Craters were playing in the Oregon-California League. "Al Wray celebrated his 23rd birthday with a single and double in four trips and a great running catch of Johnson's fly to short right-center in the eighth," wrote the Mail Tribune on June 25, 1942. "The Crater centerfielder received a nice birthday present, too, a $5 bill for hitting the Flynn electric sign in left."

Alan Wray Lightner entered military service on October 9, 1942, and was stationed at Fort Lewis, Washington, where his main duty was to pass out shoes to new inductees at the Fort Lewis reception center. In between duties he was playing baseball, basketball and football, losing two front teeth in a football scrimmage game in late 1942. The following spring, he was playing basketball for the Fort Lewis Warriors in the National AAU (Amateur Athletic Union) basketball tournament in Denver, Colorado. During the tournament, Lightner's teammate and future basketball professional Gale Bishop, set a new single game record by scoring 50 points again the Butte Boosters. "We fed Bishop like he was a baby," recalled Lightner in the March 23, 1943 edition of the Mail Tribune. "During most of the last half nobody else took a shot. Every time we got the ball we'd give it to Gale and, man, how he popped that pumpkin through the strings!
"It was a great experience playing in the tournament. I'd always dreamed of seeing one of those national tourneys, and to actually play in one was something. Now, if our ball club can go to the national semi-pro baseball tournament in Wichita next summer I'll have seen and done everything."
The Warriors, who were state semi-pro champions in 1942, only managed fourth place in 1943 and did not make the trip to Wichita.
Alan Wray Lightner later served in Europe as a corporal with Company A of the 276th Infantry Regiment, 70th "Trailblazers" Infantry Division. The division landed at Marseille, France, in December 1944, and reached the front on December 28, near Bischweiler on the west bank of the Rhine River. The division defeated German forces at Phillipsbourg and at Wingen, before moving to an area south of the heavily fortified German town of Saarbrucken in mid–January 1945. Corporal Alan Wray Lightner was reported missing during the action at Saarbrucken. His parents were informed he was missing in early February.
It was later confirmed he had been killed on January 12, 1945. Alan Wray Lightner, was 25 years old. He is buried at the Ardennes American Cemetery in Neupre, Belgium.

Older brother Orland went on to become sports editor of the Oregon Statesman newspaper and one of the nation's most noted college basketball officials in the 1950s and 1960s, working four Final Fours. He named his first-born son, Alan Wray Lightner, in honor of his late younger brother.
| | | | | | | | | | | | | |
| --- | --- | --- | --- | --- | --- | --- | --- | --- | --- | --- | --- | --- |
| Year | Team | League | Class | G | AB | R | H | 2B | 3B | HR | RBI | AVG |
| 1939 | Bellingham | Western Int'l | B | 14 | 55 | 6 | 15 | 2 | 0 | 0 | 3 | .273 |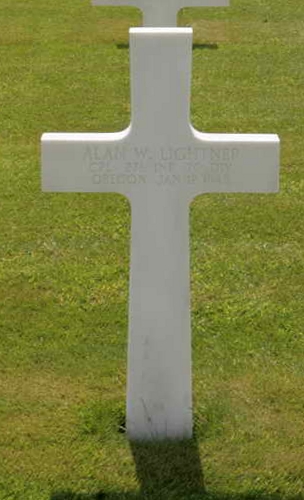 Alan Wray Lightner's grave at the Ardennes American Cemetery in Neupre, Belgium.
Thanks to Ben Truwe for help with this biography.
Date Added May 29, 2012 Updated February 28, 2018
Baseball's Greatest Sacrifice is associated with Baseball Almanac
Baseball's Greatest Sacrifice is proud to be sponsored by