Veito Zande
| | |
| --- | --- |
| Date and Place of Birth: | June 15, 1917 Cranberry Lake, NY |
| Date and Place of Death: | August 10, 1944 Normandy, France |
| Baseball Experience: | Minor League |
| Position: | Pitcher |
| Rank: | Staff Sergeant |
| Military Unit: | 112th Infantry Regiment, 28th Infantry Division US Army |
| Area Served: | European Theater of Operations |
Veito R. Zande, the son of immigrant Italian parents, Frank and Elizabeth Zande, who arrived in New York city in 1907, was born at the small upper New York state hamlet of Cranberry Lake on June 15, 1917. The family moved to Tupper Lake (about 30 miles east of Cranberry Lake) in 1936, and Veito graduated from Tupper Lake High School the same year. A left-handed pitcher, Veito ended his high school baseball days by throwing a 7-0 no-hitter against St. Joseph's Academy on June 13, 1936.

During 1938 and 1939, he was at St. Lawrence Colle (later University) in Canton, New York, where he was a mainstay of the pitching staff. Another student at St. Lawrence was movie actor Kirk Douglas, although he was known as Isadore Demsky at the time.

In May 1939, Veito's younger brother, Augie, had a tryout with the Amsterdam Rugmakers of the Class C Canadian-American League, although he was not kept on by the team. During the summer of 1940, Veito played semi-pro baseball with Newton Falls, and both Veito and Augie joined the Newport Canners of the Class D Appalachian League in 1941, a club managed by Red Marion, who had played outfield with the Washington Senators in 1935. Veito was 5-3 with a 4.26 ERA in 16 games and played the latter part of the season with the Lansing Senators of the Class C Michigan State League, appearing in 13 games for a 1-7 record and 10.74 ERA. Augie stayed with the Canners for the season and was 11-11 with a 4.47 ERA.

That was to be the end of pre-war baseball for both Veito and Augie. Veito entered military service in March 1942 and trained at Camp Livingston, Louisiana, Camp Gordon, Florida, and Camp Pickett, Virginia, before going overseas in October 1943. However, one more Zande brother had a brief minor league career before military service. Jim Zande, an outfielder, played for the Newport Canners in 1942, appearing in 17 games.

By June 1943, Veito's mother, Elizabeth (his father, Frank, had died in 1937), had five sons in military service. Augie was a sergeant with the Army Engineers at Camp Abbott, Oregon. Amedeo (known as Zinc) was a corporal with the Medical Corps at the 90th General Hospital at Fort Dix, New Jersey. Attilio was a sergeant with the 77th Ordnance Company in North Africa and Italy, then France and Germany, while Jim, the youngest of the Zande boys, was trained at Camp Wallace, Texas, before going overseas with the 104th Infantry Division, seeing action in Belgium, Holland and Germany. Veito's sister, Helen, served with the WAVES at Quonsett, Rhode IsIand.

Veito served as a staff sergeant with 112th Infantry Regiment of the 28th Infantry Division in Europe. He was killed instantly when he was hit by shrapnel in the vicinity of Saint-Lô, Normandy, France on August 10, 1944.

News of Veito's death reached his family by a letter that was sent to his sister, Mary, from his close friend, Rayburn Jones of Oklahoma, who witnessed Veito's death. The letter appeared in the Tupper Lake Free Press and Herald and was later reprinted in the St. Lawrence Plain Dealer.
Dear Mary:

I will say 'Dear Mary' because I feel as though I know you as my own sister, because I've heard all about you and your family so many times. Veito has told me the life history of everyone in Tupper Lake and surrounding towns. To get to the point. I am a very good friend of Zande's (that's what all the fellows in the company called him).

I want you to know that Veito won't be back... I feel that as a true friend of his. I should let you know first. It has been only four days since it happened. Perhaps I'm wrong in writing, but I feel like it. Maybe the government has already informed you, but I would rather get it this way. than from them.

He got it sudden.... no pain, as so many of them have, dying the same way. Maybe all this is rather crude and heartless, but after you are here awhile you kind of get that way although you're scared, you still stick in there and fight. Zande and his gun crew were the first to go in on an attack. They made a success of it and came out all right ... that was at first. The longer we stayed in and the farther we pushed them back, the tougher the going got. We had been in ten days when we had our trucks and guns parked on a sunken road, below a hill, and they shelled us.

I was in front, and Veito behind. I heard the first shell come over, whistling, as they do, and I saw it hit beside Veito's gun-truck. By that time everyone was looking for a hole. I saw the second one hit upon the high hedgerow (the whole country is made up of hedgerows) and that was the one that got Veito and another fellow, and injured two more. They only fired six rounds, but that was enough to do away with the best friend I ever had. I was with him more than my own brother.

I picked Zande up on the other side of the hedge, where he was at the time of the barrage, and looked to see where he was hit. It was right through the top of the head, with a piece of shrapnel about half as long as my finger, so I knew he got it sudden. I couldn't stand it and broke down and cried like a baby. I had seen plenty of our boys dead along the roads and hedgerows, and Germans too, but when Veito got it, I went to pieces for awhile.

Well, we didn't waist much time moving out of there and taking care of the wounded, and there were plenty of them. The doctors are doing a wonderful job over here, and that blood plasma is the most wonderful stuff in the field of medicine today. It's saving plenty of lives right here.

I can hardly believe Veito isn't with us anymore. He was liked by everyone, no matter where he went. I hope to meet him again some day, whenever God calls us all together, as He will, and when I pass through those golden gates to Heaven. I hope he's there waiting to greet me and say 'I'm glad to see you, Jones'. Every man who lies under one of these barrages in a fox hole is praying, and he admits it.

We are having a tough time of it over here, I lost my truck and everything we owned with it, the next day after Veito's accident, but we have another now and are still in the battle, for how long, I don't know. I know from the way the papers put it, the war is nearly ended, over here, but it isn't, and I wish people would quit getting that false impression. It's still tough, and don't let anybody tell you it isn't. I know every one of us here is praying that this thing will be over soon, and we can call it quits. The French homes and farms are really torn up. The orchards are shattered and the stock is mostly all killed off by shrapnel and bullets. Sure is a shame. What are they fighting for? Nothing to come back for ... I can't understand it. (Don't mind my writing. I'm close to the front, and a little nervous). Pray for me and all the boys. If I ever get back I'm coming up to see you all.

Sincerely,

Staff Sgt. Rayburn Jones

Staff Sergeant Veito Zande is buried at the Brittany American Cemetery in Saint-James, France.

Jim Zande didn't return to minor league baseball but Augie did. In 1946, he won 17 games with the Sherbrooke Canadians of the Border League, then 14 with the Allentown Cardinals in 1947 and 13 with the Columbus Cardinals in 1948. Augie continued to pitch in the minors until 1951, when he was 32 years old.

Amedeo Zande passed away in 1965, Attilio in 1978. Augie passed away in 1992, while Mary, who received the letter from Rayburn Jones, passed away in 2001. Jim Zande died in 2003, while Helen, who served in the WAVES during the war, died in 2008. As for Rayburn Jones, the soldier who witnessed Veito's death and wrote to his sister, he survived the war and I believe he may still be alive, aged 95, and living in Moore, Oklahoma.
| | | | | | | | | | | | |
| --- | --- | --- | --- | --- | --- | --- | --- | --- | --- | --- | --- |
| Year | Team | League | Class | G | IP | ER | BB | SO | W | L | ERA |
| 1941 | Newport | Appalachian | D | 16 | 57 | 27 | 32 | 43 | 5 | 3 | 4.34 |
| 1941 | Lansing | Michigan State | C | | 57 | 68 | 46 | 39 | 1 | 7 | 10.74 |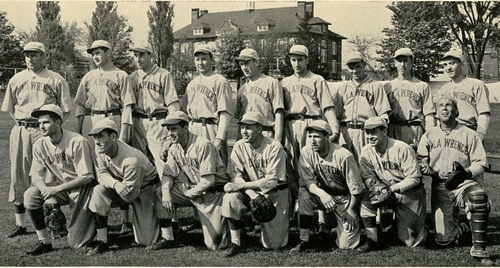 The St. Lawrence College baseball team in 1939. Veito Zande was a member of this team and almost certainly in the photograph. Can anyone help identify him?


Sources
Tupper Lake Free Press and Herald, June 18, 1936
Canton Hill News, April 26, 1939
Tupper Lake Free Press and Herald, May 11, 1939
Ogdensburg Journal, June 12, 1940
Tupper Lake Free Press and Herald, August 31, 1944
Chateaugay Record, September 8, 1944
St. Lawrence Plain Dealer, September 9, 1944
Tupper Lake Free Press and Herald, December 21, 1944
Tupper Lake Free Press and Herald, October 11, 1945
Special thanks to Kris Doorey for bringing Veito Zande to my attention. Thanks also to Astrid van Erp for help with a photo for this biography.
Date Added September 22, 2013 Updated August 4, 2017
Can you add more information to this biography and help make it the best online resource for this player? Contact us by email
Read Baseball's Greatest Sacrifice Through The Years - an online year-by-year account of military related deaths of ballplayers
Baseball's Greatest Sacrifice is associated with Baseball Almanac
Baseball's Greatest Sacrifice is proud to be sponsored by