John Zenor
| | |
| --- | --- |
| Date and Place of Birth: | July 20, 1887 Clay City, IN |
| Date and Place of Death: | December 20 , 1917 Naval Hospital, Canacao, The Philippines |
| Baseball Experience: | College |
| Position: | Unknown |
| Rank: | Lieutenant |
| Military Unit: | US Navy |
| Area Served: | The Philippines |
John A.L. Zenor was born in Clay City, Indiana on July 20, 1887. As well as living in Indiana, he also lived in Illinois, and graduated from high school in Saguache, a small rural/agricultural community in the San Luis Valley in Colorado.

Zenor attended one year at Colorado University before enrolling at the US Naval Academy in Annapolis, Maryland. Zenor competed in baseball and football at Annapolis, as well as being a member of the crew team.

He graduated in 1911, and later served as commander of the USS Monterey, a double-turreted monitor built in the 1880s. He then transferred to the USS Brooklyn (ACR-3), a cruiser that served as flagship for the Commander-in-Chief of the Asiatic Fleet.

In October 1917, Zenor married the daughter of C.F. McWilliams, formerly the eastern representative of the Great Northern Steamship Company and later connected with the Osaka Shosen Kaisha (OSK) Line, based in Yokohama, Japan. The Zenors were a popular couple in and around Manila, where the Brooklyn was based.

On December 20, 1917, Lieutenant Zenor was supervising the loading of coal at Manila. A piece of hoisting aparatus gave way, and Lt. Zenor leapt for safety, falling through a hatch and fracturing his skull. He was rushed to Canacao Naval Hospital where he died shortly after arrival.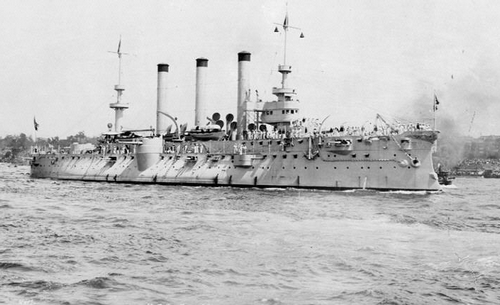 USS Brooklyn (ACR-3). The cruiser on which Lt. Zenor served and was tragically killed while supervising the loading of coal at Manila.
Sources:
Lucky Bag 1911, Annapolis Yearbook
Shanghai Times, January 3, 1918
Straits Times, January 15, 1918
Date Added November 25, 2013 Updated April 5, 2014
Can you add more information to this biography and help make it the best online resourse for this player? Contact us by email
Read Baseball's Greatest Sacrifice Through The Years - an online year-by-year account of military related deaths of ballplayers
Baseball's Greatest Sacrifice is associated with Baseball Almanac
Baseball's Greatest Sacrifice is proud to be sponsored by