Ray Flanigan
Ballplayers Decorated in Combat
| | |
| --- | --- |
| Date and Place of Birth: | January 8, 1923 Morgantown, WV |
| Date and Place of Death: | March 28, 1993 Baltimore, MD |
| Baseball Experience: | Major League |
| Position: | Pitcher |
| Rank: | Second Lieutenant |
| Military Unit: | 2nd Infantry Division, US Army |
| Area Served: | European Theater of Operations |
Raymond A. Flanigan, the son of Harry and Blanch Flanigan, was born in Morgantown, West Virginia, on January 8, 1923. He grew up in Baltimore, and was a standout pitcher at Polytechnic High School, where he pitched two no-hitters and led Poly to the city's school championship.

Flanigan hadn't even graduated from high school when he was signed by the International League's Baltimore Orioles for the 1941 season. In 18 games he was 4-10 with a 5.73 ERA. In 1942, he won 11 games against 15 losses in 37 appearances for a 3.72 ERA. "Ray will be a standout," predicted the Orioles' manager, Tommy Thomas. "He has everything needed to become not only a winning major league pitcher, but a great one. ...he is the best 19-year-old pitcher I've seen in over 20 years in baseball. He has the arm, the build, the disposition. He has amazing poise and he has real nerve - and he backs it all up by being an exceptionally good fielder."

News of the youngster's abilities spread among major league scouts, and the Yankees, Dodgers, Giants, Cubs and Red Sox all expressed an interest, although the Cleveland Indians, who had a working agreement with the Orioles, would have the opportunity to match any price offered by another club.

Nevertheless, Flanigan's future didn't come down to a bidding war as military service beckoned in January 1943. He was stationed at Camp Croft, South Carolina, before going overseas to Europe. Serving with the 2nd Infantry Division, Staff Sergeant Flanigan landed at Normandy a week after D-Day and advanced through France, mopping up prisoners along the way. Flanigan had memorized a single phrase of German, that he used when he wanted German troops to surrender. "Come out with your hands up or our artillery will come," he would shout. It usually did the job as most troops feared an artillery strike above all else. On one occasion, after a group of German prisoners were enticed out of a house to surrender, one of them remarked as he passed Flanigan, "You speak very well German, soldier."

When news of Flanigan's heroics was reported in February 1945, it prompted International League president, Frank Shaughnessy, to say, "It burns me up whenever I read stories which convey the impression that few, if any of the professional ball players are getting close to combat areas. That's not true. I know that quite a number of major and minor league players have had battle experience, and there's a bunch of them on the front lines today. It is ridiculous for anyone to think or say otherwise."

After receiving a battlefield commission and being in combat for 200 days, Flanigan returned to the United States with five battle stars. He had been away from the game for three seasons, leaving baseball as a teenager and returning to the Orioles as a 23-year-old combat veteran. Flanigan was 13-14 in 34 appearances with a 4.09 ERA in 1946, which proved good enough for the Cleveland Indians to spend $10,000 on his purchase in September.

He made his major league debut on September 20, 1946, against the Detroit Tigers. Coming in to relieve Allie Reynolds in the second inning, Flanigan gave up five runs before being replaced by Red Embree. Two days later, he made another relief appearance against the Tigers and held them to just one hit and an unearned run over 3.1 innings. On September 28, Flanigan made his only major league start. Facing the Tigers again, he lasted five innings, yielding five runs on six hits. It proved to be the end of his major league career.

Flanigan was back with the Orioles in 1947, and was 3-7 in 29 appearances. On August 25, 1947, he was scheduled to receive a medal (probably the Silver Star) at the American Legion Pageant Night at Municipal Stadium. However, he turned it down. He joined the Oklahoma City Indians of the Class AA Texas League in 1948, and was 4-5 in 37, mostly relief, appearances. His final season in professional baseball was with Oklahoma City in 1949, making just four appearances before joining the semi-pro St. Joseph Auscos of the Michigan-Indiana League.

Flanigan returned home to Baltimore to work at Bethlehem Steel and then the Maryland Cup Corporation. He frequently talked of his baseball career but never mentioned his service in World War II.

Ray Flanigan died from chronic leukemia in Baltimore, Maryland, on March 28, 1993. He was 70 years old and was cremated, with his ashes being interred at Moreland Memorial Park, Parkville, Maryland.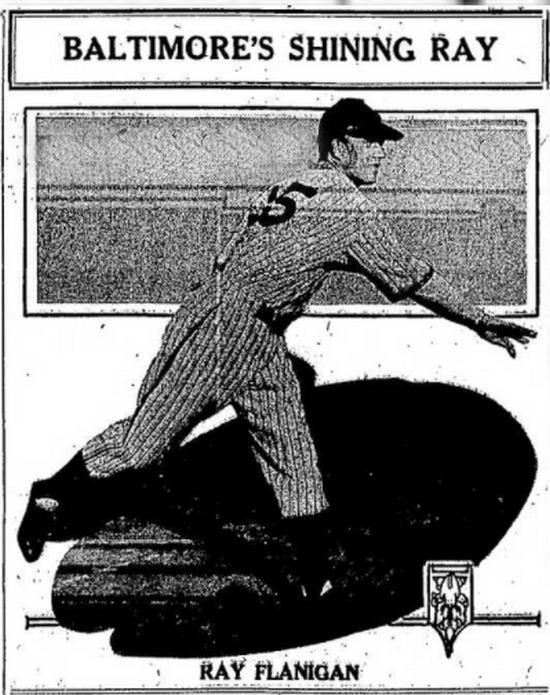 Date Added January 25, 2018. Updated January 26, 2018
Can you add more information to this biography and help make it the best online resource for this player? Contact us by email
Read Baseball's Greatest Sacrifice Through The Years - an online year-by-year account of military related deaths of ballplayers
Baseball's Greatest Sacrifice is associated with Baseball Almanac
Baseball's Greatest Sacrifice is proud to be sponsored by