Walt Shinn
Ballplayers Decorated in Combat
| | |
| --- | --- |
| Date and Place of Birth: | January 18, 1916 South Amboy, NJ |
| Date and Place of Death: | May 2, 1988 Palm Beach Gardens, FL |
| Baseball Experience: | Minor League |
| Position: | Outfield |
| Rank: | Lieutenant (Junior Grade) |
| Military Unit: | Patrol Bombing Squadron 11 (VPB-11) US Navy |
| Area Served: | Pacific Theater of Operations |
Walter E. Shinn was born on January 18, 1916, in South Amboy, New Jersey. He grew up in Parlin, New Jersey, and attended South River High School from 1931 to 1933, then Hun School in Princeton from 1933 to 1935.

Shinn was named to New Jersey's all-state football and baseball high school teams from 1933 to 1935, and went on to become an athletic star at the University of Pennsylvania. He was a member of both the varsity baseball (as a hard-hitting outfielder) and football teams (as tackle) during his first three years, and captained the football team his senior year.

Shinn earned a BS in Economics from the University of Pennsylvania's Wharton School in February of 1940, taking a leave of absence during the spring of his senior year when he accepted an offer from the New York Giants baseball team and then finished his course work in the fall of 1939.

Shinn was assigned by New York to the Fort Smith Giants of the Class C Western Association in 1939. He batted .313 in 134 games with 33 home runs (second best in the league) and was sold to the Jersey City Giants of the Class AA International League in August. Shinn spent 1940 with the Clinton Giants of the Class B Three-I League, where he hit .283 in 105 games and was recalled by Jersey City late in the year.

His contract was assigned to the Richmond Colts of the Class B Piedmont League for 1941, but as spring training was just getting under way in March 1941, Shinn enlisted as a naval cadet. He wrote to Colts' owner, Eddie Mooers, telling him he was giving up baseball, and went through cadet training at Jacksonville Naval Air Station in Florida, with the University of Pennsylvania Unit.

He earned his pilot's wings in 1942, and was selected to remain as an instructor serving as squadron assistant personnel officer because "his natural ability as a leader and his amazing skill as a pilot have combined to make him one of the best fliers at the Air Station," claimed The Pennsylvania Gazette in January 1943.

His biggest thrill was his first solo flight. "On the day I was to go up alone, I knew I was going to be scared," he said. "I was sure that I would be able to get the plane up all right, but I didn't know how I'd do after that. Well, I kept my fingers crossed, made the take-off perfectly, circled the field and landed very well. However, I was plenty scared all the time. Still I think that was my biggest thrill. I don't remember being scared before, but after that hop my confidence built up. I was on my way."

Next to his first solo he says acrobatics were the most thrilling part of his training. "Doing loops and other such forms of acrobatics show the ability of a flier to coordinate the movement of a stick, the rudder and ailerons. A good flier can fly an airplane from any position."

During the baseball season at NAS Jacksonville, Shinn played left field on the squad which was coached by former big league pitcher Lieutenant George Earnshaw. He was one of the leading hitters and his long range slugging was instrumental in enabling Jacksonville to defeat the Pensacola Naval Air Station team, Jacksonville's number one rival. He was also a star tackle on the NAS Jacksonville football team which defeated Florida, Miami and Tampa Universities and two Army teams, Spence Field and Daniel Field.

Lieutenant (jg) Shinn was later assigned to VPB-11 (Patrol Bombing Squadron), one the Black Cat squadrons in the Pacific Theater, where he flew PBY Catalina flying boats. He was awarded the Distinguished Service Medal in 1944 for damaging a Japanese cruiser in the Solomon Sea, and later in 1944, earned the Distinguished Flying Cross. In October 1944, he played a key part in the Allied invasion of Japanese-occupied Leyte, by flying Commander Charles Parsons and Lieutenant Colonel Frank Rouelle to the island to help coordinate the evacuation of civilians from the area before the softening-up bombardment was to take place. Shinn safely put them ashore south of Tacloban City, the capital of Leyte, on October 12, eight days before the invasion.

Despite being involved in frequent encounters with the enemy, it was the action of another US Navy airplane that proved the most life-threatening. In March 1944, Shinn was piloting his PBY-5 when it was struck by the propeller of another PBY that flew too close and ripped open the hull of Shinn's plane. Shinn was forced to perform a full stall landing in shallow water. There were no casualties.

Shinn left the Navy in 1946, and became a commercial airline pilot, accumulating 27,000 hours of flight time during 30 years with National Airlines. Then, until his retirement in 1981, he served as general manager of Chalk's Airlines, the United States' first airline company, flying seaplanes between Florida and the Bahamas.

Walt Shinn passed away on May 2, 1988, at his Palm Beach Gardens home. He was 72 and had lived in Florida more than 30 years. He was survived by his wife Jane Miller Shinn, five sons, a daughter, and two step-daughters.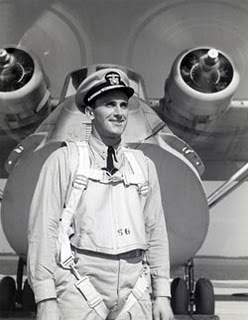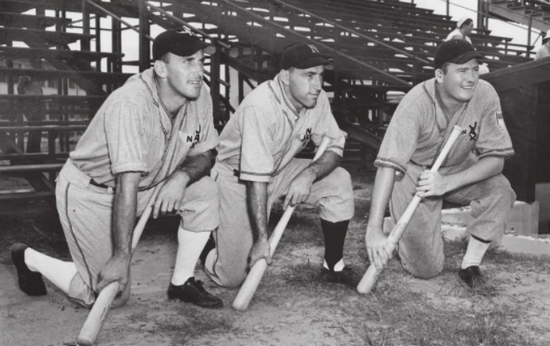 Walt Shinn (left) with Pat Calgan and Bob Leahy at NAS Jacksonville in 1942
Date Added January 27, 2018
Can you add more information to this biography and help make it the best online resource for this player? Contact us by email
Read Baseball's Greatest Sacrifice Through The Years - an online year-by-year account of military related deaths of ballplayers
Baseball's Greatest Sacrifice is associated with Baseball Almanac
Baseball's Greatest Sacrifice is proud to be sponsored by