Jack Shope
Ballplayers Decorated in Combat
| | |
| --- | --- |
| Date and Place of Birth: | September 10, 1923 Sandusky, OH |
| Date and Place of Death: | September 11, 1971 Kansas City, MO |
| Baseball Experience: | Minor League |
| Position: | Pitcher |
| Rank: | Staff Sergeant |
| Military Unit: | 351st Bomb Squadron, 100th Bomb Group US Army Air Force |
| Area Served: | European Theater of Operations |
Jack L. Shope, son Virgil and Irene Shope, was born on September 10, 1923 in Sandusky, Ohio. He grew up in Springfield, Ohio, and attended Springfield High School, where he played baseball and basketball. In 1940, he pitched for the Springfield American Legion team, leading them to victory in the Ohio American Legion tournament on August 3 with a 4-3 win against Warren.
In June 1941, immediately following graduation, Shope signed with the Fostoria Red Birds of the Class D Ohio State League and pitched briefly before being released in July. Later that year he attended Wittenberg College where he played football.
In January 1943, Shope entered military service with the Army Air Force. Staff Sergeant Jack Shope served as a tail gunner and bombardier on a B-17 Flying Fortress with the 351st Bomb Squadron of the 100th Bomb Group in England. By July 25, 1944, he had completed 33 missions, but suffered frozen feet and legs that would require 10 shots of penicillin every six months. Upon his medical discharge on March 9, 1945, S/Sgt.Shope had earned the Distinguished Flying Cross and Air Medal with four oak leaf clusters.
In April 1945, Shope signed with the Jersey City Giants of the Class AA International League. In an exhibition game against the New York Giants in front of 5,000 soldiers at Camp Kilner, New Jersey on April 7, the 21-year-old hurled the first three innings allowing two runs in the 4-2 loss.
Starting the regular season with Jersey City he made five appearance before being sent to the San Francisco Seals of the Class AA Pacific Coast League in mid-June in exchange for pitcher Ken Brondell.
On July 1 – his first appearance with the Seals - Shope walked six batters in first two innings against Los Angeles in a 4-2 loss. Distraught with his extreme wildness, Shope left the team and returned home to Springfield. "I know the boy felt miserable when he could not get the ball over the plate," manager Lefty O'Doul told the San Francisco Examiner. "I did intend to have a quiet talk with him and point out that if he could control the natural stuff that he had, he could win games for us."
Back in Springfield, he pitched for Springfield Giants of the Ohio State League making 10 appearances for a 2-5 record and 3.34 ERA. He returned to Wittenberg to play football in the winter of 1945, and signed with the Ohio State League's Richmond Roses in 1946. After four appearances and a 0-2 record he was released in June, ending his time in organized baseball.
Jack Shope later lived in Liberty, Missouri. He was head chef at the Heritage Restaurant in Kearney, Missouri and also at the Holiday Inn and Robidoux Hotel in St. Joseph, Missouri. He passed away at a hospital in Kansas City, Missouri on September 11, 1971, the day after his 48th birthday. Jack is buried at Memorial Park Cemetery in Columbia, Missouri.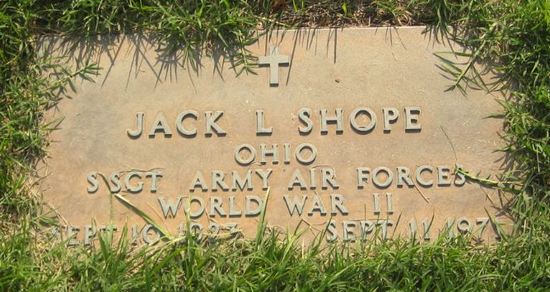 Date Added June 7, 2020
Can you add more information to this biography and help make it the best online resource for this player? Contact us by email
Read Baseball's Greatest Sacrifice Through The Years - an online year-by-year account of military related deaths of ballplayers
Baseball's Greatest Sacrifice is associated with Baseball Almanac
Baseball's Greatest Sacrifice is proud to be sponsored by