Ken Trinkle
Ballplayers Decorated in Combat
| | |
| --- | --- |
| Date and Place of Birth: | Decemebr 15, 1919 Paoli, Indiana |
| Date and Place of Death: | May 10, 1976 Paoli, IN |
| Baseball Experience: | Major League |
| Position: | Pitcher |
| Rank: | Corporal |
| Military Unit: | A Troop, 89th Cavalry Reconnaissance Squadron (Mechanized), 9th Armored Division US Army |
| Area Served: | European Theater of Operations |
Kenneth W. Trinkle was born on December 15, 1919, in Paoli, Indiana. A right-handed pitcher at Paoli High School, he signed a professional contract to play with the Thomasville Orioles of the Class D georgia-Florida League in 1939. He spent the next three seasons with the Baltimore Orioles of the Class AA International League from 1940 to 1942, and was 15-11 in his last year there before being purchased by the New York Giants.

Trinkle made his debut with the Giants on April 25, 1943. He made 11 appearances and despite a respectable 3.74 ERA, he was 1-5 when he got farmed out to the Jersey City Giants of the International League.

On September 18, 1943, Trinkle entered military service with the Army. He was stationed at Fort Meade, Maryland, where, in June 1944, he hurled a sevin-inning no-hitter in his Fort Meade debut against the Edgewood Arsenal. Later in the year he was stationed at Fort Riley, Kansas, where he played with the Fort Riley team alongside Pete Reiser, Harry Walker, Joe Gantenbein, Al Brazle, Murry Dickson and Joe Garagiola.

Trinkle was shipped to France with Dickson and Gantenbein, but they were separated upon arrival and Trinkle went to the replacement center for the 9th Armored Division. He saw action at the Battle of the Bulge and was awarded a Bronze Star. "I was a scout in a reconnaissance outfit," he told The Sporting News on June 4, 1947. "We would go out in front of the infantry to report if anything was there. If you didn't come back, they knew there was something out there."

Following the German surrender in May 1945, Trinkle teamed up with Ralph Houk for the 9th Armored Division baseball team that made it to the play-offs of the 1945 ETO World Series. Another teammate was minor leaguer Ed Musial, Stan's younger brother.

When the 9th Armored Division team was knocked out the ETO World Series play-offs, he was invited to join the 71st Infantry Division team. The 71st Red Circlers team featured Ewell Blackwell, Ancil Moore, Johnny Wyrostek, Garland Lawing, Ewell Blackwell, Russ Kern, Milt Ticco, Herb Bremer and Bill Ayers. The Red Circlers clinched a five-game Third Army Championship Series in August 1945, against the National League division winners - the 76th Infantry Division Onaways - to move on to the ETO World Series against the OISE All-Stars.

In front of crowds of 50,000 at Soldier's Field in Nurnberg, Germany, the Red Circlers won the first game on September 2, 9-2. The Red Circlers were beaten by Negro League star Leon Day in the second game, and lost, 2-1, in game three on September 6. In the decisive fifth game the Red Circlers were again beaten, 2-1, on a combined effort by Sam Nahem and Bobby Keane.

Trinkle was discharged from the army in November 1945, and returned to the New York Giants. The sinker ball specialist had great success as a reliever and made a league-leading 48 appearances for the Giants in 1946. In 1947, he again led the National League in appearances with 62, finishing 38 of those games. He made a further 53 appearances in 1948, but was sold to the Phillies in December. In 1949, his only season with Philadelphia and his last in the major leagues, Trinkle pitched in 42 games and recorded his highest major league ERA at 4.00. Trinkle pitched for the Toronto Maple Leafs of International League in 1950, and was back with Baltimore for 1951 and 1952.

Ken Trinkle passed away on May 10, 1976, in his hometown of Paoli, Indiana. He was just 55 years old and is buried at Stamper's Creek Cemetery in Paoli, Indiana.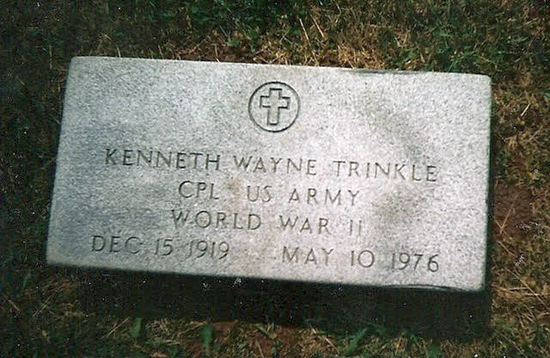 Thanks to Michael Sekeres for help with this biography.
Date Added January 26, 2018. Updated May 11, 2020
Can you add more information to this biography and help make it the best online resource for this player? Contact us by email
Read Baseball's Greatest Sacrifice Through The Years - an online year-by-year account of military related deaths of ballplayers
Baseball's Greatest Sacrifice is associated with Baseball Almanac
Baseball's Greatest Sacrifice is proud to be sponsored by