Don Kirby
Ballplayers Who Were Prisoners of War
| | |
| --- | --- |
| Date and Place of Birth: | October 30, 1922 Wellston, OH |
| Date and Place of Death: | July 28, 2014 Canal Winchester, OH |
| Baseball Experience: | Minor League |
| Position: | Catcher/Outfielder |
| Rank: | Technical Sergeant |
| Military Unit: | 730th Bomb Squadron, 452nd Bomb Group USAAF |
| Area Served: | European Theater of Operations |
Donald E. Kirby, the son of Frank and Elizabeth Kirby, was born on October 30, 1922 in Wellston, Ohio. He grew up in Columbus, Ohio and graduated from South High School where he was recognized as an exceptional athlete.

Kirby entered service with the Army Air Force at Patterson Field, Ohio in October 1942. He served as a tail gunner and radio operator with the 730th Bomb Squadron, 452nd Bomb Group, stationed at Deopham Green in England. On February 8, 1944 – during the Bomb Group's third mission – Technical Sergeant Kirby's B-17G Flying Fortress ran out of fuel over France on the return trip from a bombing raid on Frankfurt, Germany. The crew of 10 bailed out. Four evaded capture, five were taken prisoner and one – the bombardier, Abe Rosenthal – lost his life.

Kirby was among the five who were quickly captured by German troops and sent to Stalag Luft VI at Hydekrug, Germany. He played softball during the summer months and boxed in the winter. In fact, boxing was something he became so good at he represented the American servicemen in regular bouts against the British and Canadian troops at the camp. In addition to athletic pursuits, Kirby also attempted escape on two occasions but was captured both times. Furthermore, while in captivity, he valiantly saved the lives of two of his fellow comrades and was later awarded the Silver Star. Kirby was liberated by advancing British forces in mid-1945 and returned to the United States.

Aged 24, he signed with the Cincinnati Reds following an impressive tryout at Crosley Field in August 1947, and joined the Muncie Packers of the Class D Ohio State League for the remainder of the season. Appearing in 30 games as a catcher/outfielder he batted .287. It was to be his only year in professional baseball.

He continued to play baseball in the South Central Ohio League with the Washington C.H. team and with the Lancaster Hocking Glass team in the Heart of Ohio League. Kirby joined the Columbus Police Department in 1951, and proudly served for 25 years until his retirement in 1976.

Aged 91, Don Kirby passed away in Groveport, Ohio on July 28, 2014. He is buried at Franklin Hills Memory Gardens in Canal Winchester, Ohio.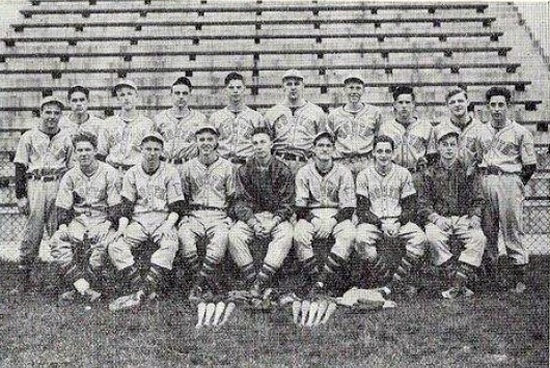 South High School baseball team
Don Kirby is front row, third from left
Date Added May 18, 2020.
Can you add more information to this biography and help make it the best online resource for this player? Contact us by email
Read Baseball's Greatest Sacrifice Through The Years - an online year-by-year account of military related deaths of ballplayers
Baseball's Greatest Sacrifice is associated with Baseball Almanac
Baseball's Greatest Sacrifice is proud to be sponsored by