Orville Barr
Ballplayers Wounded in Combat
| | |
| --- | --- |
| Date and Place of Birth: | February 25, 1918 Konnarock, Virginia |
| Date and Place of Death: | May 1, 2011 DeLand, FL |
| Baseball Experience: | Minor League |
| Position: | Pitcher |
| Rank: | Second Lieutenant |
| Military Unit: | K Company, 334th Infantry Regiment, 84th Infantry Division and I Company, 254th Infantry Regiment, 63rd Infantry Division US Army |
| Area Served: | European Theater of Operations |
Orville G. Barr, the son of John and Maud Barr, was born on February 25, 1918, in Konnarock, Virginia. Barr, a coal miner and left-handed pitcher, was well-known in the Raleigh County League of southern West Virgina. In 1937, he was 13-2 with the Koppers Coal Company team of Stotesbury in the County League, and played minor league baseball from 1937 to 1940, having brief trials with the Danville Leafs of the Class D Bi-State League and the Beckley Bengals of the Class D Mountain State League in 1937. In 1938, he again had a brief trial with the Leafs and made 18 appearances for the Bengals, with a 6-6 record and 7.59 ERA. He was with the Bluefield Blue-Grays of the Mountain State League in 1939, making 29 appearances, mostly as a starter, for an 11-11 record and 6.48 ERA. He was briefly with Bluefield again in 1940.

Barr entered military service in April 1941. He trained at Camp Claiborne, Louisiana, and served with K Company of the 334th Infantry Regiment, 84th Infantry Division, in France, Belgium and Germany during 1944 and 1945. Second Lieutenant Barr was awarded the Bronze Star for heroic achievement, and the Purple Heart for wounds received in combat. He was later attached to I Company of the 254th Infantry Regiment, 63rd Infantry Division, and pitched for the regiment baseball team during the summer of 1945 in Germany.

Barr returned to his home in Sophia, West Virginia, in 1945, and became a welder. He was involved in the construction of the the world's largest fully steerable radio telescope at Green Bank, West Virginia. He continued to play baseball into the 1950s in the Raleigh County League with the Sophia Boosters and the Amigo Redbirds.

Orville Barr passed away on May 1, 2011, in DeLand, Florida. He was 93 years old.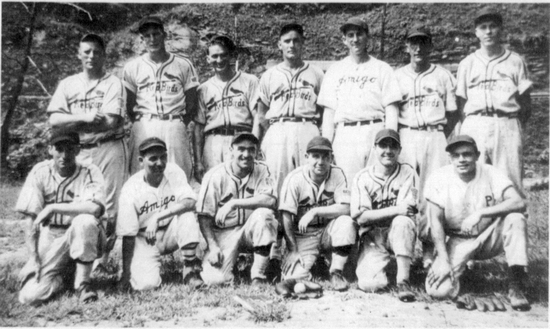 Orville Barr (front row, first left) with the Amigo Redbirds of the Raleigh County League
Date Added February 1, 2018
Can you add more information to this biography and help make it the best online resource for this player? Contact us by email
Read Baseball's Greatest Sacrifice Through The Years - an online year-by-year account of military related deaths of ballplayers
Baseball's Greatest Sacrifice is associated with Baseball Almanac
Baseball's Greatest Sacrifice is proud to be sponsored by