Al Esqueda
Ballplayers Wounded in Combat
| | |
| --- | --- |
| Date and Place of Birth: | circa 1925 Harlingen, TX |
| Date and Place of Death: | |
| Baseball Experience: | Minor League |
| Position: | Pitcher |
| Rank: | Unknown |
| Military Unit: | 66th Infantry Division US Army |
| Area Served: | European Theater of Operations |
Alberto R. Esqueda, the son of George and Maria Esqueda, was born in Harlingen, Texas, in 1925. He was an excellent athlete at Harlingen High School, and played baseball as a shortstop with the Magnolia Finance team in the local Valley League.

Esqueda entered military service with the Army in 1943. He served in Europe with the 66th Infantry Division, and was awarded the Silver Star and Bronze Star, as well as earning a Purple Heart for wounds received in combat.

With hostilities at an end in the summer of 1945, Esqueda played baseball for his regiment team and found great success, not as the team's shortstop, but as a pitcher, leading them to the regimental championship.

The tall, slender, hard-throwing right-hander was playing semi-pro baseball back home in Harlingen, in 1946, when he was seen by New York Giants' scout Bill Lacy. The 21-year-old was sent to the Giants' spring training camp for farm players at Hot Springs, Arkansas, where he was assigned to the Oshkosh Giants of the Class D Wisconsin League for the season.

Esqueda enjoyed a memorable rookie season. He set a Wisconsin State League record in his first appearance, striking out 19 batters. He struck out 43 in his first three games and hurled a no-hitter against Wausau on July 18. He finished the 1946 season with a 15-6 record and league-leading 2.22 ERA. In 174 innings he struck out 207.

Esqueda began 1947 by pitching Harlingen's Southern Select semi-pro team to victory against the Hammond Berries of the Evangeline League on March 15, then joined the Fort Smith Giants of the Class C Western Association. In 30 appearances, Esqueda was 13-12 with a 3.25 ERA. At the end of the season he returned home to Harlingen and pitched for the Harlingen Hawks and Romeo Cafe semi-pro teams.

In 1948, Esqueda joined the Jacksonville Tars of the Class A South Atlantic League. Recurring arm problems were a feature of this and future seasons. His record slipped to 6-7 with a 4.46 ERA in 25 games. It would prove to be the highest classification he would play at.

Esqueda spent the winter of 1948/1949, pitching for Obregon in the Mexican Pacific Winter League, and joined the Laredo Apaches of the Class D Rio Grande Valley League, where he was 12-10 with a 4.73 ERA in 27 games. He was back with Laredo in 1950, but the club released him in May due to a sore arm. He was signed by Brownsville Charros of the same league but saw limited service.

In 1951, on the recommendation of his friend, Browns pitcher Bobby Herrera, Esqueda was invited to the San Antonio Missions spring training camp. He was released before season started and signed with the Harlingen Capitols of the Class B Gulf Coast League, but wasn't able to stick and retired from professional baseball.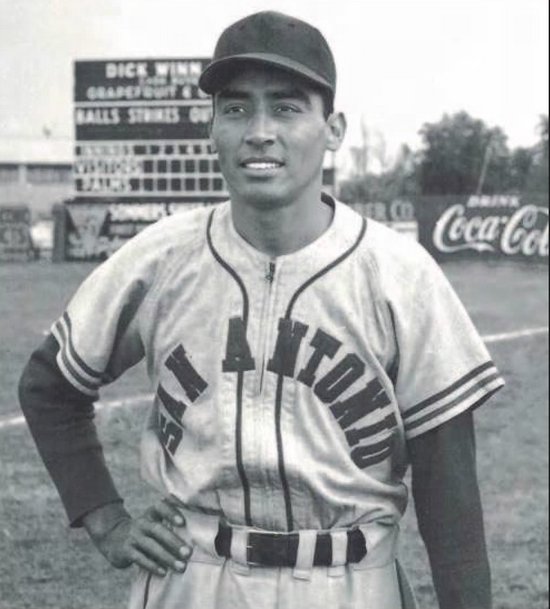 Date Added January 7, 2018. Updated May 28, 2020
Can you add more information to this biography and help make it the best online resource for this player? Contact us by email
Read Baseball's Greatest Sacrifice Through The Years - an online year-by-year account of military related deaths of ballplayers
Baseball's Greatest Sacrifice is associated with Baseball Almanac
Baseball's Greatest Sacrifice is proud to be sponsored by