John Frye
Ballplayers Wounded in Military Service
| | |
| --- | --- |
| Date and Place of Birth: | September 24, 1916 Washington, DC |
| Date and Place of Death: | July 13, 1980 Virginia |
| Baseball Experience: | Minor League |
| Position: | First Base |
| Rank: | Sergeant |
| Military Unit: | US Army |
| Area Served: | United States |
John J. Frye, Jr., son of John and Ella Frye was born on September 24, 1916 in Washington, DC. By the early 1930s, John was living with his mother, Ella, and his step-father Paul J. Beach, and playing baseball on American Legion junior teams. He signed with the Washington Senators in 1938, aged 21, and played 98 games with the Orlando Senators of the Class D Florida State League, batting .260 as the team's first baseman.
With Orlando in 1939, Frye hit .277 in 134 games with 18 triples. He advanced to Class B baseball in 1940 with the Piedmont League's Charlotte Hornets and continued to hit well with a .280 average and 13 home runs in 126 games. He joined the Greenville Spinners of the Class B South Atlantic League in 1941, batting .275 in 117 games, and returned to Charlotte in 1942, where he had a .289 batting average in 121 games.
Frye was 26 years old when he made the jump to Class A1 baseball, joining the Chattanooga Lookouts of the Southern Association for the 1943 season. The Washington Senators moved the Chattanooga franchise to Montgomery in July of that season and Frye batted .294 in 121 games with 12 home runs. He also made another franchise move that year. In August, he became the property of the St. Louis Browns in a trade that sent Ox Miller and Ellis Clary to the Browns for Harlond Clift and Johnny Niggeling. Frye never got to play in the Browns organization. He was accepted for military service at Fort Myer, Virginia in February 1944.
On July 9, 1945, Sergeant Frye was accidently shot in the head with a .30-caliber bullet while on maneuvers at Camp Wheeler, Georgia. The bullet penetrated his steel helmet and creased his skull, resulting in paralysis of his left side. In a critical condition, he was taken to Lawson General Hospital in Atlanta, for brain surgery.
John Frye was never able to play baseball again. In 1948, he was presented with a lifetime pass to all major and minor league games. George M. Trautman, president of the National Association of Professional Baseball Clubs announced in May of that year, that passes would be made available to "all players whose careers were ended because of injuries or illness received in the line of duty."
His involvement in baseball, however, had not ended. He was a scout for the Senators from 1953 to 1956.
John Frye passed away on July 13, 1980. He was 63 years old and is buried at Historyland Memorial Park in King George, Virginia.
Interestingly, Frye was a teammate of Lefty Brewer and Elmer Gedeon in 1939 and 1940. Brewer and Gedeon were both killed in action during World War II.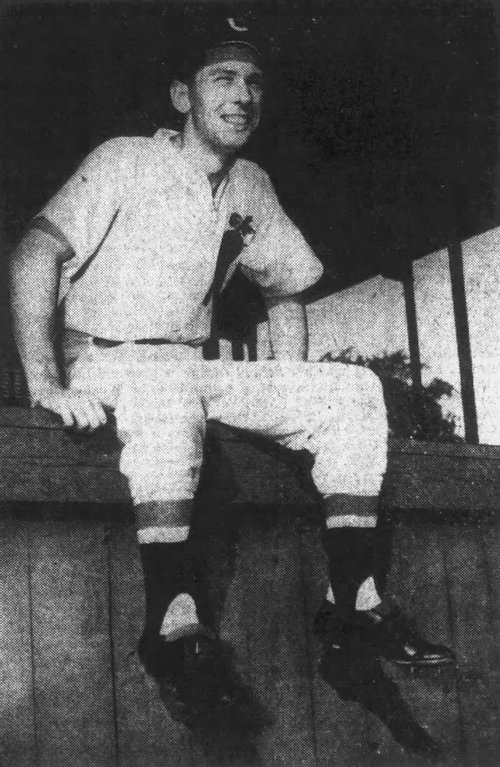 Date Added December 21, 2019
Can you add more information to this biography and help make it the best online resource for this player? Contact us by email
Read Baseball's Greatest Sacrifice Through The Years - an online year-by-year account of military related deaths of ballplayers
Baseball's Greatest Sacrifice is associated with Baseball Almanac
Baseball's Greatest Sacrifice is proud to be sponsored by