George Hooks
Ballplayers Wounded in Combat
| | |
| --- | --- |
| Date and Place of Birth: | February 24, 1917 Americus, GA |
| Date and Place of Death: | April 2, 1992 Americus, GA |
| Baseball Experience: | Minor League |
| Position: | Pitcher |
| Rank: | Corporal |
| Military Unit: | US Army |
| Area Served: | Mediterranean Theater of Operations |
George L. Hooks was born on February 24, 1917 in Americus, Georgia.

He attended Oglethorpe University in Atlanta, Georgia, where he excelled in baseball, football and basketball, as well as pitching for the Buford, Georgia team that won the 1939 national amateur title.

After graduating in 1940, the 23-year-old was signed by the Cleveland Indians, who shaved three years off his actual age and assigned him to the Flint Gems of the Class C Michigan State League. Hooks made 23 appearances for the Gems and was 7-7 with a 4.98 ERA.

In 1941, the right-hander was at spring training in Carthage, Missouri with the Cedar Rapids Raiders of the Class B Three-I League. He was with the team at the start of the season but didn't make any appearances and returned to the Flint Gems before entering military service.

In August 1943 it was reported that Corporal Hooks had been wounded in action in North Africa, following an enemy bombing and strafing raid. He spent seven months in hospital where he also contracted tropical fever.

In March 1944, after his medical discharge, Hooks reported to the Cleveland Indians spring training camp at Lafayette, Indiana, and pitched in exhibition games for the Indians in April. On April 15, he was assigned to the Baltimore Orioles of the Class AA International League. In 15 games - 13 of them relief appearances – Hooks was 1-2 with a 4.17 ERA, in what was the beginning of a five-year career with the Orioles. In 1945, the only year he was used predominantly as a starter, Hooks was 10-13 with a 4.48 ERA. He made 35 appearances for a 4.95 ERA in 1946, 28 appearances for a 4.54 ERA in 1947, and 24 appearances for a 4.79 ERA in 1948. Hooks' final year in professional baseball, 1949 when he was 32 years old, was with the San Antonio Missions of the Class AA Texas League where he made 41 appearances with a 5.23 ERA. In seven minor league seasons, Hooks pitched in 198 games for a 36-42 won-loss record and 4.76 ERA.

George Hooks passed away in Americus, Georgia on April 2, 1992, aged 75. He is buried at Oak Grove Cemetery in Americus and was inducted into the Oglethorpe Athletics Hall of Fame the same year.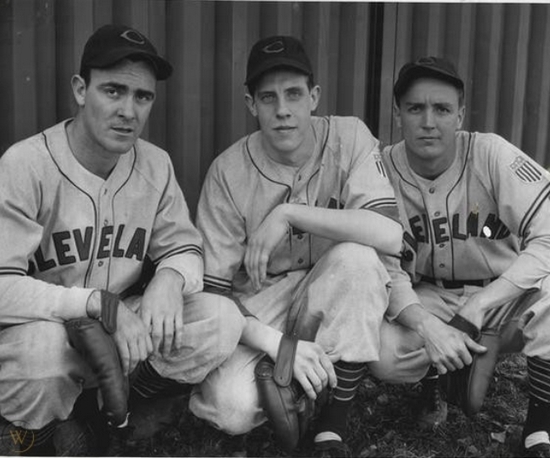 George Hooks (far right) with Earl Henry and Bill Bonness with the Indians at spring training in 1944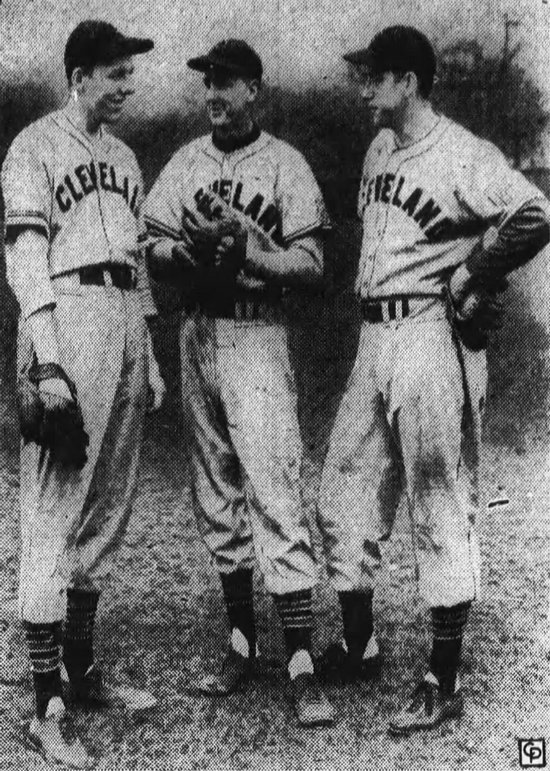 George Hooks (on left) with Hal Kleine and Ed Klieman
Date Added June 2, 2020
Can you add more information to this biography and help make it the best online resource for this player? Contact us by email
Read Baseball's Greatest Sacrifice Through The Years - an online year-by-year account of military related deaths of ballplayers
Baseball's Greatest Sacrifice is associated with Baseball Almanac
Baseball's Greatest Sacrifice is proud to be sponsored by