Mal Morgan
Ballplayers Wounded in Combat
| | |
| --- | --- |
| Date and Place of Birth: | March 28, 1916 Lanett, AL |
| Date and Place of Death: | March 7, 2009 Lanett, AL |
| Baseball Experience: | Minor League |
| Position: | First Base/Shortsop |
| Rank: | Captain |
| Military Unit: | Artillery Battalion US Army |
| Area Served: | European Theater of Operations |
Malvern C. "Mal" Morgan, Jr., the son of Malvern and Nancy Morgan, was born on March 28, 1916, in Lanett, Alabama, on the shores of the Chattahoochee River on the Alabama-Georgia line. He graduated from Lanett High School and received an athletic scholarship to attend Auburn University in 1935. He had a distinguished career in college athletics, earning letters in football, basketball, and baseball in 1937, 1938, and 1939. He was captain of the basketball and baseball teams and named "Best All-Round Athlete" for the 1938-1939 school year. He was named to the All-Southeastern Conference football and baseball teams in 1939, and was among the top scorers in the conference in basketball. Other highlights included playing in the 1938 Orange Bowl game in Miami, Florida, and in the 1939 Blue-Gray All-Star Football game in Montgomery, Alabama.
Morgan graduated from Auburn with a degree in textile engineering in 1939. At around the same time he also accepted an appointment in the Officers' Reserve Corps as a second lieutenant in the Field Artillery Reserves.
Back in Lanett for the summer of 1939 and playing baseball, Morgan helped the Lanett Panthers clinch the Chattahoochee Valley League title.
He began his high school teaching and coaching career in Lineville, Alabama, in 1940, but also began a career in professional baseball the same year, signing with the Tallassee Indians of the Class D Alabama State League as a first baseman. The 24-year-old played 121 games for the Indians and batted .335, making 10 appearances as a pitcher for a 6-1 record and 3.00 ERA. The following year he played 108 games for Tallassee – 56 of them at shortstop – and batted an impressive .371 with 113 RBIs and a place on the Alabama State League all-star team. The future looked bright for Morgan but the Japanese attack on Pearl Harbor changed that. While he was teaching at Opelika High School in Alabama, Morgan entered military service on April 7, 1942.
Lieutenant Morgan began his military service at Fort Bragg, North Carolina. In 1943, he was at Fort Sill, Oklahoma, Nashville, Tennessee, and Fort Dix, New Jersey. He went on to serve as a Captain and a Battery commander in a field artillery battalion, serving with the first and third armies in Europe. He was awarded five campaign battle stars, the Purple Heart for wounds received, and the Bronze Star medals for action during the Battle of the Bulge.
Morgan was discharged in October 1945, and returned to high school teaching at Dawson in the adjoining state of Georgia. In June 1946, he was signed by the Valley Rebels of the newly-formed Class D Georgia-Alabama League – a team that represented the Greater Valley Area of Valley, Lanett and West Point, and was based in his hometown of Lanett. Despite being 30 years old and away from professional baseball for four years, Morgan could still hit. He batted .299 in 96 games. In 1947, he was even better and batted an exceptional .364 in 126 with the Rebels.
Morgan didn't play baseball in 1948. He had joined the teaching and coaching staff at Lanett High School in 1947 and it's possible his commitment to the high school didn't allow him time to play baseball that year. However, he was back with the Rebels in 1949, as a player/manager and batted .375 in 77 games. Meanwhile, his Lanett High football team went 9-0 that year and in 1950 he was head coach of the winning South Team in the 1950 North-South all-star game played at Tuscaloosa, Alabama.
Morgan returned to the Rebels for one final foray in 1951, batting .319 in 116 games. In six minor league seasons of over 2500 plate appearances, Morgan had amassed a batting average of .344, he'd set a league record for base hits in 1947 and went on to be elected to the Georgia-Alabama League Hall of Fame.
Morgan remained at Lanett High School until 1958, and had three undefeated seasons and three state championships. In 1959, he became the managing officer and executive vice-president of First Federal Saving and Loan Association of West Point, Georgia.
Morgan was named Class AA football coach of the year in 1958. He was inducted into the Alabama High School Sports Hall of Fame in 1994.
Malvern Morgan, aged 92, passed away on March 7, 2009 in Lanett. He is buried at Oakwood Cemetery in Lanett, Alabama.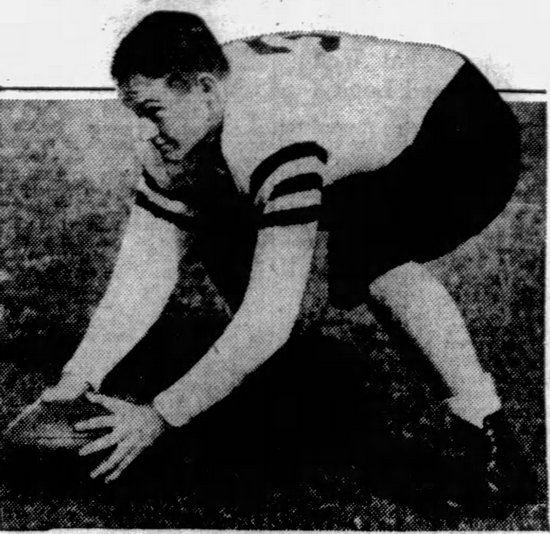 Date Added April 27, 2020
Can you add more information to this biography and help make it the best online resource for this player? Contact us by email
Read Baseball's Greatest Sacrifice Through The Years - an online year-by-year account of military related deaths of ballplayers
Baseball's Greatest Sacrifice is associated with Baseball Almanac
Baseball's Greatest Sacrifice is proud to be sponsored by