Joe Nelson
Ballplayers Wounded in Combat
| | |
| --- | --- |
| Date and Place of Birth: | October 14, 1921 Ashland, AL |
| Date and Place of Death: | February 7, 2009 Daytona Beach, FL |
| Baseball Experience: | Minor League |
| Position: | Pitcher |
| Rank: | Unknown |
| Military Unit: | US Navy |
| Area Served: | Pacific Theater of Operations |
Joseph Nelson, the son of Louis and Sarah Nelson, who immigrated from Kiev, Russia in 1913, was born on October 14, 1921 in Ashland, Alabama. The family settled in Daytona Beach, Florida in 1924, when Joe was three.
Joe graduated from Mainland High School in Daytona Beach in 1939, where he was the captain of the basketball team that won the State Championship in 1939, and was named to the All-State Team. He went on to attend the University of North Carolina Chapel Hill on a basketball and baseball scholarship, and was signed by the New York Yankees in 1942. The six-foot-two-inch right-hander made eight starts for the Norfolk Tars of the Class B Piedmont League, hurling 45 innings for a 2-3 won-loss record and 3.80 ERA, before being given free agency by Commissioner Landis. Joe then joined the Elmira Pioneers of the Class A Eastern League, a team owned by former major league pitcher John Ogden. Joe made 18 appearances for the Pioneers – 15 of them starts – for a 5-6 record and 4.45 ERA.
It was a promising rookie season for the 20-year-old – he was 7-9 with a 4.25 ERA in 26 appearances between the two teams – but his career was to be put on hold until further notice when military service beckoned on September 12, 1942.
Joe Nelson joined the Navy on that date. It's unclear where he served for the next year or so, but on June 3, 1944, he married Margaret Menendez in Jacksonville Beach, Florida, while stationed at nearby Mayport Naval Base.
By 1945, Nelson was serving in the Pacific Theater. While aboard a Navy ship off the coast of Okinawa, he was seriously wounded during a terrific explosion. Shell fragments hit him in the mouth, and he woke up hours later aboard a Navy hospital ship. "He not only figured that he'd never pitch again," said the Indianapolis Star on March 14, 1946, "but doubted that he'd live to see another ball game." The Japanese air attack that caused the explosion had killed 18 of his shipmates.
Joe Nelson spent eight months in Navy hospitals and required plastic surgery to his face. He was discharged from service in January 1946.
Nelson was now 24 years old and wanted to see if he could resume his baseball career. It was John Ogden – former owner of the Elmira Pioneers – who helped Joe get back into professional baseball. Ogden was now a scout for the Boston Braves and he signed Joe. The right-hander attended the Indianapolis Indians' spring training camp at DeLand, Florida, and was assigned to the Hartford Chiefs of the Class A Eastern League, where he won his first start on May 14, against the Scranton Miners, 6-1, allowing just four hits. He went on to win his first four games but developed a sore arm, pulling a tendon in his pitching arm. He finished the season with a 4-1 record in six appearances.
Joe had a contingency plan in case baseball didn't work out. He was attending Stetson University in DeLand, Florida at the same time.
In 1947, Nelson pitched for Oneonta and the Fort Lauderdale Braves of the Class C Florida International League, where he posted a 4-13 record in 20 appearances for a 4.42 ERA. In 1948, he joined the Miami Beach Flamingos of the same league, where he was 4-6 in 13 appearances, and was 3-3 with a 3-17 ERA with the Flamingos. Nelson was back with the Flamingos for another 13 games in 1949 (the Florida International League was now a Class B circuit) posting a 3-3 record and 3.17 ERA. And that was to be the end of his playing career.
After graduating from Stetson University in 1949, he coached the high school basketball team at Daytona Beach Seabreeze, winning three state championships and eight regional titles before retiring in 1961. "Joe was just about the most-respected coach I ever played for, certainly in high school," said Larry Gagner, who went on to become an All-American football player at Florida. "He didn't have to rant and rave. He spoke to you on an intelligent level. He didn't command your respect, he just got it."
He was Athletic Director at the school from 1956 to 1969, and then became the Associate Principal. He retired from that position in 1984 along with his wife, Margaret, who was a secretary at Seabreeze Junior High.
In 1996, Joe Nelson was inducted into the Florida Sports Hall of Fame and the Florida Athletic Coaches Hall of Fame the following year. In 1999 was selected as one of the top sixteen athletes of the 20th Century in the Volusia-Flagler County area. In 2004, the gymnasium at Seabreeze High School was named in his honor - Joe Nelson Gymnasium. In 2006, he was inducted into the Fellowship of Christian Athletes.
Joe Nelson passed away on February 7, 2009, after a long bout with cancer. He was 86 years old and died at home after spending weeks at an area hospice. A memorial service was held at Seabreeze High School on February 16.
"We went out to eat with him just before Christmas," said Tom Schlageter, a former student and teacher at Seabreeze when Nelson was there. "He could hardly move, but he told us stories about playing in the Yankees system, and he had us laughing so hard."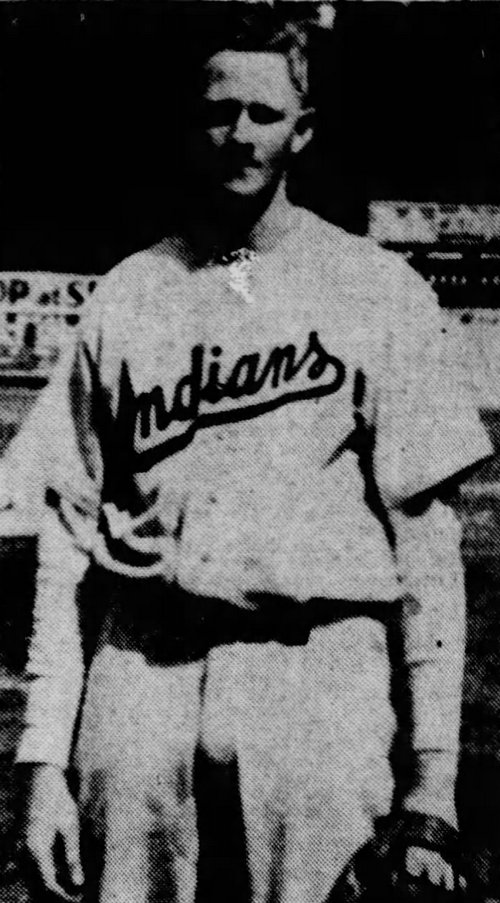 Date Added April 27, 2020
Can you add more information to this biography and help make it the best online resource for this player? Contact us by email
Read Baseball's Greatest Sacrifice Through The Years - an online year-by-year account of military related deaths of ballplayers
Baseball's Greatest Sacrifice is associated with Baseball Almanac
Baseball's Greatest Sacrifice is proud to be sponsored by