Bob Patrick
Ballplayers Wounded in Combat
| | |
| --- | --- |
| Date and Place of Birth: | October 27, 1917 Fort Smith, AK |
| Date and Place of Death: | October 6, 1999 Fort Smith, AK |
| Baseball Experience: | Major League |
| Position: | Outfield |
| Rank: | Staff Sergeant |
| Military Unit: | 118th Infantry Regiment, 30th Infantry Division US Army |
| Area Served: | European Theater of Operations |
Robert L. "Bob" Patrick was born in Fort Smith, Arkansas on October 27, 1917. He was signed as a third baseman by the Detroit Tigers' Alexandria Aces of the Class D Evangeline League in 1938 and batted .324 with 11 home runs in 126 games. Back with the Aces in 1939 and moving to the outfield, he hit .336 with 10 home runs in 139 games.
Patrick made the jump to Class A1 baseball in 1940, joining the Texas League's Beaumont Exporters, where he hit .269 in 135 games and joined the Detroit Tigers for spring training the following year. He got off to a great start in training before injury slowed him down. "Bob Patrick…regarded as one of the most promising of the Detroit rookie crop…was found yesterday to be suffering from a chipped bone," announced the Lansing State Journal on March 20, 1941. "Two days ago he twisted his ankle while playing the Cincinnati Reds at Tampa. X-rays revealed that an old injury suffered last year in Beaumont was aggravated by the mishap."
On April 5, the 23-year-old was assigned on 24-hour option to the Buffalo Bisons of the Class AA International League, where he batted .322 in 98 games before receiving the call from Detroit in mid-September. Bob Patrick made his major league debut on September 20, 1941, against the Chicago White Sox at Comiskey Park, getting a hit in four trips to the plate against 20-game winner Thornton Lee. In five games, Patrick had two hits in seven at-bats for a .286 average.
Patrick was now a bonafide major leaguer and started the 1942 season with the Tigers. He hit his first (and only) big league homer on April 24 – a two-out ninth-inning blast that beat the White Sox, 2-1. But after playing just four games, a freak accident ended his season on May 1. While pitching pre-game batting practice, Patrick was struck by a line drive off the bat of Jimmy Bloodworth and sustained a multiple fracture of the left knee cap. Surgery was performed and he spent the next two weeks in a hospital bed before returning home to Arkansas to recuperate. He returned to Detroit in late May for an x-ray examination at Henry Ford Hospital. "Sometimes it goes dead on me," Patrick told teammates, "but otherwise it feels all right. I doubt whether it will be stiff. The doctors tell me it won't and it doesn't feel as if it would."
Patrick was expected to return to the Tigers in late June, but the healing process took longer than expected, plus his wife, Katina, was expecting their first child. Bob Patrick decided to stay in Arkansas and took a job with the Fort Smith Fire Department.
In 1943, it was hoped the Tigers could convince him to return to baseball, but Patrick rejected all offers. He entered military service with the army in March 1943 and served as a staff sergeant with the 118th Infantry Regiment of the 30th Infantry Division in France. On August 12, 1944, he was wounded and lost the index finger on his left hand at Mortain, France - ending any hopes of a return to the game after the war.
Bob Patrick passed away in Fort Smith, Arkansas on October 6, 1999. He was 81 years old and is buried at Fort Smith National Cemetery.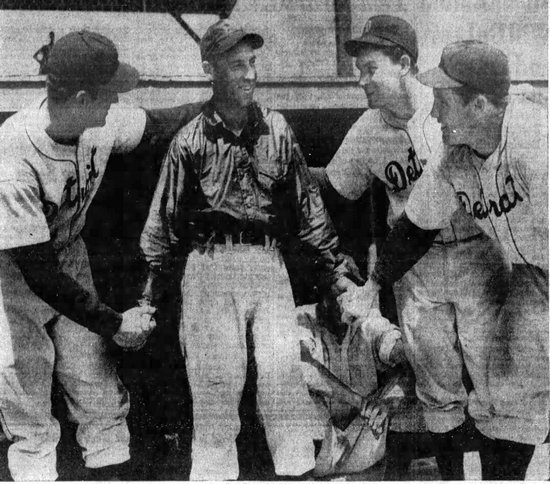 Bob Patrick (far right) with Barney McCosky, Erric McNair and Pinky Higgins
Date Added June 4, 2020
Can you add more information to this biography and help make it the best online resource for this player? Contact us by email
Read Baseball's Greatest Sacrifice Through The Years - an online year-by-year account of military related deaths of ballplayers
Baseball's Greatest Sacrifice is associated with Baseball Almanac
Baseball's Greatest Sacrifice is proud to be sponsored by