Hal Rice
Ballplayers Wounded in Combat
| | |
| --- | --- |
| Date and Place of Birth: | February 11, 1924 Morganette, WV |
| Date and Place of Death: | December 22, 1997 Bloomington, IN |
| Baseball Experience: | Major League |
| Position: | Outfield |
| Rank: | Second Lieutenant |
| Military Unit: | Tank Destroyer Battalion US Army |
| Area Served: | Pacific Theater of Operations |
Harold H. "Hal" Rice was born on February 11, 1924, in Morganette, West Virginia, a coal mining town in Fayette County that was named for the Morganette Coal Company, that existed between 1920 and 1935. When the mine went, so did the town. However, Rice spent most of his life in Slab Rock, another West Virginia coal mining community. His father, George, worked in the coal mines, as did his two older brothers, Elmer and Eddy. George died when Harold was still young, and Bertha, known as Bertie, ran the family home as a boarding house to make ends meet.

Rice was just 17 years old when he asked for a tryout and was signed by the local Williamson Red Birds of the Class D Mountain State League in 1941. In 58 games, the left-handed hitting outfielder batted .258. In 1942, with the Mountain State League now a Class C league, Rice came alive and hit .349 in 65 games, advancing to the Asheville Tourists of the Class B Piedmont League, where he batted .204 in 37 games.

Rice entered military service in January 1943. He was at the Army Reception Center at Fort Thomas, Kentucky, before being sent to the 605th Field Artillery Battalion's Mountain Training Facility at Camp Carson, Colorado. From October 1943, he served with a tank destroyer battalion in the Pacific Theater and earned a battlefield commission to the rank of second lieutenant. Having served at New Guinea and Leyte, he was wounded in the legs shortly after arriving in the Philippines in June 1945.

Rice returned to baseball in 1946, and played 106 games with the Winston-Salem Cardinals of the Class C Carolina League, batting .335. In 1947, he made the jump to the Rochester Red Wings of the Class AAA International League, where he struggled at the plate, hitting just .248 in 120 games. However, his bat came alive in 1948, as he hit .321 for the Red Wings (third best in the International League), and drove in 73 runs with 13 home runs. He was purchased by the St. Louis Cardinals in late September, and made his major league debut on September 25, against the Chicago Cubs at Wrigley Field. Playing left field and batting sixth, Rice went 1-for-4 in the Cardinals' 3-2 loss.The 24-year-old finished the season appearing in eight games and batted .323.

In 1949, Rice spent the entire season with the Cardinals, but only appeared in 40 games, primarily as a pinch-hitter, and batted just .196. He played a further 44 games with the Cardinals in 1950, and played 114 with Rochester, where he batted .310. Splitting time between the two teams again in 1951, Rice played 69 games with the Cardinals as a back-up left fielder and hit .254.

Rice remained with the Cardinals until traded to the Pittsburgh Pirates in June 1953. The Pirates traded him to the Chicago Cubs a year later, where he hit .153 as a back-up outfielder/pinch hitter. With his major league career at an end, the 31-year-old spent 1955 with the Pacific Coast League's Los Angeles Angels, where he hit 25 home runs and batted .262. His final season of professional baseball was spent with Sacramento, Richmond and Denver in 1956.

Hal Rice lived in Muncie, Indiana, and St. Augustine, Florida. He was inducted into the Delaware County Hall of Fame in 1981. Hal Rice passed away on December 22, 1997, at Bloomington Hospital in Bloomington, Indiana. He was 73 years old and is buried at Arlington National Cemetery in Arlington, Virginia.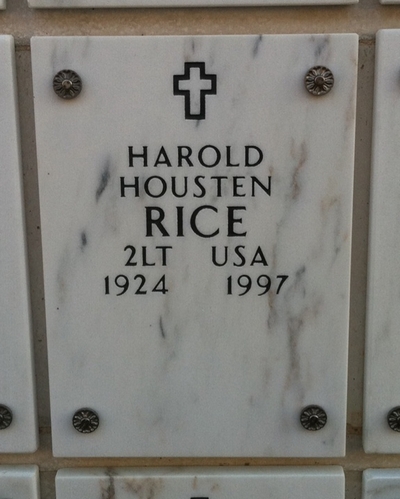 Date Added January 27, 2018
Can you add more information to this biography and help make it the best online resource for this player? Contact us by email
Read Baseball's Greatest Sacrifice Through The Years - an online year-by-year account of military related deaths of ballplayers
Baseball's Greatest Sacrifice is associated with Baseball Almanac
Baseball's Greatest Sacrifice is proud to be sponsored by