Sam Shotwell
Ballplayers Wounded in Combat
| | |
| --- | --- |
| Date and Place of Birth: | June 9, 1917 Allensville, NC |
| Date and Place of Death: | January 16, 1999 Durham, NC |
| Baseball Experience: | Minor League |
| Position: | Outfield/Pitcher |
| Rank: | Unknown |
| Military Unit: | US Army |
| Area Served: | Mediterranean Theater of Operations |
Sam S. Shotwell was born on June 9, 1917, in Allensville, North Carolina. His father, Bunnie, was a tobacco farmer, and from a young age, Sam and his brothers worked on the farm. As an outfielder, Shotwell played baseball with the South Boston All-Stars (Virginia) and with the semi-pro textile mill Ca-Vel team of North Carolina. He had a brief trial with the Cooleemee Cools of the Class D North Carolina State League in 1939, and the Landis Dodgers of the same league in 1940. In 1941, he joined the Batesville Pilots of the Class D Northeast Arkansas League as a pitcher/outfielder, and batted .279 in 77 games, while posting a 14-6 record in 27 appearances with an excellent 1.98 ERA.

Shotwell entered military service at Fort Bragg, North Carolina, in October 1941. He served with the army in the Mediterranean Theater and was seriously wounded in Sicily. A German grenade, that had landed near him and he was attempting to throw back, exploded. Shotwell lost his right hand and part of his arm.

Shotwell was returned to the United States for treatment. He married, Alice Smith in February 1945, and, amazingly, returned to baseball with the South Boston All-Stars. Billed as the "second Pete Gray", Shotwell learned to play centerfield with one arm and continued to play for many years. He also learned to play golf and, even into his late 50s, continued to amaze onlookers with his powerful one-handed drives.

In 1948, Shotwell was presented with a lifetime pass to all major and minor league games. George M. Trautman, president of the National Association of Professional Baseball Clubs announced in May of that year, that passes would be made available to "all players whose careers were ended because of injuries or illness received in the line of duty."

Sam Shotwell passed away on January 16, 1999, in Durham, North Carolina. He was 81 years old and is buried at Mill Creek Baptist Church Cemetery, in Person County, North Carolina.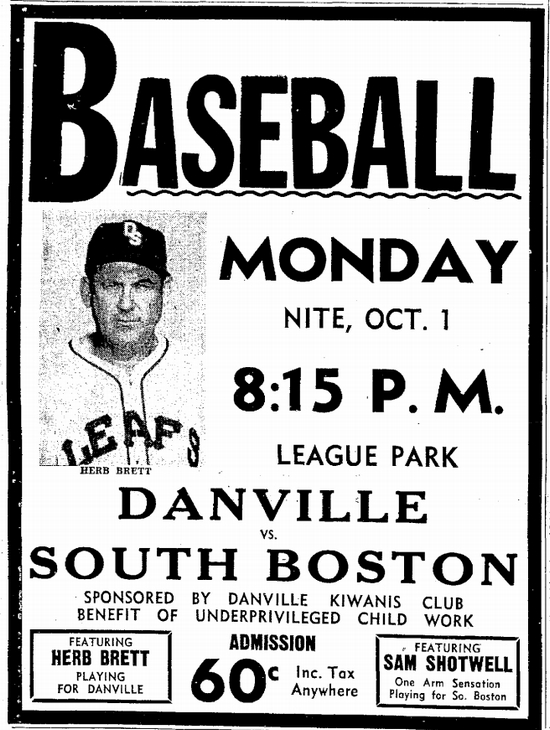 An advertisement featuring Sam Shotwell in 1945
Date Added January 29, 2018
Can you add more information to this biography and help make it the best online resource for this player? Contact us by email
Read Baseball's Greatest Sacrifice Through The Years - an online year-by-year account of military related deaths of ballplayers
Baseball's Greatest Sacrifice is associated with Baseball Almanac
Baseball's Greatest Sacrifice is proud to be sponsored by