George Stallings, Jr.
Ballplayers Wounded in Combat
| | |
| --- | --- |
| Date and Place of Birth: | February 4, 1918 Haddock, GA |
| Date and Place of Death: | March 28, 1970 Macon, GA |
| Baseball Experience: | Minor League |
| Position: | First Base |
| Rank: | Major |
| Military Unit: | Company D, 1st Battalion, 33rd Armored Regiment, 3rd Armored Division US Army |
| Area Served: | European Theater of Operations |
Many brave and great men served in the 3rd Armored Division - George Stallings was one of the bravest - indeed - one of the greatest.
3rd Armored Division Association
George T. Stallings, Jr., was born on February 4, 1918, at his father's peach farm at Haddock, Georgia. His father, also George, had played major league baseball in the 1890s and is best-known as the manager of the 1914 "Miracle Braves." Stallings took the Braves from a fifth-place finish in 1913 to a World Championship the following season, and young George grew up around baseball. The Braves, and later the minor league Rochester Tribe used the peach farm for spring training. The senior Stallings managed in the minors until 1928, when a heart ailment forced him to retire. He died in 1929.

George, Jr., attended the University of Georgia, where he played first base on the varsity team and signed with the Chattanooga Lookouts of the Class A1 Southern Association, following graduation in 1939. Stallings played just four games with the Lookouts before being optioned to the Spartanburg Spartans of the Class B South Atlantic League. In 43 games with the Spartans, Stallings batted .211. In 1940, the 22-year-old joined the Selma Cloverleafs of the Class B Southeastern League, and batted .244 in 28 games.

Stallings had been a member of the Reserve Officers' Training Corps (ROTC) at college, and entered military service in 1940, with an armored unit. He was based at Camp Beauregard, Alexandria, Louisiana, awaiting the completion of Camp Polk, Louisiana. He then went to California's Mojave Desert for training and on to Camp Pickett, Virginia, in October 1942. In January 1943, Stallings was stationed at Indiantown Gap, Pennsylvania, where he was in charge of the baseball program. In September 1943, Captain Stallings arrived in England with D Company, 33rd Armored Regiment of the 3rd Armored Division. The division arrived in Normandy, France, on June 24, and was in action with their tanks against German forces five days later.

On July 8, 1944, while Stallings' tank company was spearheading a drive on a major objective near Les Hauts Vents in Normandy, he frequently left his tank to make a personal reconnaisance of the situation on foot, and as a result of the knowledge he acquired he was able to destroy five German Mark IV tanks and a pillbox. When the forward observer of the supporting artillery unit was wounded, Stallings took his place and succeeded in directing intense artillery fire which destroyed another tank and two anti-tank guns as well as inflicting heavy losses on enemy infantrymen.

On July 11, his tank was attacked by German flame throwers as he was returning to the front following an officers' meeting. A mass of fire belched down the hatch and all its occupants scrambled out. Two crew members died, but two others escaped and crawled back, wounded, to Allied lines. Captain Stallings threshed the flames from his burning clothes, and ended up in a deep wet ditch as voices of a German tank hunting patrol were heard. They checked Stallings out, decided he was dead and when they left he walked, crawled and ran back to the task force command post. Despite suffering severe burns to his head, he refused to be evacuated and led his company in repelling all further enemy attacks.

For these actions, Stallings was awarded the Distinguished Service Cross. His citation explained the award was for "extraordinary heroism, flawless leadership, and valor...in keeping with the highest traditions of the Armed Forces."

Stallings was promoted to major and continued to advance through Europe with the 33rd Armored Regiment. On January 7, 1945, in the town of Règné in Belgium, he was struck by a sniper's bullet. "I was standing beside my jeep...when a sniper picked me off from a house," he later explained. "A bullet went through my chest and came out my back. It knocked me down but I was not unconscious. It was a very strange feeling when I found that I was breathing through a hole in my back rather than through my nose or mouth."
The bullet shattered a rib and punctured his lungs.
"I was very scared...[and] given attention very quickly as my medics were nearby. Then I was put on a jeep and...taken to the rear...it was several hours before I reached the aid station, but I was more scared than uncomfortable on the way."
Major Stallings' war was over; as was his baseball career.

George Stallings had been ill with a heart condition before passing away on March 28, 1970. He was 52 years old, and is buried at Riverside Cemetery in Macon, Georgia.
| | | | | | | | | | |
| --- | --- | --- | --- | --- | --- | --- | --- | --- | --- |
| Team | League | Year | G | AB | H | 2B | 3B | HR | PCT |
| Chattanooga | Southern Assoc | 1939 | 4 | 14 | 1 | 0 | 0 | 0 | .199 |
| Spartanburg | South Atlantic | 1939 | 43 | 142 | 30 | 4 | 0 | 0 | .211 |
| Selma | Southeastern | 1940 | 28 | 86 | 21 | 5 | 0 | 0 | .244 |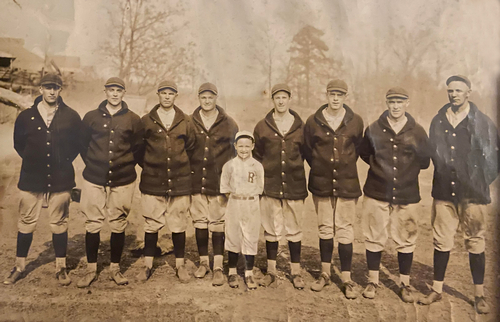 A young George, Jr., with ballplayers at the peach farm in Haddock, Georgia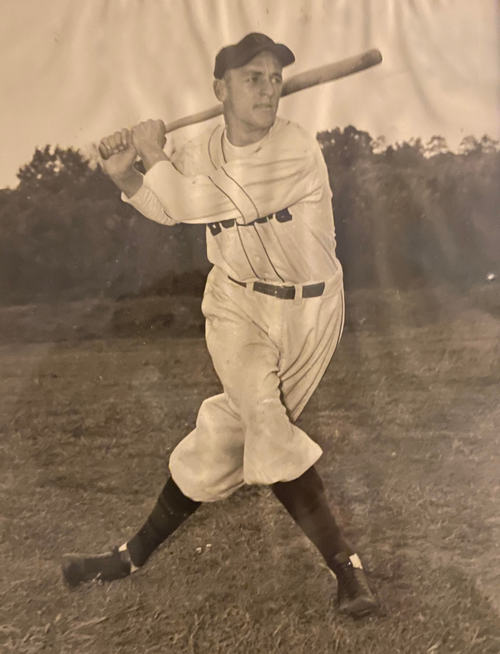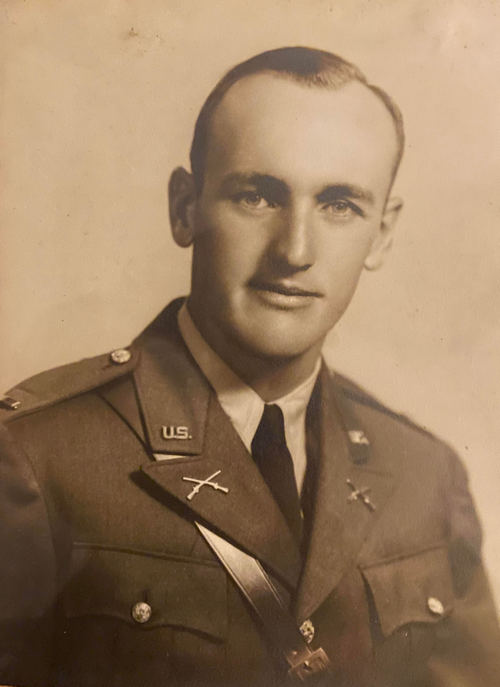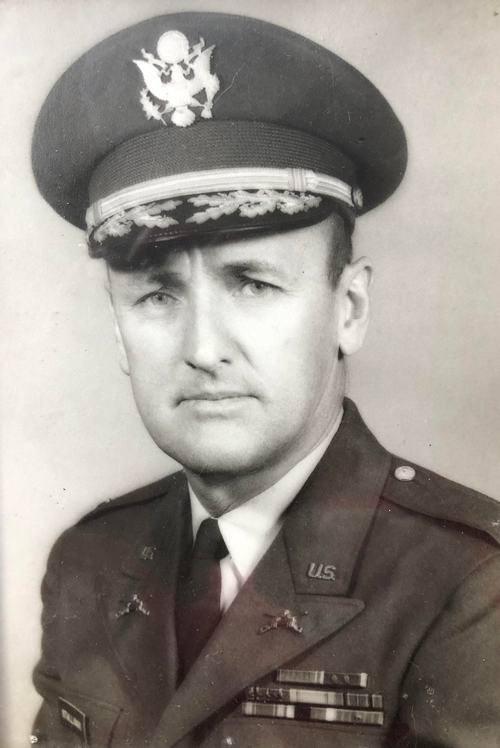 Thanks to Neel Stallings, daughter of George Stallings, Jr., for help with this biography.
Date Added December 30, 2017. Updated December 10, 2020
Can you add more information to this biography and help make it the best online resource for this player? Contact us by email
Read Baseball's Greatest Sacrifice Through The Years - an online year-by-year account of military related deaths of ballplayers
Baseball's Greatest Sacrifice is associated with Baseball Almanac
Baseball's Greatest Sacrifice is proud to be sponsored by