Allen Turner
Ballplayers Wounded in Combat
Date and Place of Birth:

June 16, 1919 St. Louis, MO

Date and Place of Death:

December 1, 2000 Belleville, IL

Baseball Experience:

Minor

League
Position:

Pitcher

Rank:

Lieutenant

Military Unit:

34th Infantry Division and 177th Military Police Company

US Army
Area Served:

Mediterranean

Theater of Operations
John A. "Allen" Turner, son of Joseph and Corrine Turner, was born in St. Louis, Missouri on June 16, 1919. He attended Cleveland High School in St. Louis, where he played baseball and football. He also played baseball in the city's MUNY league and was well-known as a wrestler. He attended Illinois Wesleyan University in 1937, but in July of that year, the 6-foot-1-inch, 235-pound left-hander had a try-out with the St. Louis Cardinals and was assigned to the Grand Island Red Birds of the Class D Nebraska State League. In 16 appearances he had a 1-10 won-loss record and an ERA of 5.63.
In 1938, Turner was with the Decatur Commodores of the Class B Three-I League and made 10 appearances for a 1-2 record and 3.75 ERA, before being released in July. Somewhat surprisingly, Turner was with the Columbus Red Birds of the Class AA American Association for 1939. He suffered with a sore arm for much of the season and had a 0-3 record and 12.27 ERA when he was released to the Portsmouth Red Birds of the Class C Middle Atlantic League in August.
Turner didn't return to professional baseball in 1940. He took a job in St. Louis as a truck driver for an electrical supply company.
In February 1941, Turner entered military service with the army and was sent to Camp Roberts, Arkansas. He was commissioned in the infantry at Fort Benning, Georgia in October 1942, and reached North Africa on January 26, 1943 where he joined the 34th Infantry Division. On February 17, 1943, Lieutenant Turner was hospitalized in Oran, Algeria, suffering from shell shock. Reclassified to limited service status, he remained in Algeria, serving with the 177th Military Police Company for some time and married WAC Corporal Hollene Willhelm of Alabama while there on September 13, 1944.
Lt. Turner later served in Italy and returned to the United States on September 26, 1945. He was discharged from the army at Jefferson Barracks, Missouri on June 16, 1946. Returning to St. Louis to live with his wife he entered the real estate business with the H. A. O'Rourke Realty company. However, by 1947 he was City Superintendent of Recreation in St. Louis and also a wrestling referee.
John Allen Turner passed away in Belleville, Illinois on December 1, 2000, aged 81. He is buried at O'Fallon City Cemetery in O'Fallon, Illinois.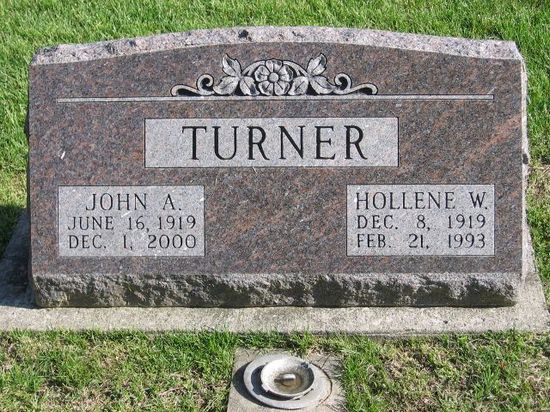 Date Added June 4, 2020
Can you add more information to this biography and help make it the best online resource for this player? Contact us by email
Read Baseball's Greatest Sacrifice Through The Years - an online year-by-year account of military related deaths of ballplayers
Baseball's Greatest Sacrifice is associated with Baseball Almanac
Baseball's Greatest Sacrifice is proud to be sponsored by