Jack White
Ballplayers Wounded in Combat
| | |
| --- | --- |
| Date and Place of Birth: | September 23, 1919 New Haven, CT |
| Date and Place of Death: | February 3, 2006 New Haven, CT |
| Baseball Experience: | Minor League |
| Position: | First Base |
| Rank: | Corporal |
| Military Unit: | Military Police Unit, 1209th Corps Area Service Unit (CASU) US Army |
| Area Served: | Unknown |
John F. "Jack" White - the son of Patrick and Deborah White, immigrants from Ireland – was born on September 23, 1919 in New Haven, Connecticut.
In 1940, the 20-year-old first baseman signed with the Albany Senators and was optioned to the Gloversville-Johnstown Glovers of the Class C Canadian-American League. In 110 games he batted a respectable .282. In 1941, White got off to a great start and was batting .321 over 71 games with 11 homeruns before military service beckoned. He played his last game with the Glovers on July 10, 1941.
White served with the military police unit of the 1209th Corps Area Service Unit (CASU) at the prisoner of war camp at a remote training area in northern New York called Pine Camp, where he continued to play some baseball.
Attaining the rank of corporal, Jack White went on to serve overseas and was wounded in combat in late 1943. He was shipped back to the east coast of the United States and sent to a hospital in Texas to recover.
With the war over, White didn't return to minor league baseball, but played semi-pro baseball with the West Haven Sailors. However, in 1950, he returned to the minors for a single season as player/manager with the Drummondville Cubs of the Class C Provincial League, batting .260 in 95 games.
Jack White went on to work as a firefighter for the City of New Haven for 32 years and retired in 1985. Living in Hamden, Connecticut, he passed away on February 3, 2006, aged 86. Jack White is buried at Beaverdale Memorial Park in New Haven.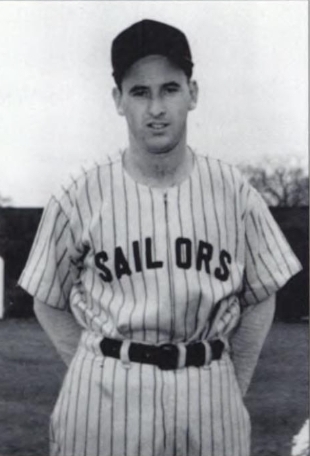 Date Added April 29, 2020
Can you add more information to this biography and help make it the best online resource for this player? Contact us by email
Read Baseball's Greatest Sacrifice Through The Years - an online year-by-year account of military related deaths of ballplayers
Baseball's Greatest Sacrifice is associated with Baseball Almanac
Baseball's Greatest Sacrifice is proud to be sponsored by