Troy Furr
| | |
| --- | --- |
| Date and Place of Birth: | July 11, 1923 Concord, NC |
| Date and Place of Death: | January 3, 1945 Philippsbourg, France |
| Baseball Experience: | Minor League |
| Position: | Second Base |
| Rank: | Private First-Class |
| Military Unit: | Company M, 275th Infantry Regiment, 70th Infantry Division US Army |
| Area Served: | European Theater of Operations |
Troy L. Furr, the son of cotton mill workers, Bill and Bessie Furr, was born in Concord, North Carolina on July 11, 1923. An infielder, he was playing semi-pro baseball for the Carolina Weavers in the Carolina Victory League in 1943 and led the circuit in pitching and fielding. One of his teammates was 17-year-old Billy Goodman who went on to have a sixteen-year major league career.

With ballplayers being called into military service at an alarming rate, Earl Mann, president of the Atlanta Crackers of the Class A1 Southern Association, signed Furr during the winter of 1943 in the hope he would be a useful infielder for the club's 1944 season. James Stewart, a young pitcher from Hazelhurst, Georgia, was also signed at the same time. Stewart was killed while serving with the Marines at Iwo Jima.

Unfortunately, military service intervened before Furr could play a game as a professional, and he entered service with the Army at Fort Bragg, North Carolina on April 13, 1944. Following basic training he was sent to France where he served with Company M - a heavy weapons company - of the 275th Infantry Regiment, 70th "Trailblazers" Infantry Division. The division had landed at Marseille, France, in December 1944, and reached the front on December 28, near Bischweiler on the west bank of the Rhine River.

On January 3, 1945, while in combat as a machine gunner during the battle for the town of Philippsbourg in north-eastern France, Private First Class Furr was reported missing. It was later confirmed he had been killed in action that day.
On September 8, 1946, a special service was held between games of a double header between the Atlanta Crackers and the Mobile Bears, with a plaque unveilled at the rear of the grandstand of Ponce de Leon Park to honor the five Cracker players who made the ultimate sacrifice in World War II - Troy Furr, Frank Haggerty, Duck McKee, James Stewart and Milton Rosenstein.

Troy Furr is buried at Oakwood Cemetery in Concord, North Carolina.
Year

Team

League

Class

G

AB

R

H

2B

3B

HR

RBI

AVG

1943
Atlanta
Southern Assoc
A1
Signed but did not play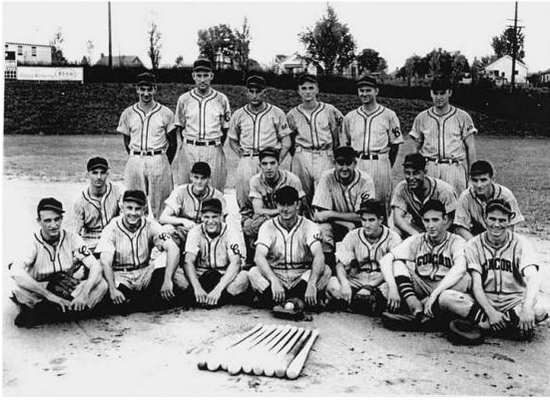 The Concord Weavers - Carolina Victory League champions of 1943. Troy Furr is middle row, second from left. Billy Goodman - who played over three decades in the major leagues - is front row, third from left. Dick Mauney, who pitched for the Phillies from 1945 to 1947, is front row, first left.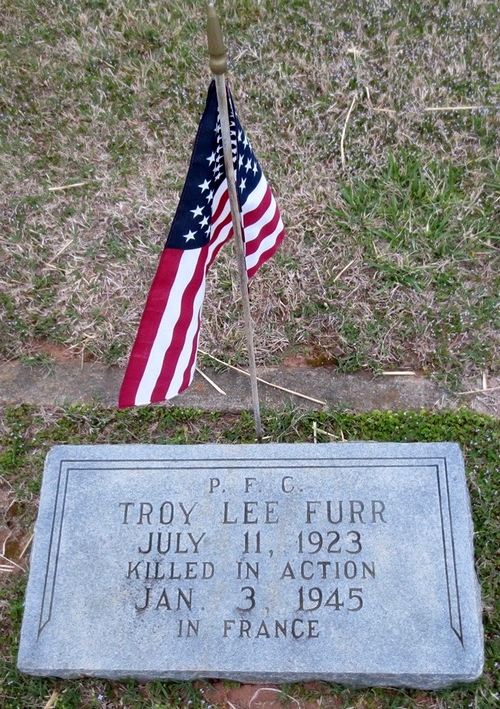 Troy Furr's grave at Oakwood Cemetery in Concord, North Carolina
Thanks to R.G. (Hank) Utley for help with this biography.
Date Added January 29, 2012 March 14, 2020
Baseball's Greatest Sacrifice is associated with Baseball Almanac
Baseball's Greatest Sacrifice is proud to be sponsored by