Frank Haggerty
| | |
| --- | --- |
| Date and Place of Birth: | June 19, 1918 Rockville Center, NY |
| Date and Place of Death: | September 23, 1942 Charlotte, NC |
| Baseball Experience: | Minor League |
| Position: | Shortstop |
| Rank: | Second Lieutenant |
| Military Unit: | 16th Observation Squadron, 68th Observation Group USAAF |
| Area Served: | United States |
Frank C. Haggerty, son of Mr. and Mrs. J.G. Haggerty, was born on June 19, 1918, in Rockville Center, a village located in New York's Nassau County on Long Island. He attended St. Agnes Parochial School, then Chaminade High School on Long Island, where he was a standout in baseball, basketball and tennis, as well as becoming the champion ping pong player of Nassau County.

Graduating from high school in 1936, Haggerty entered St. John's University in Queens, New York, in September. He played freshman basketball that winter and was the shortstop on the freshman baseball squad the following spring, batting .279 in 16 games. Under the guidance of coach Joe Lapchick, who went on to coach the New York Knicks, Haggerty scored 73 points with the varsity basketball team in 1937-1938, and batted .315 with the varsity baseball team. He helped both the 1938-1939 court team and 1939 baseball team clinch city titles (he batted .335 that year), and co-captained the 1939-1940 basketball team, scoring 121 points and helping them win 15 out of 19 games. During the summer of 1939, Haggerty played shortstop for the Plattsburg Majors in the highly-competetive Northern League, an eight-team Vermont/New York circuit of college players.

In his senior year – 1940 – Haggerty was voted Best Athlete at St. John's and batted .339 as the baseball team's lead-off hitter. His teammates that season included team captain Sal Ferrara, and Al Pecora, who played for the Jersey City Giants. Immediately following graduation from the Arts department, Haggerty and Ferrara signed with the Atlanta Crackers of the Class A1 Southern Association, and reported on June 2. The Crackers sent both players to the Selma Cloverleafs of the Class B Southeastern League where Haggerty, playing shortstop, appeared in 95 games and batted .201 with 23 RBIs (Ferrara played 28 games and batted .200).

Haggerty was due to report to the Crackers for spring training when military service beckoned on February 21, 1941. Initially attached to the army, he joined the Army Air Corps and trained as a bomber pilot at Kelly Field, Texas, earning his wings and a commission as a second lieutenant at the Gulf Coast AAF Training Center at Brooks Field in San Antonio, Texas. He married Miss Virginia Langley at St. Mary's Cathedral, San Antonio, on August 15, 1942, and was granted a furlough shortly afterwards. Haggerty was on his way home with his young bride when orders reached him at Charlotte, North Carolina, transferring him to active service. Those orders were then changed to remain in Charlotte for pursuit training.

Stationed with the 16th Observation Squadron of the 68th Observation Group at Morris Field in Charlotte, Second Lieutenant Haggerty took off in a Curtiss P-40F Warhawk fighter plane on September 23, 1942. A short time later the plane crashed into the Catawba River, ten miles southwest of Charlotte Airport. Haggerty was killed instantly. He is buried at the Cemetery of the Holy Rood in Westbury, New York.

Haggerty was the first St. John's alumnus to lose his life in service in World War II and his death came as a great shock. In his honor, the Metropolitan Basketball Writer's Association decided to annually present the Lieutenant Frank Haggerty Award to "the outstanding college player in the metropolitan New York district." Andrew "Fuzzy" Levane of St. John's was the award's first recipient in 1943, and the award continues to be given more than 60 years after his death. Furthermore, high school basketball teams in the New York metropolitan area annually compete in the Lieutenant Frank Haggerty Tournament.
On September 8, 1946, a special service was held between games of a double header between the Atlanta Crackers and the Mobile Bears, with a plaque unveilled at the rear of the grandstand of Ponce de Leon Park to honor the five Cracker players who made the ultimate sacrifice in World War II - Frank Haggerty, Troy Furr, Duck McKee, James Stewart and Milton Rosenstein.
| | | | | | | | | | | | | |
| --- | --- | --- | --- | --- | --- | --- | --- | --- | --- | --- | --- | --- |
| Year | Team | League | Class | G | AB | R | H | 2B | 3B | HR | RBI | AVG |
| 1940 | Selma | Southeastern | B | 95 | 333 | 33 | 67 | 12 | 2 | 0 | 23 | .201 |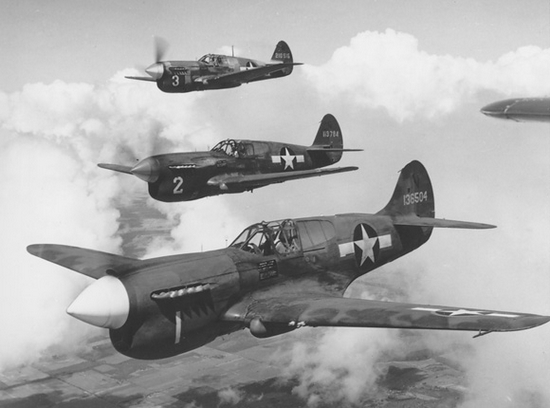 Curtiss P-40F Warhawks. The type 2/Lt. Haggerty was piloting when he crashed on September 23, 1942.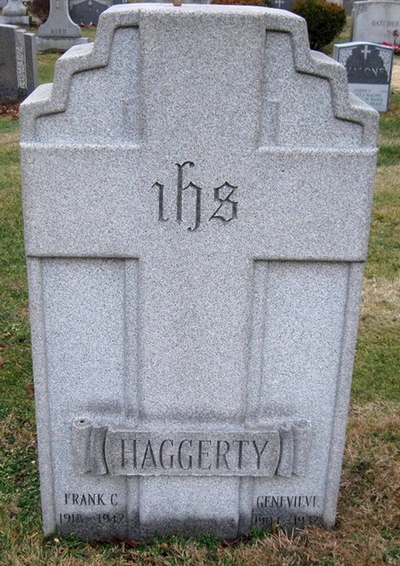 2/Lt. Frank C. Haggerty's grave at the Cemetery of the Holy Rood in Westbury, New York
Thanks to Blythe E. Roveland-Brenton, Ph.D, University Archivist at St. John's University for help with this biography. Thanks also to Astrid van Erp for help with photos for this biography.
Date Added January 31, 2012 March 14, 2020
Baseball's Greatest Sacrifice is associated with Baseball Almanac
Baseball's Greatest Sacrifice is proud to be sponsored by