Chuck Kuhn
| | |
| --- | --- |
| Date and Place of Birth: | January 15, 1924 Stanislaus County, CA |
| Date and Place of Death: | June 18, 1944 North Sea |
| Baseball Experience: | Semi-Pro |
| Position: | Unknown |
| Rank: | Technical Sergeant |
| Military Unit: | 859th Bomber Squadron, 492nd Bomber Group USAAF |
| Area Served: | European Theater of Operations |
Howard C. "Chuck" Kuhn, son of minor league catcher Roy Kuhn, and nephew of major league catcher Walter Kuhn, was born in Stanislaus County in California on January 15, 1924.
Kuhn attended Placer Union High School and Placer Junior College, and played for the Auburn team in the semi-pro Placer-Nevada League before entering military service. He was employed as a school bus driver for Auburn Union Grammar School.
Kuhn entered service on March 9, 1943. Following training at Sioux Falls, South Dakota, he received his radio operator's wings and was assigned to the 859th Bomb Squadron of the 492nd Bomb Group, stationed at North Pickenham airfield in England. Sergeant Kuhn was the radio operator with Second Lieutenant Carl "Dusty" Roads. On May 13, 1944, their Consolidated B-24J Liberator was so badly damaged on returning from a mission that they had to crash land. Two days later, Kuhn was promoted to Staff Sergeant. Shortly afterwards, they had to make another crash landing at a base on the coast of England near Dover after returning from a mission. On one of these missions, Kuhn's life was saved because he was wearing his helmet. A piece of shrapnel struck and pierced his helmet, knocking him unconsious for a while.
On June 1, Kuhn was promoted to technical sergeant. On June 18, 1944, they were hit by Me-109s while attacking an airfield near Luneburg, and damaged again by flak as they limped back towards England. When they were just 12 miles from the English coast the crew were forced to bail out. Air-Sea rescue vessels responded quickly, but only two crew members were saved. Kuhn's body was never recovered.
Originally reported as missing in action, it was not until December that his family received confirmation of his death.
Just a few days before that fatal mission, T/Sgt. Kuhn had been awarded the Air Medal for "exceptionally meritorious achievement in combat missions over enemy occupied continental Europe."
Chuck Kuhn is remebered at the Cambridge American Cemetery and Memorial in England.
On Sunday April 14, 1946, a silent tribute was held before each opening day Placer-Nevada League game in honor of the four players who lost their lives in World War II. In addition to Chuck Kuhn, Don Irwin of Auburn and Colfax, Bill Larr of Roseville, Bill McNulty of Roseville and Colfax, and Bill Schroth of Placerville made the ultimate sacrifice.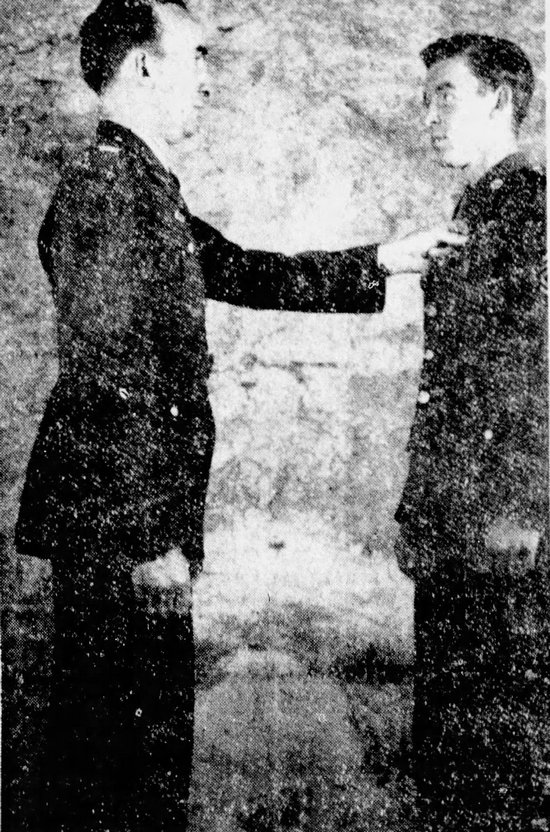 T/Sgt Howard "Chuck" Kuhn receives the Air Medal from Colonel Eugene Snavely, group commander.
Date Added March 16, 2020
Baseball's Greatest Sacrifice is associated with Baseball Almanac
Baseball's Greatest Sacrifice is proud to be sponsored by