Bill Schroth
| | |
| --- | --- |
| Date and Place of Birth: | February 2, 1920 Vallejo, CA |
| Date and Place of Death: | May 26, 1943 Attu, Aleutian Islands |
| Baseball Experience: | Semi-Pro |
| Position: | Pitcher |
| Rank: | Private First Class |
| Military Unit: | Company A, 4th Infantry Regiment, 25th Infantry Division US Army |
| Area Served: | Aleutian Islands |
George W. "Bill" Schroth, Jr., son of George and Myrtle Schroth, was born in Vallejo, California, on February 2, 1920, but grew up in Placerville. He was prominent in sports at El Dorado County High Schoool and played semi-pro baseball with Placerville in the Placer-Nevada League.
Employed by the Associated Oil Company he married Miss Gloria Butts on October 29, 1941, and entered military service on November 4 of that year.
Private First Class Schroth was assigned to the 4th Infantry Regiment and served in the Aleutian Islands. On May 26, 1943, he was killed in action against the Japanese at Attu.
A requiem mass was held in Placerville for Bill Schroth and Private Steven L. Fairover, at St. Patrick's Church on June 21, 1943.
On Sunday April 14, 1946, a silent tribute was held before each opening day Placer-Nevada League game in honor of the four players who lost their lives in World War II. In addition to Schroth, Bill Larr of Roseville, Bill McNulty of Roseville and Colfax, Chuck Kuhn of Auburn, and Don Irwin of Auburn and Colfax made the ultimate sacrifice.
In 1948, Bill Schroth's remains were returned to Placerville and buried at Union Cemetery on October 23.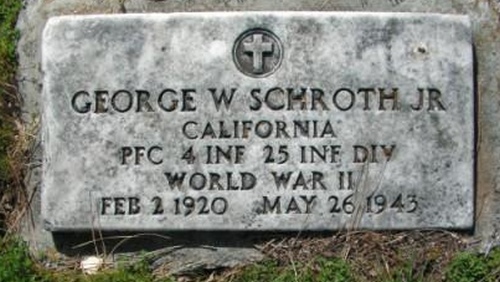 Date Added March 17, 2020
Baseball's Greatest Sacrifice is associated with Baseball Almanac
Baseball's Greatest Sacrifice is proud to be sponsored by