Herman Rush
| | |
| --- | --- |
| Date and Place of Birth: | July 20, 1917 Long Beach, CA |
| Date and Place of Death: | December 7, 1945 Modesto, CA |
| Baseball Experience: | Minor League |
| Position: | Catcher |
| Rank: | Technician Fourth Grade |
| Military Unit: | 311th Infantry Regiment, 78th Infantry Division US Army |
| Area Served: | European Theater of Operations |
Herman P. Rush was born in Long Beach, California on July 20, 1917. A 1935 graduate of Antelope Valley Joint Union High School in Lancaster, California, Rush signed with the Hollywood Stars of the Pacific Coast League in 1938 and attended spring training at Lake Elsinore before being optioned to the Bellingham Chinooks of the Class B Western International League.

Under the guidance of manager Ken Penner – who had been playing professional baseball since 1913 and pitched for the Cleveland Indians in 1916, making a return to the majors with the Cubs in 1929 – the Chinooks were contenders throughout the summer of 1938. With a pitching staff that included future major leaguers Bill Fleming and Rugger Ardizoia, and a hard-hitting outfield of Wes Schulmerich, Jim Tyack and George Mandish, they finished the year with a 68-65 record, good enough for second place behind the Yakima Pippins. The Chinooks then went on to claim the league championship title by defeating the Pippins, three games to two, in the playoffs. Rush was behind the plate in the opening game as Bill Fleming hurled a 1-0 two-hitter and fanned 12. He was back behind the plate for the fifth and final game that was won, 6-3, with Fleming pitching in relief of Ardizoia.

Rush appeared in 53 games for the Chinooks, sharing catching duties with 18-year-old future major leaguer Cliff Dapper and Joe Annunzio. He batted .198 with 33 hits in 167 at-bats.

Despite the on-field success of the Chinooks in 1938, the team fell on financially hard times in 1939. Fleming, Ardizoia, Schulmerich, Tyack and Dapper were gone and the team struggled to win a game. Former major league infielder Jimmie Reese took over from Penner as manager, and at one point the players were forced to hitch-hike to Spokane in order to keep up with the schedule, using the same method to swing across the state to Tacoma. The league took over the team in August and Orland "Al" Lightner, who in addition to playing first base was also the team's traveling secretary, was appointed manager on August 17. The Chinooks finished with a lowly last-place 40-102 record.

Rush played 35 games with the Chinooks, sharing catching duties with Bill Brenner and Red Farquharson. He batted .160 with 17 hits in 106 at-bats. In an interesting incident on August 14, he took over catching duties from Brenner following the latter's ejection from a game. Playing the Wenatchee Chiefs, the Chinooks had staged a "sit-down strike" when they objected to umpire Don Stewart calling a ball hit along the third base line fair. Stewart settled the "strike" in 15 minutes by banishing manager Reese, pitcher Larry Weldon, catcher Brenner and third baseman Bud Stewart.

The Bellingham franchise moved to Salem in 1940 and Rush was out of professional baseball that year. He entered military service with the Army at Fort MacArthur in San Pedro, California on November 14, 1941. As a technician fourth grade, Rush served with the 311th Infantry Regiment of the 78th Infantry Division in Europe.

On February 28, 1945, the division crossed the Roer River and joined the offensive of the First and Ninth Armies toward the Rhine. Moving across open ground, dotted with little towns the Germans made every effort to stop the American advance.

On March 2, 1945, T/4 Rush was fatally wounded by a German sniper. He was shipped back to the United States for medical attention but died in hospital in Modesto, California on December 7, 1945. Herman Rush was 28 years old and is buried at Lancaster Cemetery in Lancaster, California.

A 1939 Chinooks teammate, Alan W. Lightner, who played as Alan Wray and was the brother of first baseman/manager Orland "Al" Lightner, also lost his life in Europe. He was killed in action while serving with the 70th Infantry Division near the German town of Saarbrucken on January 12, 1945.

Also to lose his life in World War II was umpire Don Stewart, who had ejected a handful of Chinook players when they staged the earlier mentioned "sit-down strike" during a game in 1939. Stewart was a Canadian and served with the Calgary Highlanders. He was killed on March 13, 1941, during a German bombing raid on Glasgow, Scotland.
| | | | | | | | | | | | | |
| --- | --- | --- | --- | --- | --- | --- | --- | --- | --- | --- | --- | --- |
| | Team | League | Class | G | AB | R | H | 2B | 3B | HR | RBI | AVG |
| 1938 | Bellingham | Western Int'l | B | 53 | 167 | 17 | 33 | 5 | 2 | 0 | 9 | .198 |
| 1939 | Bellingham | Western Int'l | B | 35 | 106 | 6 | 17 | 2 | 0 | 0 | 3 | .160 |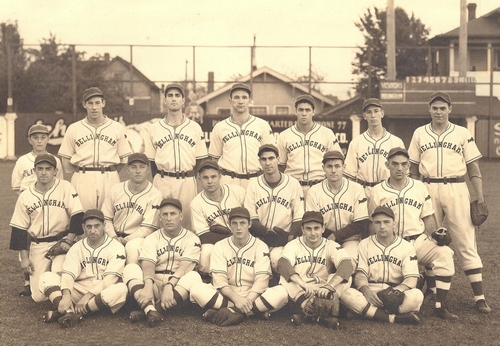 The Bellingham Chinooks of 1938 (Herm Rush is back row, third from right)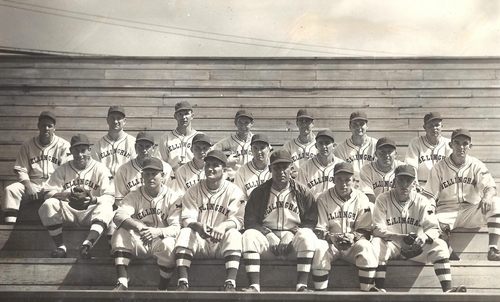 Another photo of the 1938 Bellingham Chinooks (Herm Rush is back row, first left)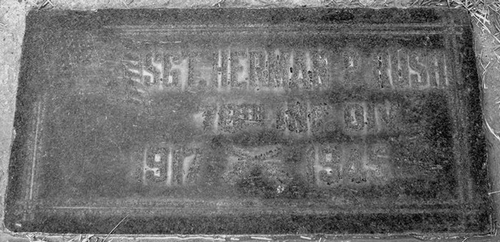 The grave of Herman Rush at Lancaster Cemetery in Lancaster, California
I'd like to thank Dayle DeBry for bringing Herman Rush's story to my attention and David Eskanazi for supplying photographs of the Bellingham Chinooks.
Date Added February 15, 2012 Updated June 7, 2014
Baseball's Greatest Sacrifice is associated with Baseball Almanac
Baseball's Greatest Sacrifice is proud to be sponsored by