Bill Thomas
| | |
| --- | --- |
| Date and Place of Birth: | December 26, 1916 Pittsburgh, PA |
| Date and Place of Death: | May 23, 1943 Silver Lake, CA |
| Baseball Experience: | Semi-Pro |
| Position: | First Base |
| Rank: | Sergeant |
| Military Unit: | 523rd Bombardier Training Squadron USAAF |
| Area Served: | United States |
William E. "Bill" Thomas was born on December 26, 1916 in Pittsburgh, Pennsylvania, and graduated from Westinghouse High School. He received several athletic scholarship offers from local colleges but, instead, went to work as a steamfitter and earned a reputation as a semi-pro baseball and football player in the Pittsburgh area.
Thomas entered military service on March 13, 1942. Following training in Mississippi and Colorado, he was stationed with the groundcrew at Victorville Army Air Base in California, with the 523rd Bombardier Training Squadron. In November 1942, he married June Green.

The Victorville Bombers baseball team got off to a good start in 1943, winning their first four games. On Sunday, May 23, 1943, the team was scheduled to play a game in Las Vegas. Some of the players would fly there and the flight was to end in tragedy.

The official story released by the military claimed the Beechcraft AT-11 Kansan, in which Thomas was travelling (and only because he had switched places to ride with his friend, John Lowry), was struck by another AT-11 while on a bombardier training exercise. Thomas's plane crashed at Silver Lake, California, about 90 miles from Victorville, while the other plane, which suffered minimal damage, managed to land safely back at the airfield. In truth, the two planes were heading to Las Vegas for a baseball game; on board the AT-11 with Thomas were Second Lieutenant Hal Dobson, a former minor league pitcher from Lincoln, Nebraska, and Sgt. John A. Lowry, a former semi-pro player also from the Pittsburgh area. The pilots of the two planes were playing games with each other and one plane cut the tail off Thomas's plane. All on board the crippled AT-11 – Thomas, Dobson, Lowry and the pilot, 2/Lt. William S. Barnes, were killed.

Bill Thomas is buried at St. Peter's Cemetery in Pittsburgh, Pennsylvania.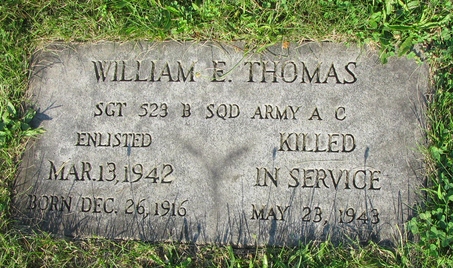 Bill Thomas's grave at St. Peter's Cemetery in Pittsburgh, Pennsylvania
Source
Pittsburgh Press - May 24, 1943
Pittsburgh Press - May 26, 1943
Pittsburgh Post-Gazette - May 26, 1943
Date Added April 30, 2013 Updated July 1, 2017
Can you add more information to this biography and help make it the best online resource for this player? Contact us by email
Read Baseball's Greatest Sacrifice Through The Years - an online year-by-year account of military related deaths of ballplayers
Baseball's Greatest Sacrifice is associated with Baseball Almanac
Baseball's Greatest Sacrifice is proud to be sponsored by